The Vanguard VEO 3GO 235CB is a carbon fiber tripod kit that really aims to please. Whether you're walking around city streets, trekking into the wilds, or jetting off to the ends of the earth, it's one of those tripods that's small enough to fit inside a bag or backpack, instead of needing to be tethered to the outside. Even so, it comes complete with its own padded bag and a neat range of extras that add versatility and enhance the overall experience.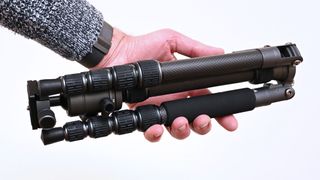 The kit is also available in aluminum rather than carbon fiber but, as expected, it's noticeably heavier at 1.24kg compared with 1.06kg. The aluminum kit also isn't massively cheaper to buy, making the carbon fiber edition the better choice if you can stretch the budget. A useful upgrade over the previous VEO 2GO version is that the 3GO has a removeable leg, which you can couple with the center column to use as a monopod or selfie stick.
Specifications
Material: Carbon Fiber
Folded height: 33cm
Maximum operating height: 136cm
Minimum operating height: 21cm
Max monopod height: 138cm
Weight: 1.06kg
Load rating: 4kg
Sections per leg/centre column: 5 / 2
Maximum leg section diameter: 23mm
Locking leg angles: 3
Feet: Pads and spikes
Case/bag included: Padded bag
Key features
It's a big ask to design a tripod that folds down really small but has a generous maximum operating height, as well as being really lightweight but with good rigidity. The VEO 2GO 235CB mostly fits the bill. The 136cm maximum height isn't exactly lofty but should suffice for most scenarios, and it certainly folds down super-small for stowage. As with most travel tripods these days, you can extend the center column and then swing the legs fully upwards, so that the feet encircle the head. In this case, that shrinks the folded height to a mere 33cm.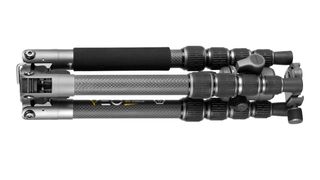 The design features 5-section legs and a 2-section center column, with twist-locks for releasing and clamping all the sections. The maximum leg diameter is 23mm, shrinking to a fairly spindly 11mm for the bottom sections. As usual, there are three locking leg angles featured, the wider angles helping to aid stability for low-level shooting as well as enabling you to work around obstacles in cramped quarters. It also helps to keep everything level when you're shooting on uneven or tricky terrain.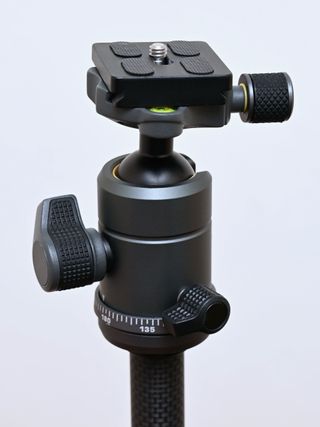 The kit comes with rubber pads for the feet, as well as metal spikes. Swapping between the two options is a simple case of unscrewing whichever feet are fitted and screwing on the other set. The rubber pads work best on solid surfaces, whereas the spikes are better for loose or soft surfaces.

Up on top, the kit features a Vanguard T50 ball head which is a perfect match for the legs. It has an Arca-Swiss compatible quick-release plate and a bubble level for easy leveling. As well as the main lock/release knob, there's a separate panning knob that comes with a calibrated scale, ideally suited to taking a series of shots for stitching together into a panoramic image.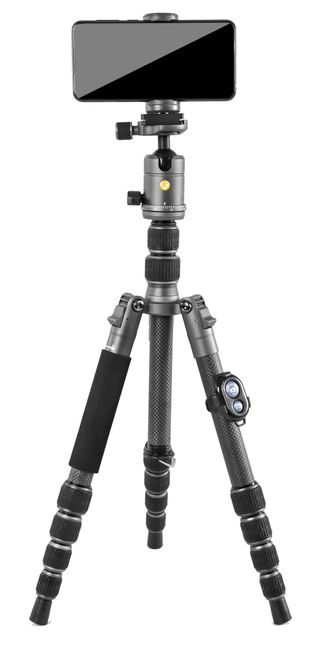 A more unusual accessory that forms part of the kit is a smartphone mount that fits onto the tripod head. It can accommodate smartphones up to 87mm or 3.4 inches in width. This makes the tripod equally viable for your phone as well as your camera. Better still, a Bluetooth remote is also supplied, which is compatible with Android and iOS devices. You can naturally hold the remote in your hand but it can also clip onto one of the legs.
Build and handling
Build quality is convincingly good throughout. Both the tripod and the ball head feel tough and robust for such a lightweight kit. The twist locks work with smooth efficiency, enabling loosening and clamping with minimum rotation and little torque needing to be applied. The sections of the legs and central column extend and contract smoothly, and adjustments to the ball head also work with smooth precision.

Unusually for a carbon fiber tripod, which isn't as cold to the touch as aluminum tripods in chilly weather, comfort padding is applied to one of the legs. It's the removable leg, so you get the benefit in both monopod and tripod configurations. It also makes it obvious which of the three legs is the detachable one.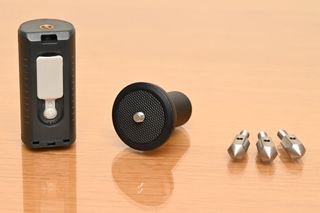 Even with the legs splayed to their widest lockable angle, a limiting factor for really low-level shooting is the height of the center column. With this in mind, the kit comes with a 'low angle adapter', which fits on the tripod spider in place of the center column, shrinking the minimum shooting height to just 21cm, or about 8 inches. If you need to go even lower, you can invert the center column and shoot with the camera upside down.
Performance
Considering the lightweight nature of the tripod, something has to give. As such, the maximum load rating of 4kg isn't exactly massive but should easily suffice for a DSLR or mirrorless camera with a pretty hefty lens attached.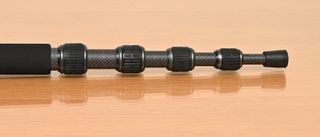 Skinny travel tripods are somewhat notorious for flexing and delivering less than firm, solid support. The Vanguard does very well to give good rigidity and we noticed very little vibration, even when using it at full extension in a stiff breeze. A weight hook at the base of the center column enables you to enhance stillness by adding ballast.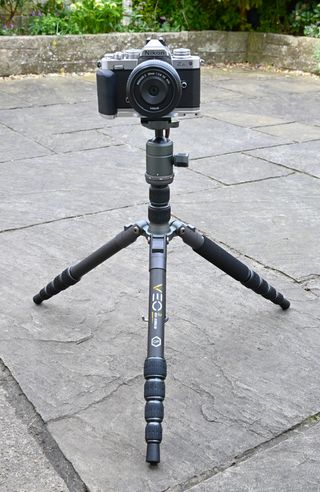 Verdict
Tripods are often big and clunky, so we leave them at home where they're no use at all. But it's easy to take this one along for the ride. The carbon fiber edition weighs in at barely more than a kilogram, complete with a ball head, and folds down to just 33cm, or a little over a foot. Even so, it reaches a decent operating height with pretty rigid support and works equally well as a monopod or selfie stick. Indeed, for taking selfies, it even comes complete with a smartphone mount and Bluetooth remote trigger. There's a lot to love here, including the purchase price which makes the tripod great value.
Read more: Find your perfect tripod with our guides to the best travel tripod, the best budget tripod, and the best video tripod.