Having one of the best helmet cameras lets you bring your rides to life. Whether you're on a bike, a motorbike, a snowboard or even a horse, with one of the best helmet cameras, you can capture everything that happens, completely hands-free. This isn't just for fun; it can also have practical applications too, giving you extra insurance in the event of an incident on the road. A good helmet camera can be relatively inexpensive, and provide you with many hours of fantastic, high-quality footage.
There are a few things to think about when picking a good helmet camera, while many of the best cameras for cyclists will also double up as a great helmet cam there are a few differences to look out for. The most important factor is of course, video quality, the higher the resolution (for example being able to shoot in 5.7K) the better and more professional your video will look. Video stabilization is also key, the last thing you want is shaky footage so make sure you invest in a camera that can smooth out even the roughest of rides.
There's also the issue of battery life, as you're unlikely to be changing batteries while a camera is stuck to your bike helmet. On that subject, different cameras come with different mounting options, and some require the purchase of an extra kit to be mounted to a helmet. Do you want integrated lights to make it easier to see at night, or GPS to record your route (good if you tend to leave your camera phone at home).
So there's a lot to consider. Fortunately, we've done that considering for you, and come up with a range of cameras that offer feature-sets optimal for helmet mounting, at a range of prices to suit every budget. Read on to discover the best helmet cameras you can buy!
The best helmet camera
Why you can trust Digital Camera World Our expert reviewers spend hours testing and comparing products and services so you can choose the best for you. Find out how we test.
The GoPro Hero 11 might look exactly like every other GoPro released since 2019, but under that familiar plastic casing is where it starts to get exciting. The brand new, almost square sensor is able to capture 8:7 content which is perfect for making TikTok's and Instagram Reels, it can also capture 27MP stills, 5K video at 60fps, 4K video at 120fps or 2.7K up to 240fps for some serious slow-mo shots. If you're after the best stabilization available, excellent video quality (unless shooting in low-light) and some fun new modes such as light painting, go for the GoPro Hero 11.
Not only is it capable of all the above but the introduction of the 8:7 apsect ratio means you can shoot in 5.3K resolution in 8:7 at up to 30fps, its footage can be losslessly cropped to create new 4K portrait, landscape, and square clips from a single video. It's a shame the low light performance hasn't been massively improved but it's something we can let slide with all the other upgrades it's had.
Read our full GoPro Hero 11 Black review
GoPro Subscription explained: what you get, and is it worth it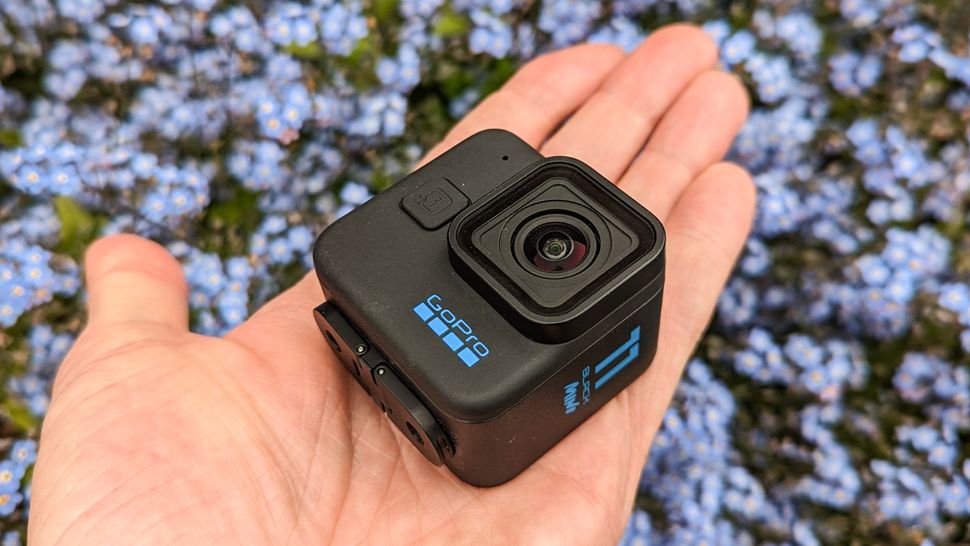 If you're an extreme sports enthusiast, we highly recommend the GoPro HERO 11 Black Mini for capturing any adventure without the burden of weight or battery-draining displays like the HERO 11 Black. We find it particularly appealing that this camera seamlessly integrates with GoPro's Quik app and even though it doesn't have a dedicated photo mode, the type of people who it's aimed at will be more concerned with video anyay. During our testing, we found it effortless to connect it to our smartphones, allowing us to adjust video settings, frame our shots, and review our recordings within seconds of capturing them.
What impressed us even more was the clever workaround for the absence of a dedicated photo mode which allows you to screen grab 24.7MP stills from 5.7K video. The camera's compatibility with USB-C batteries enabled us to extend its built-in battery power, ensuring longer recording sessions. The HERO 11 Black Mini delivered outstanding video quality, making it an ideal choice for GoPro users who prefer a minimalist approach to their equipment
The GoPro Hero 10 might be a little more than you need if you just want a helmet cam for safety purposes, but if you're looking for a camera that's going to record super-smooth high-quality video this can't be beaten. It might look a lot like the GoPro Hero 9 but it is a pretty significant upgrade. It features the new G2 processor, and we found in our review that this new tech makes the interface super responsive, doubles the frame rates and fuels the best image stabilization system available in action cameras.
The stand-out feature is its ability to record 5.3K 60p using GoPro's new HyperSmooth 4.0 video stabilization. It also has the ability to shoot 23-megapixel photos and is has the best low-light performance of any GoPro yet. You can buy a wealth of accessories separately so as well as mounting it on your helmet, you could attach it to your chest, your head or even onto one of the best selfie sticks.
The Insta360 ONE RS Twin Edition is the updated version of one of the most interesting action camera concepts we've seen in recent years. It's essentially two cameras in one (hence the name), with lens modules for 4K video and 360º video. Among the features new to this version, compared to the original Insta360 ONE R (which you'll meet further down this list) is the 6K widescreen mode, which puts out video at an aspect ratio 2.35:1 at a frame rate of 24 or 25p, for a truly cinematic look.
It all sounds a bit complicated, but all you really need to know is that this action camera gives you a tonne of video options, and thanks to the 1-inch sensor, it'll capture them in quality that's a step above most action cameras. Just bear in mind that it doesn't come with a helmet mount – you'll need to grab the kit separately. Once you've done that though, you've got a veritable playground of a camera at your disposal, perfect for capturing all sorts of different views of your rides.
Given GoPro's market dominance, rival action camera manufacturers have been getting seriously creative in an attempt to establish their own niche. DJI's first foray, the Osmo Action, was a fairly conventional action camera, albeit with a few nifty features like the front-facing screen, which GoPro promptly stole. The Action 2, however, is a different beats entirely. This tiny cuboid weighs just 56g on its own, but has a magnetic system with which you can add optional modules, such as the Front Touchscreen Module, or the Power Module, which adds an extra battery, and will probably be of more interest to bike riders.
The footage it captures looks excellent – it tops out at 4K,rather than the 5.3K of the GoPro HERO 10 Black, but let's be real, this is probably enough for most purposes. Having the RockSteady 2.0 also helps smooth out your footage (though it's worth being aware that it wont work at all resolutions and frame rates). In our review, we were very impressed by the DJI Action 2, praising in particular the value for money in the package that DJI has put together here. It's an excellent choice of helmet camera.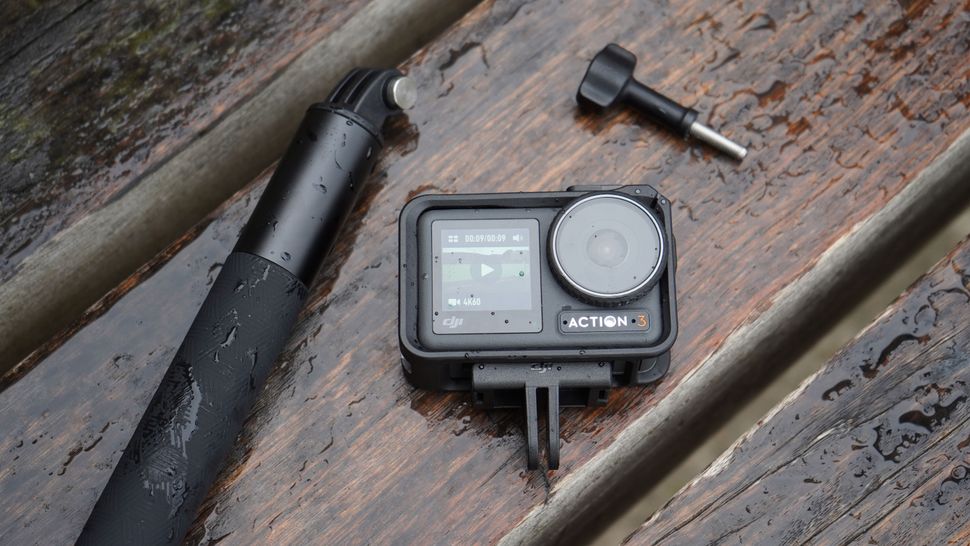 DJI's latest action cam comes in the form of the Osmo Action 3. Balancing quality and price, it delivers very good, stabilized 4K video at up to 120fps. Extreme batteries which can last up to 3 hours are included as standard and while we do miss the modular design, the new style is more similar to that of a GoPro and is a lot easier to manage. Unlike the GoPro however, it won't push you towards signing up for a subscription and it's cheaper upfront anyway. It uses DJI's RockSteady stabilization and HorizonBalancing so even when the camera is moving quite aggressively, you can still capture smooth video. All in all, we were very impressed with DJI's latest offering - the Mimo app has also improved so you can download images, use it as a remote or even edit images in-app.
Read our full DJI Osmo Action 3 review
If you're on an ultra-strict budget, then Akaso action cameras are well worth considering, as the Chinese manufacturer makes a range of options that come around and under the $100 mark. The Akaso Brave 4 Pro is a few years old now, but represents really good value, and comes with a stack of accessories including helmet mounts. It's pretty amazing to get a 4K camera with stabilisation for a price as low as this, but Akaso makes it so, and the footage generally looks decent. We found in our review that the processor can sometimes stutter at higher resolutions if there are sudden light changes, but it's fine if you dial it down to the Full HD, which gives you higher frame rates to work with anyway.
The GoPro Max is a different beast entirely from other GoPro cameras (hence the lack of the "Hero" moniker). It's capable of shooting 360-degree video and spherical video with matching audio, as well as shooting in a whopping 6K 30p resolution. Might this be slight overkill for a camera mounted to a helmet? Perhaps, but if you do want to capture 360-degree views of your rides or surfs, this is certainly the way to do it. We gave it the highest possible score in our review, in part because this camera simply gives you so many options to play with.
The GoPro Max also captures its audio in 360 degrees, so your viewers will be able to immerse themselves in the action. it's got plenty of features from the Hero 8, like the HyperSmooth stabilisation, and also has a number of different digital lens settings that allow you to capture different perspectives on the action. Then there's also voice control, not to mention the huge range of GoPro accessories. It's expensive, but we reckon you get a lot for your money.
This is the original version of the upgraded Insta360 RS Twin Edition listed above, and it's available for a significantly lower price. The 1-inch wide angle lens is included with this addition but you could buy a 360 degree lens separately. The bigger 1-inch sensor is capable of recording 5.3K video at 30p and it's capable of recording in H.264 and H.265 codecs which mean you can reduce the files sizes but keep the image quality. The larger sensor also means it's low light performance is excellent which is good considering it doesn't have a built in light.
Insta360 uses their FlowState Stabilization algorithm that supports both in-camera stabilization and post stabilization so you can shoot smooth video that can be refined when editing. There are lots of accessories to choose from with the Insta360 so you can either mount it to your helmet or handlebars. It doesn't have the waterproof capabilities of other action cameras and despite needing the case to be fully waterproof to 5 meters it doesn't add any rubber seals.
The Insta360 One R 1-inch can be voice-controlled, via Bluetooth or via the purpose-designed app for your smartphone. The camera itself is pretty durable so would survive a knock or two.
The Sony RX10 II is considerably more expensive than any other helmet/action cam on the list but it does have a 1-inch sensor that will make it noticeably better in low light conditions. This is almost definitely aimed at the adventurers rather than the safety seekers who don't necessarily need such a large sensor.
The RX10 can shoot great-looking 4K video at 30p as well as high-speed video at an incredible 1000fps. This feature will allow you to create some unforgettably slow-motion scenes which look very cool in a video for social media. It's designed to withstand the elements and thanks to its extensive shockproofing and crushproofing, it should survive a tumble on your bike. It will probably even fair better than you do...
All this does come at a premium price, and if you don't need the ultimate in sensor quality from a helmet camera, it's probably worth checking out one of the cheaper options on this list. Still, if you need the best, get the best.
FAQs
Do I really need 6K video?
The long and short of it is no, you don't. However, 6K footage is extremely high quality so if you want to take still screen grabs or create extremely professional looking videos, the higher the resolution the better. You will pay more for a 6K helmet camera so if budget is tight you might be better off with something that shoots 4K or even Full HD. If you're just posting to social media, you wouldn't reap the benefits of 6K anyway.
What size memory card will I need?
This is completely dependent on how long you want to shoot for, whether you have access to unload content and whether your helmet camera has a maximum capacity SD card. Most GoPro's will take a microSD card ranging from 16GB to 1TB but the bigger the memory, the more you will spend.
What speed does my memory card need to be?
This is determined by the cameras maximum video bitrate so it differs from camera to camera but for example, if you have the GoPro Hero 11 Black, it has a max bitrate of 120mbps so anything above that will work without any buffering issues.
How we test cameras
When it comes to the best helmet cameras, our team of reviewers tests them out in real-world conditions to get an idea of how well they perform. We test out all the different photo and video settings to get a feel for the kind of imagery the camera is capable of capturing, and also assess the user experience, as well as the usefulness of any connectivity features like Wi-Fi, Bluetooth or GPS. We look at helmet and handlebar mounting options too, to get a sense of how easy the camera is to use in this capacity. Read more about how we test and review at Digital Camera World.