You'd be forgiven for thinking you won't be able to find a quality camera for under a grand in Australia, but trust us when we say it's possible and we're here to help you find the best camera for under AU$1,000.
So, how can camera manufacturers make capable cameras at really affordable prices? The biggest reason is that with each new release, cameras get more advanced features which can then trickle down to newer models coming in at relatively lower prices.
Features that you once would've only seen on the best DSLRs or the best mirrorless cameras are now common features in more basic compact systems. This means that things like raw photos, Wi-Fi and 4K video are now available in even budget cameras.
Plus, as camera technology progresses, and new ones hit the market, you'll find a whole stack of older, yet remarkably powerful snappers dropping down the pricing ranks. Despite their age, they offer some fantastic features for a relatively affordable price. These sharp shooters show that the best camera isn't always the most expensive, as entry-level offerings can capture high-quality photos – and the best cheap cameras often come in a lightweight and compact body too.
Read more: The best camera for beginners
So, what can you expect to get for a budget of under AU$1,000? Well, depending on what tickles your fancy, you should be able to pick up a fairly advanced compact camera, an enthusiast-focused mirrorless camera, or a decent entry-level DSLR.
It's worth noting that as camera prices fluctuate, you may find a camera on our list that creeps a little over budget (or plunges far below!). However, every camera model on this list has been chosen because it balances fantastic features with an affordable price point, so we will definitely get you in the right ballpark.
Cameras aren't a one-size-fits-all product, so the best camera under AU$1,000 for you will depend on what you want to use it for. However, each of the following models are all standout products in their respective categories, so you'll be sure to find something that suits your needs.
Best cameras under AU$1,000 in 2023
Why you can trust Digital Camera World Our expert reviewers spend hours testing and comparing products and services so you can choose the best for you. Find out how we test.
The Hero 11 Black might look like every other GoPro this side of 2019, but it's a triumph on all fronts thanks to its upgraded hardware and software. The new, almost square sensor is supremely versatile, the camera's software has been simplified successfully, and GoPro's companion app, Quik has also been improved. With best-in-class stabilization, great-looking video in all but dimly-lit and dark scenes, and some fun new modes like light painting, the Hero 11 Black is an excellent addition to the line.
The Hero 11 Black's 8:7 aspect ratio is also a standout highlight for content creators. Able to shoot in 5.3K resolution, 8:7 video at up to 30fps, its footage can be losslessly cropped to create new 4K portrait, landscape, and square clips from a single video.
On top of 8:7 video, the Hero 11 Black captures 5.3K resolution video at 60 fps, 4K resolution video at 120 fps, or 2.7K resolution at 240 fps. You can also grab 27MP stills from 5.3K video.
The Hero 11 Black might not have wildly improved the line's lowlight performance. Still, with its new 8:7 sensor, a simplified interface, and enhanced horizon leveling, it's upgraded GoPro's offering in a meaningful way. Particularly appealing to folks who use multiple social platforms, nothing else can do quite what the 11 Black can.
Read our full GoPro Hero 11 Black review for more details
GoPro Subscription explained: what you get, and is it worth it
While its actual RRP sits at a smidge over one grand, the Canon EOS 200D Mark II can be found for under the AU$1,000 mark at several camera retailers. It might be an entry-level camera, but the EOS 200D Mark II (called the EOS 250D in some countries) has a lot going for it. Inside a light and relatively compact body is a great 24.2MP sensor that's equipped with Canon's trusty Dual Pixel AF technology. It works remarkably well in live view for both stills and video (as it should), but the sensor only has 9 AF points to choose from when using the optical viewfinder. Despite that, the eighth-generation Digic processor lets you churn out 5fps bursts, and there's a plethora of creative filters to choose from.
If you've never used a 'proper' camera before, there's a guided menu to help you come to grips with how to use the EOS 200D Mark II. Other features to recommend it include a vari-angle 3-inch LCD display that flips all the way around to face the front and includes plenty of touch commands too. There's a built-in flash for low-light conditions or portraiture, and its under one-grand price includes a kit lens.
Read our full Canon EOS 200D Mark II / 250D review for more details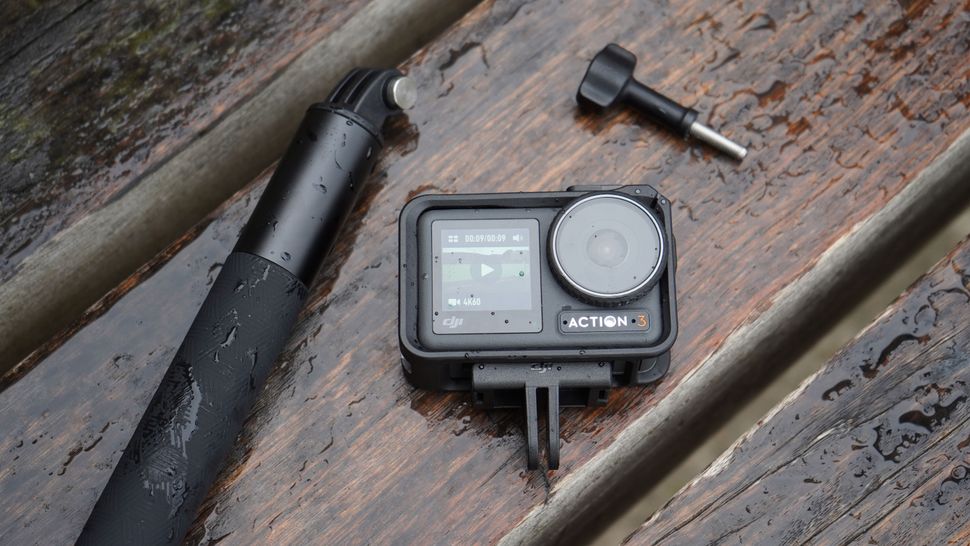 DJI may have reverted to a more traditional design for the third-gen Osmo Action camera, moving away from the modular Action 2, but at least you can use a single replaceable battery here that offers up to 210 minutes of operation. And its waterproofing beats out the GoPro Hero 10 significantly (up to 16m) without the need for additional housing.
The stabilisation tech remains the excellent RockSteady and HorizonBalancing, both producing smooth video from aggressive action. For most users 4K is the ideal resolution for action, especially with up to 120fps. While it is a little sad to see the modular design seemingly abandoned, the Action 3 is easier to manage and more capable. The only sacrifice is the larger size and weight, but it still has the GoPro beat.
Like the DJI Mini 3 Pro drone, the Osmo Action 3 has vertical-format creatives in mind. The camera's gyros detect which angle the camera is being used at and record automatically at the correct one (a lock is available), and the clip-in frame includes a vertical mount.
Read our full DJI Osmo Action 3 review for more details
Panasonic's pocket-friendly (in size and cost) TZ100 ticks all the boxes for the best travel camera – it's small enough to rob you of space in your bags and it's versatile enough to capture practically anything. Thanks to a 10x optical zoom, it'll get you closer to the action, and keep things steady as it's complemented by 5-axis image stabilisation.
There's a 4K Photo mode that cracks on at an incredible 30fps bursts, resulting in 8MP stills, while video clips can be captured in 4K/25p. Plus its ISO sensitivity range of 125-12,800 means you can get great results in different lighting conditions. There's even a Post Focus feature that lets you pick a specific focus point after you've take a shot. That's a lot of value for money in terms of feature set from a camera that comes in under AU$1,000.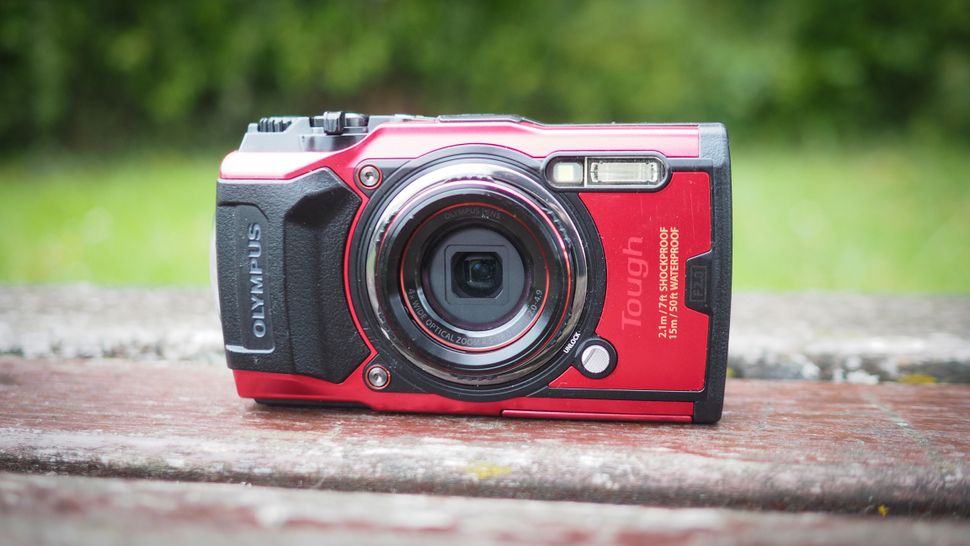 The Olympus Tough TG-6 has a sterling reputation in the tough camera market, not only for being sufficiently specced to handle tough conditions, but also equipped with impressive imaging and video tech. The Raw-shooting, 4K-capable TG-6 is a fairly minor upgrade on the previous TG-5, but adds some nifty new features like improved LCD resolution and a new Underwater Microscope mode for getting in close.
Producing 4K video at 30fps and offering the option to shoot Full HD video at 120fps for super-slow-motion, the TG-6 also has a generous 25-100mm optical zoom lens that lets you get closer and closer to the action. It's got a chunky handgrip providing a secure hold on the camera, while the internal zoom mechanism means the lens never protrudes from the body, protecting it from knocks and bumps. Straightforward but sophisticated, the TG-6 is quite simply the best waterproof camera around right now.
The original Canon EOS M50 quickly became one of Canon's bestsellers, thanks to its budget price and feature set. The Mark II carries on the same tradition of great balance between price and features, adding a few minor upgrades to the original camera (which has now been discontinued). It retains all that was great about the M50 – compact body, fully articulating screen, great EVF, excellent 24.1MP sensor, 10fps burst shooting and Dual Pixel AF – but one step further by adding 4K video (albeit heavily cropped), improved eye detection and the ability to take videos in the vertical/portrait orientation for social media.
The only thing to note about getting the EOS M50 Mark II is its limited range of native lenses.
Read our in-depth Canon EOS M50 Mark II review for more details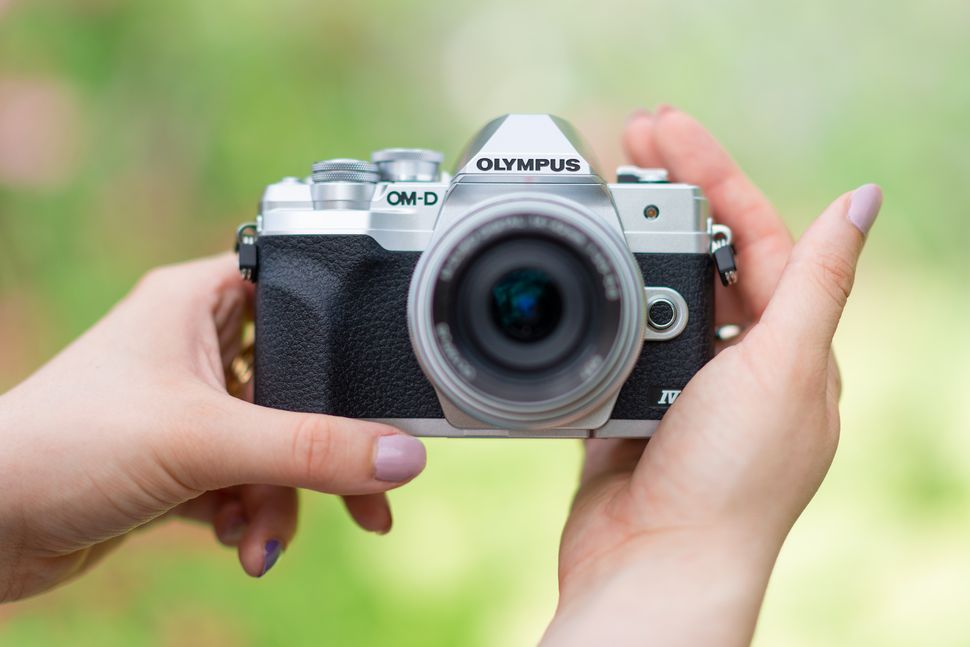 One of the last OM-D cameras to wear the Olympus badge, the E-M10 Mark IV debuted an updated 20MP Live MOS sensor that's done wonders for the camera. Not only is it a boost in resolution from the older 16MP, but brings the Mark IV in line with latest versions of the E-M5 and E-M1 series cameras.
There's also up to 4.5 stops of in-body image stabilisation and 15fps high-speed sequential shooting. To help keep those shots looking good, the Continuous AF precision has been improved here, and Face Priority/Eye Priority AF can lock on to profiles or faces looking down.
While there's not a lot of software update over the Mark III model, even in video, the Mark IV has the advantage of a flip-down rear LCD for recording self-facing videos or taking selfies. Overall, it's a great camera for anyone looking to create 4K content without shelling out a huge lot of cash.
Read our full Olympus OM-D E-M10 Mark IV review for more details
The ZV-1F was the first camera to debut in 2023 and its compact, lightweight build has us thinking it could well be a decent option for content creators looking to step up from their smartphones to a 'real' camera. And given its price tag of under a grand, you are getting decent bang for your buck here.
While it's easy to argue that the latest smartphones do everything this Sony camera can, there are advantages to what a dedicated camera can do for you. The ZV-1F's 1-inch sensor gets you better image quality than a phone can offer – after all, bigger pixels get your better light. Plus, the camera's auto exposure mode is excellent.
Then there's the fully-articulating rear LCD monitor that's super handy to have if you're creating content. Sure, it's a no-frills camera, but it is easy to use and it's small enough to toss in a bag and carry with you wherever you go – ideal for the amateur vlogger.
Read our full Sony ZV-1F review for more information
How we test cameras
We test mirrorless and DSLR cameras both in real-world shooting scenarios and in carefully controlled lab conditions. Our lab tests measure resolution, dynamic range and signal to noise ratio. Resolution is measured using ISO resolution charts, dynamic range is measured using DxO Analyzer test equipment and DxO Analyzer is also used for noise analysis across the camera's ISO range. We use these real-world testing and lab results to inform our comments in buying guides. For compact cameras, we judge on real world handling and photographic results alone.
Read more:
Best cameras under AU$500
The best mirrorless cameras
The best travel cameras
The best point-and-shoot cameras
The best waterproof cameras
The best compact cameras