The Sigma fp is a camera that defies labels. It is so small that when we were given a sample to try out for an hour or two at IBC 2019, the marketing man literally pulled it out of his trouser pocket. Admittedly, there was on lens on it at the time... but it does give you a fair idea of just how compact this camera is. But despite looking like a premium compact camera, this is a full-frame interchangeable lens camera that is designed for both serious stills shooting and 4K cine shooting alike.
This is Sigma's first full-frame digital camera, but already this 24.6 megapixel mirrorless camera has its own family of lenses and accessories – thanks to its partnership with Panasonic and Leica in the L-mount alliance. As such there are a healthy number of lenses already available for the fp – even ahead of its launch later this year - and there is a promise of over 40 primes and zooms by the end of 2020 on the L-mount lens roadmap. But thanks to Sigma's own MC-21 and MC-31 adaptors, the fp can already be used to many, many more Canon EF, Sigma SA, and Arri PL-mount lenses.
Sigma fp: Build and handling
Sigma has also announced, already, that there will be a range of add-ons with the fp.... and when you pick up the camera, and realise just how small it is, you see why. This is little more than a box, which has been stripped right down to make it the size that it is. There is no electronic eyelevel viewfinder as standard – and the LCD does not tilt or rotate. There is no grip built-in for comfortable stills shooting. And there is no built-in flash, or even a hotshoe – if you want a strobe you need to buy the right add-on.
9 Sigma fp accessories have therefore been announced so far, including an eyepiece viewfinder, a choice of grips and a hotshoe unit. And you are almost certain to need to buy one or more of these to adapt this camera for its use
But although this camera is pared back, it is not pared to the bone. Far from it. The camera has been designed with lots of functional keys and controls, to help you get the set-up that you want quickly. Sigma has resisted the temptation to hide key things in sub-menus or buttons that are too small for human hands.
In fact, this all-aluminum body has a solid, almost industrial feel to it – that gives the impression that is here to do business - and to do it well.
The top plate spells out this approach perfectly. There is a big on/off switch. A shutter button with a sensibly proportioned control dial, and a separate video record button at its side. In the middle there is a simple two-position control that allows you to choose between Cine or Still.
Choosing video or photography at this point then completely changes the UI of the camera – and the options that you get on screen at the back of the camera. We have seen this less-than-traditional approach to camera design most recently on the Fujifilm GFX100 medium-format camera – and it makes a lot of sense here too.
At the side of the camera there are three different covers. One for USB, and one for microphone input or for use with an remote control. The middle cover is removable (so must not be lost if you want to ensure maximum weatherproofing) and hides the connector for the hotshoe accessory and an HDMI port.
The shoulder strap lugs at either side of the camera also have a solid industrial feel... but there are good reasons for each. Each strap holder is held in with a 1/4in screw - so when remove give you two further standard-size tripod bushes for mounting your camera for upright shots, or for attaching other accessories.
At the base, the battery and the card slot are found behind the same door. The battery is the 7.6V 1200mAh NP51 type - which is completely interchangeable with the widely used Panasonic DMW-BLC12 pack; so spares will be easy to find at a variety of prices.
There is just one card slot to be found here – and it is a regular SD type, and not one of the faster types (like XQD and CFexpress). Sigma tells us that you need to make sure that you use V60 class (or faster) UHS-II SDXC cards if you want to take advantage of Cinema DNG recording in the camera itself.
Shooting high-resolution video, as many will know, causes lots of problems with excessive heat - and this causes a continuous headache for camera designers. The Sigma solution here is a giant heat sink – a series of grill-like holes that surround all four side of the camera just behind the 2.1 million dot, 3.1in LCD. It is another piece of function design, that you might usually see on a high-performance gaming PC.
Sigma fp: features
Part of the reason for the miniature size of the Sigma is explained by the fact that the Sigma fp does not have a mechanical shutter. The electronic shutter does present its drawbacks though. For movie shooting, this means that there is more likely to be issues with rolling shutter (although as there are other factors associated with this phenomenon, such as the read speed from the sensor - we won't know this until final versions are made available for full testing). More certain is that the maximum flash synchronization speed when shooting stills will be significantly restricted to 1/30sec.
The back of the camera is where you get the detail of the Sigma fp – with a generous selection of controls to the right and below the LCD. The display is touch sensitive - and you can use this in order to select focus points, but not for making menu selections, hence the wide choice of buttons. A QS quick selection control takes you to your main options in any situation, and these are navigated to using the rear jogwheel control, But there is (naturally) a Menu button to take you to the extensive set-up options for this camera.
A good example of the range of options can be seen when looking at those of those for the optional Director's Viewfinder... Here you can specify the look you want this to give, replicating those of industry-standard cine cameras from Arri, Sony and Red.
The camera does not, at least at the moment, offer Log or LUT options when recording cine. However, the Tone button at the back does allow you to tweak contrast so that you can set a flat video output which can give you a wide dynamic range that you can then tweak to your liking in the grading process in post production. There are a frightening selection of Color options too - including one called 'Teal and Orange', that Sigma says mimics a color grading style that is popular in Hollywood movies.
Sigma fp specifications
Image sensor: full-frame (35.9mm×23.9mm) Back-illuminated Bayer CMOS sensor
Effective pixels: 24.6MP (6,072×4,056)
Color filter System: RGB Primary color filter
Lens mount: L-Mount
Storage media: SD/SDHC/SDXC memory card(UHS-Ⅱ supported) / Portable SSD (USB 3.0 connection, USB bus power supported
Still image file formats: Lossless compression RAW (DNG) (12 or 14 bit), JPEG, RAW+JPEG
Image aspect ratios: 21:9, 16:9, 3:2, 2:1, 4:3, 7:6, 1:1
Color space: sRGB / Adobe RGB
Movie Recording Format (internal): CinemaDNG (8bit / 10bit / 12bit) / MOV:H.264 (ALL-I / GOP)
Audio format: Linear PCM (2ch 48kHz /16bit)
Recording pixels / Frame rate: 3,840×2,160 (UHD 4K) /23.98p, 25p,29.97p, FHD(1,920x1,080) /23.98p, 25p, 29.97p, 59.94p, 100p, 119.88p
HDMI External Output Movie Format: HDMI Loop out "External recorder record: ATOMOS Ninja Inferno, Blackmagic Video Assist 4K supported
Audio format: Linear PCM(2ch 48kHz /16bit)
Recording Pixels / Frame Rate: 3,840×2,160 (UHD 4K) / 4:2:2 8bit 29.97p / 25p / 23.98p FHD (1,920x1,080) / 4:2:2 8bit 119.88p / 100p / 59.94p / 50p / 29.97p / 25p / 23.98p
Focus: Contrast detection system, Single AF, Continuous AF (with moving object prediction function), Manual Focus
AF modes: Auto, 49-points selection mode, Free Movement mode, Face / Eye Detection AF mode, Tracking AF mode
Metering System: Evaluative, Spot, Center Weighted Average Control
Still Image Shooting modes: (P) Program AE (Program Shift is possible), (S) Shutter Speed Priority AE, (A) Aperture Priority AE, (M) Manual
Movie shooting modes: (P) Program AE, (S) Shutter Speed Priority AE, (A) Aperture Priority AE, (M) Manual
ISO range: 100-25600 (expandable options:. ISO6,12, 25, 50, 51200, and 102400)
Image stabilization: Electronic system
Shutter type: Electronic shutter, 30 to 1/8,000 sec, Bulb
Drive modes: Single shooting, Continuous shooting, Self-timer, Interval shooting
Continuous shooting speed: Hi: 18 fps (up to 12 shots), Med:5 fps (12 shots), Low: 3 fps (24 shots)
Monitor: TFT color LCD monitor Aspect Ratio 3:2, 3.15", Approx. 2,100,000 dots
Color mode: 12 types (Standard, Vivid, Neutral, Portrait, Landscape, Cinema, Teal & Orange, Sunset Red, Forest Green, FOV Classic Blue, FOV Classic Yellow, Monochrome)
Interface: USB3.1 GEN1 Type C, HDMI Type D (Ver.1.4), Release Terminal – also used as an external microphone terminal, Headphone output
Li-ion battery: BP-51 *USB power supply available (when the power is turned off)
Dimensions: 112.6×69.9×45.3mm,
Weight: 422g (including battery and SD card), 370g (body only)
Sigma fp: early verdict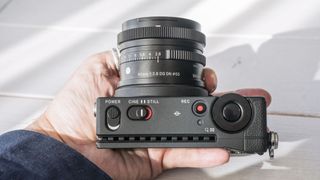 You can't help but fall in love with the miniature size of the Sigma fp - and the utilitarian, industrial design of this. Sigma has always dared to be different with its cameras - and it has once again done this with its first full-frame mirrorless model.
Given that there are now so many different full-frame mirrorless systems, this has to be a good thing. This is a camera that is designed to be a start of a system - that you need to buy add-ons for to get it to suit your shooting; and that alone will appeal to lots of people who like this custom-like approach. And thanks to the L-mount alliance, there will be plenty of lenses available for this camera too.
We suspect that ultimately this is a camera that will work better for filmmakers than photographers - but we will await a final version that we can actually shoot with before we confirm that.
The Sigma fp is set to go on sale later this year, and the price has now been confirmed as being $1899 / £1999 body only - which feels a very good deal for a full-frame mirrorless camera.
Read more:
• Sigma fp accessories
• The L-mount lens roadmap: 42 lenses by the end of 2020!
• The best mirrorless cameras you can get right now
• The best cinema cameras in 2019