Sigma's previous 50mm lens was renowned as being a heavyweight but the replacement 'Art' edition piles on the pounds. The Sigma 50mm f/1.4 DG HSM | A, to give the lens its full title, gains 50 per cent in length from the previous model and rises in weight from 505g to 815g. As such, it's one of the outright largest lenses of its class and focal length. At 100mm, it's almost exactly twice as long as Canon's 50mm f/1.4 lens, for instance.
The main reason for the Art lens's weight gain is that it has a much more complex and sophisticated optical path than its predecessor, based on 13 rather than eight elements. These include one complex aspherical element and three SLD (Special Low Dispersion) elements. The overall aim is to deliver excellent sharpness and contrast, while also keeping colour fringing, distortion and vignetting to a minimum.
Build quality feels superb throughout. The focus ring operates very smoothly although it doesn't quite have the tactile fluidity of something like a manual-focus Zeiss Milvus lens. When speed is of the essence you can count on the Sigma's autofocus system being very fast and consistently accurate. More and more of Sigma's latest Global Vision lenses are now featuring weather-seals but, as one of the first off the blocks back in 2014, this lens isn't one of them.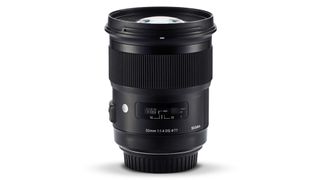 Performance
Perhaps the most impressive facet of this lens is how sharp it is when shooting wide-open at f/1.4. It even beats the (very sharp) Canon 35mm f/2 lens for wide-open sharpness, despite the latter having a narrower maximum aperture. It's almost a distortion-free lens and both colour fringing and vignetting are minimal. Overall, performance is simply fabulous.
The lens comes complete with a soft padded case for secure transportation, as well as a hood for keeping out stray light and controlling reflections. One thing that's worth noting is that, as with other f/1.4 Art lenses, there's no image stabiliser, so it pays to be careful with shutter speeds when using the lens handheld.
Read more:
Best wide-angle lenses for Canon