The 35mm focal length is terrific for all sorts of general-purpose photography, especially genres like street and reportage, where you can't always be sure what you'll encounter and want a nice wide field of view to ensure you get all the action. The Canon EF 35mm f/2 IS USM is a solid entry for this category, blending a lightweight and well-engineered construction with some surprisingly solid optical quality considering the price point.
Compare to the mighty EF 35mm f/1.4L II USM, which has professional-grade build quality and a fast f/1.4 aperture rating. But it's quite heavy when compared to Canon pancake lenses. The 35mm f/2 IS USM, on the other hand, is perfectly sized for street photography and for carrying around all day. Its f/2 aperture should prove fast enough even under dull lighting, and this enables a fairly compact and lightweight build of 78x63mm and 335g.
Manual focusing benefits from a more generously proportioned focus ring than in Canon's pancake lenses. The ring-type ultrasonic autofocus system is quick and quiet. While the manual override and fully manual focusing can be applied at any time, thanks to a mechanical rather than electronic linkage. Impressively, the rotational travel of the focus ring is quite long, enabling precise adjustments despite the speed of the AF system.
Given that street photography almost always relies on handheld shooting, the lens' highly effective 4-stop image stabiliser is an absolute lifesaver.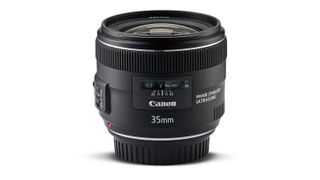 Performance
In our lab tests and throughout real-world shooting, this lens proved almost as sharp as the top-grade Canon 35mm f/1.4. Colour fringing was also similarly negligible. There's a touch more barrel distortion but not enough to generally be noticeable. Overall, it's a high-performance lens that's conveniently compact and absolutely wonderful for street photography. A must for the full-frame bodies.
As mentioned, the lens is modest in size, and this means it has a 67mm filter thread for the attachment of NDs, polarisers and other similar filters. Its focal ring is also nice and wide for comfortable operation, while the focus distance scale has depth of field markings for f/11 and f/22. As we've touched upon, the build quality really is excellent and has that premium feel – but one thing you should be aware of is that the lens' construction lacks any kind of weather-sealing. So be careful before you take it outdoors!
Read more: