With these Opticron Savanna WP binoculars, you get what you pay. One look at the relatively modest specification on offer for the Opticron Savanna WP binoculars – a 6x magnification married to a 30mm sized objective lens – makes it clear that these aren't the most powerful of their ilk. However, if users do feel a little underwhelmed as they put eyeball to eyepiece, then take note that the manufacturer does offer a slightly more powerful 8x30 option in the same Savanna WP series.
The diminutive size and weight of just under 500g not only means this particular option is handy to pack and transport for us adults, but should likewise be well suited to the smaller hands of the younger, or even older, members of the family. So, in theory, this is very much a general-purpose, cross-generational pair of binoculars suitable for a variety of viewing subjects that should not cost the earth.
Specifications
Magnification: 6x
Objective diameter: 30mm
Field of view at 1000m: 140 metres
Closest focusing distance: 3 metres
Eye relief: 21mm
Weight: 485g
Dimensions: 116x160x40mm
Key features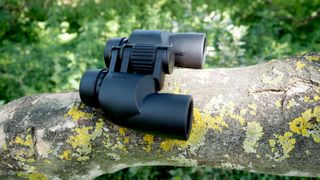 The key specifications of the Chinese-made Opticron Savanna WP 6x30 binoculars are obviously that 6x magnification factor wedded to a 30mm objective lens. While that's neither as powerful nor as bright as many competing brands, suggesting it's not really the best option for spotting small birds at hundreds of metres away or at its best when the sun goes down, we have to literally weigh up such specification against size, weight and cost. For some, this device might actually be the perfect marriage.
Also in the box are a protective neoprene pouch for the binoculars, as well as separate straps for either attaching to the device, or said supplied case. Also provided are slide-on rubber and plastic eyepiece and lens covers, respectively, though unless the user threads the provided strap through these, they're easy to mislay when fetching the binos in and out of rucksacks or larger bags. But of course that is true of most smaller scale binoculars.
Build and handling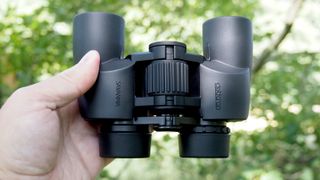 These binoculars feel usefully compact and solidly built when grasped in the palm, with the usual rubber feel exterior plus folding body mechanism provided, so users can line up the gap between the eyepieces to best suit their own vision. The Opticron Savanna WP 6x30 binoculars impress from the off, despite their diminutive stature.
As is often the case, the large and ridged focus reel sitting between the eyepieces is stiffer to the touch than we might like – but at least the fact that adjusting focus requires a definite turn avoids it being accidentally jogged in the excitement of visually identifying subjects. Also slightly stiff is the body folding mechanism, though again this is preferable to the binoculars' action feeling too loose, or flimsy.
Likewise standard issue is the fact that the eyepieces can be gently twisted and pulled out/up to suit those who aren't wearing spectacles, or alternatively left flush to the body for the comfort of those who are. A dioptre adjustment wheel is further provided just forward of the right eyepiece for fine-tuning of vision. Overall build quality is reassuringly good, particularly given the value added price.
Performance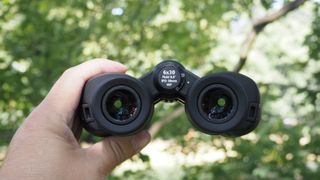 The Opticron Savanna WP 6x30 binoculars' performance is actually pretty impressive out of the box. Offering a relatively wide field of view, on a very bright day we didn't notice any instances of chromatic aberration or purple fringing on high contrast subjects, and the sharpness delivered by these 'bins' surprised us given their small size. Standing beneath a tree we were able to view the avian occupants above our heads in up-close feather ruffling detail, or pick out human faces from a hundred or so yards away, though beyond that would start to stretch the magnification here.
It would be best to view these binoculars as a capable device for the casual or occasional observer rather than a serious 'twitcher' – a device to pack in your holiday luggage for when you don't know what quite you're going to see, but have the sneaking suspicion that a pair of binoculars will come in handy.
The fact that the magnification on offer is modest and the binoculars aren't large or heavy also means that they are easy to hold steady and level when viewing, which is another plus.
Verdict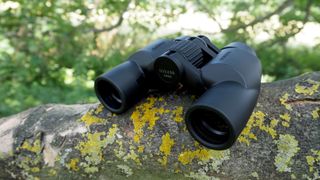 Yes, a 6x magnification doesn't make Opticron Savanna WP 6x30 binoculars the most powerful example on the block. However just a little more expenditure – and in this case we actually do mean little – will bag users the slightly better magnification 8x30 model, if so desired.
That said, given the build and performance of the 6x30 unit, we reckon that anyone investing in these is getting something of a bargain at the price; not something we can always say when it come to consumer tech.
The sharpness of the viewing provided belies the budget price tag. In short, these come recommended for anyone needing an affordable pair of binoculars for occasional use or the holidays, that are as suitable for sightseeing as nature watching.
Read more:
• Best binoculars
• Best budget binoculars under $100
• The best monoculars in 2021
• Best binocular harness
• The best spotting scopes
• The best opera glasses
• The best night vision goggles and binoculars
• The best telescopes for astrophotography
• The best microscopes
• Best borescopes and inspection cameras
• The best portable hides for wildlife photography