The best portable hide is a great way to allow wildlife to come to you. Photographing animals in the wild is a tricky business, and trying to track subjects that don't want to be found can be immensely challenging. Instead, focus on hiding yourself, with some of the best hides and camouflage gear to blend into your environment. But which are the best to choose?
5 things to watch out for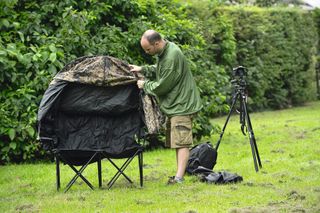 1. Blend in
Shooting in sandy or snowy conditions rather than a wood? Hunt out a hide that can be specced in a choice of covers.
2. Cover up
Camouflage clothing only conceals your body. Break out your tripod and Bambi won't be impressed.
3. Portability
A decent dome hide may be the lap of luxury, but carrying several extra kilos makes it vital to plan your shooting.
4. Extra cover
Look for camo scrim netting that'll make your hide almost invisible or nature-themed camera covers.
5. Patience
Even the fanciest hide won't instantly inspire animals to strike the perfect pose, so pack plenty of provisions.
A dedicated hide is a great choice, and many wildlife pros will swear by them. Many use a tent design that provide windows to shoot through. They're usually very portable and easy to set up, meaning you can make your shooting location pretty much anywhere. As an added bonus, many will also offer rain protection..
However, the weight and bulk of a full-on portable hide can be a pain when you're on the go. That's where camouflage clothing comes into its own. Go for a hoodie and trousers that'll slip straight over whatever else you're wearing and hey presto: instant cover. Then there's also camouflage gear for your equipment itself; blend your camera and lens into the environment, and you need never again worry about being given away by a big, obvious telephoto lens.
So, we've divided our guide into two sections. In the first section we pick out our favorite portable hides, and then we go into specific camouflage gear for those who like to be more mobile. Although, in truth, there's no reason you can't mix and match, giving yourself maximum flexibility in the field! Either way, click the headings to jump straight to the section of your choice.
Photography hides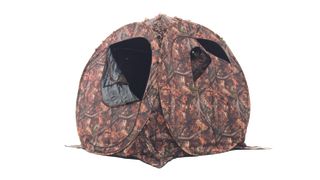 This beast boasts a 150cm-square footprint and the maximum height is 165cm, so you'll have no trouble getting comfy. It's less convenient on the go, weighing in at 4.8kg and stowing in a bulky 70cm round pouch, but at least the pouch sports some rudimentary backpack straps to help lighten the load.
Set-up is similar to the CJ Wildlife hide, using a pop-up design. Two tent poles also need to be inserted to prop up the roof, and there are optional pegs and guy lines, but you can still be inside in under two minutes.
From there you'll appreciate the large openings on all sides, three of which are set within even bigger 97cm-wide panoramic windows – ideal for video panning. The front also gets a useful ground-level opening. Stealth is excellent, too, thanks to window nets, realistic camouflage patterning, and even faux foliage to break up the roof outline.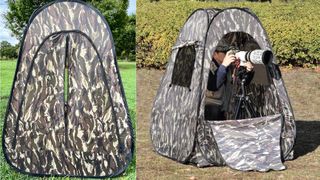 Made with polyester with a collapsible steel frame, this is essentially a pop-up tent. It collapses down into a circular shoulder bag just like a large photographic reflector - but because its size there is a knack to getting it folded away after use that takes some practice.
There are doors front and back, and windows to either side - giving you multiple views from your portable hideaway. You can poke your lens through the zip of the front opening, or sit discretely behind the mesh windows. There is a zipped opening in the groundsheet - that means that is is possible to move closer to your subject whilst hidden in the hide.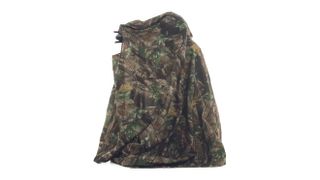 Granted, this isn't the most sophisticated form of cover, but then wildlife isn't too snobbish about style. What you get here is a large yet light and breathable fabric bag, for you and your camera to nestle in or under. Whether you're on a chair with a tripod, crouching, or even lying flat for ultimate stealth, this hide has you covered.
Two openings allow your head and lens to poke through; then, when you're ready to move on, the hide folds small and weighs just 460g. The material isn't waterproof, but a thicker, rain-resistant version is available if you're happy to carry a bit more bulk.
It may not be ideal in the wet or for longer stints, where the comfort of a self-supporting hide is hard to beat. However, this basic hide does a decent job of masking your outline, and is just the ticket for occasional or spontaneous wildlife shoots.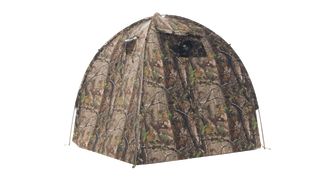 The C30.1 has the same footprint as the Simon King hide, and although it's 15cm lower, it is noticeably lighter at 3.3kg. There's enough room to sit in a chair and easily swing your camera between the three windows, with the extra-large 55 x 28cm netted front opening large enough for panning.
Set-up is a breeze if you're already handy with tents, as just two flexi-poles are needed hold the structure upright. There's no groundsheet to worry about, so when the birdie has his back turned, you could pick the hide up from within and sneak closer.
At 60 x 25 x 14cm packed, it's not the most compact cover, and the large assembled size could make it a struggle to slot into dense woodland. It's also a pity that a ground-level window costs extra, but we like the five realistic camouflage options, with those suited to wetter climates being rain-resistant.
Camo gear for photographers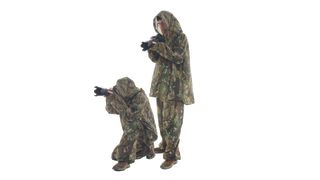 What's more convenient than a hide? A hoodie and overtrousers combo decked out in camouflage. Without the hassle of a conventional hide, you're free to stay on the move and track wildlife, as long as you're traveling light.
Both elements of a good ghillie suit are baggy enough to make a rapper's attire look skin-tight, so they help break up your outline, and will fit over whatever clothing you're already wearing. The quick-drying material is rustle-free; although it's not waterproof, it is highly breathable, light and comfortable. You can buy the hoodie and trousers separately if you wish.
Downsides? You'll need additional camouflage to keep your camera and any support like a tripod under wraps, and you're open to the elements. It's also a good job people are unlikely to spot you, as this 'Special Forces' look would probably raise a few eyebrows if you encounter passing ramblers!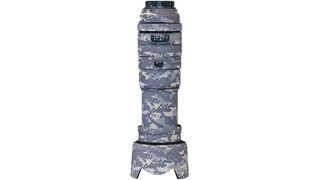 Wildlife photography requires the use of long telephoto lenses, and these large tubes can stick out in a forest environment. What's more, they aren't always weatherproof, which can cause problems if the heavens open in the middle of your eight-hour stakeout. For a neat way to solve both problems, try the LensCoat Lens Cover, which gives your lens a dressing of camouflage while also covering it in waterproof neoprene.
The version we've included here is designed for the Sigma 50-500mm f/4.5-6.3 APO DG OS as an example, but LensCoat makes loads of different covers for different lenses; you can see a full list at the Lenscoat website.
The cover is not only tough, but its plastic window also provides clear transmission so it shouldn't have too much of an effect on the quality of your images. It's tough too, so your lens should be reasonably protected against knocks and bumps from the outside world.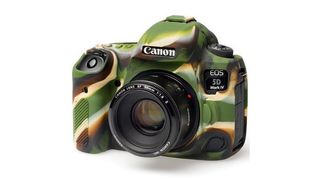 Another bespoke piece of protective gear, the Easy Cover Silicone Skin is a camouflage skin that also protects your camera against bumps and scratches. We've included a version for the Canon EOS 5D Mark IV here, but Easy Cover makes different versions for lots of cameras, including mirrorless models as well as DSLRs. It's worth having a look at the company website to see if your camera has its own silicone skin.
The skin provides complete access to controls while also providing solid all-around protection and a secure grip. There's even a screen protector for the LCD display, and the patterning in this version means you can complete your camouflage look for the ultimate in wildlife-tracking stealth.
Read more:
Best camera for wildlife
Best binoculars for wildlife, stargazing and more
Best trail cameras for wildlife photography and nature watching
The best night vision goggles and binoculars
10 ultimate locations for wildlife photographers