Mobile drives are really handy for photographers. They provide additional bulk storage for laptop computers with limited internal drive capacity, they allow you to carry a large image collection around with you (and all your work files too, if you like) and transfer files from one computer to another.
If all your work is done at the same desktop computer, you can use a regular plug-in desktop hard drive, or a fancy RAID setup like the G-Speed Shuttle 4Bay Thunderbolt 3 setup, but this isn't much help if you routinely travel with a laptop.
These days you can get mobile hard drives in capacities from a measly 500GB (don't bother) right up to 4TB or even 5TB, easily dwarfing the capacity of the internal drives on most computers. The best portable hard drives can make your computer's internal drive look pretty weak. The problem is that while the capacity is fine, the speed can produce a bottleneck.
It's not so bad if you're a stills photographer and don't mind waiting a few more minutes for a large batch of photos to transfer, or a few more seconds for a large raw file to load, but even this can get frustrating after a while. If you're a videographer, the issue is much more immediate – if your drive isn't fast enough, you won't be able to view and edit your video 'live' from the drive. This is becoming especially relevant for users of the best 4K cameras for filmmaking, or the best cameras for vlogging.
• The best portable SSDs in 2020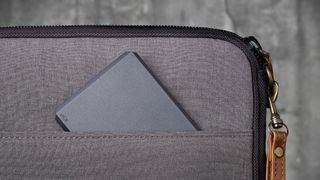 This is where you need to make the swap from regular HD storage technology to an SSD drive. It's a lot more expensive in terms of cost per terabyte (no, really, a lot), but the data transfer speeds are massively faster. This also depends on the interface used. A USB-C/USB 3.1 Gen. 2 is the new norm for external drives, it gives a substantial speed increase (up to 10Gbits/s if you want to get technical) and it's what's used on the LaCie Mobile SSD.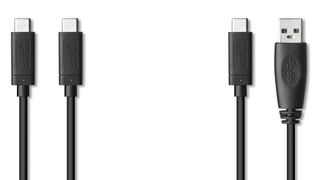 There is a faster option – the Thunderbolt 3 interface on the latest Macs and many newer Windows computers. Thunderbolt 3 uses the same physical connector as USB-C but uses different interface hardware to offer speeds up to 40Gbits/s, but to get that extra speed you need a Thunderbolt 3 equipped drive, which costs more again. The LaCie Mobile SSD and other USB-C drives will only ever give you USB 3.1 Gen. 2 speeds even when they're plugged into a Thunderbolt 3 port.
Features
LaCie says the Mobile SSD's potential 540MB/s transfer speed lets you edit files from the drive with zero lag and transfer an hour of video or thousands of high-resolution images in less than a minute. We tested the 2TB version which, according to LaCie, can hold up to 200,000 high-resolution photos or up to 65 hours of video. Obviously these figures will vary according to the file types and formats you use, but it gives a rough indication of how much extra capacity a drive like this will give you.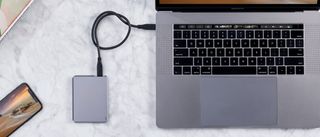 You get more than just the drive itself. The box contains both a USB-C to USB-C cable and a USB-C to USB 3.0 cable for connecting the drive to older computers. The drive also comes with a download link for the LaCie Toolkit software, which offers backup and 'mirroring' tools for Macs – mirroring is extremely useful for keeping files and folders in two locations (on two different drives) up to date and identical. (Windows users get their own installation process, which we didn't test.)
That's not all. You also get a one-month subscription to the Adobe Creative Cloud All Apps plan (a lot longer than the regular Adobe trial), a three-year warranty and a rescue plan which will provide a one-time recovery attempt for all your data in the event of file loss or some other problem.
The LaCie Mobile SSD 2TB is pretty expensive, but all these little extras add to the value.
Usability
If you've only seen the LaCie Mobile SDD in pictures, you won't be expecting it to be quite as small, slim and light as it its. We've seen smaller SSD drives still, but this one is nevertheless half the size of LaCie's regular portable HDs, and very light too. The 'diamond cut' aluminium case is light but apparently strong and the 'space gray' finish is designed to complement the latest Macbooks. It might be a bit of an acquired taste.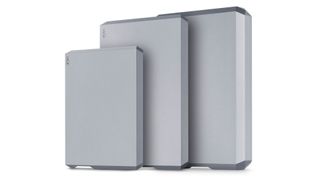 The combination of a slim, light drive and a thick, relatively inflexible USB-C cable means the LaCie Mobile SSD won't always sit flat on your desktop, but that's not a big issue and the cable is long enough to reach around the back of a desktop computer, not just the short distance to a laptop port.
Performance
LaCie claims this drive is capable of speeds of up to 540MB/s, and it came pretty close to that in our tests with the Blackmagic Disk Speed Test utility, with a read speed of 526MB/s and a write speed of 477Mb/s. That's a much better write speed than the 376MB/s we got from the G-Drive Mobile SSD we've just finished testing. The Blackmagic utility also tests sustained transfer rates for video editing, and indicates the LaCie shoud be able to handle ProRes 422 HQ video at 4K right up to 60fps, and Cinema DNG 4K up to 50fps.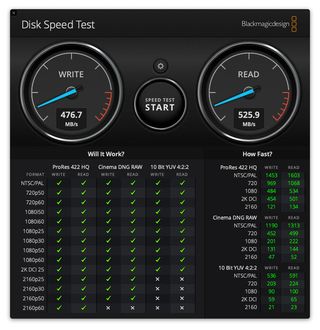 This is pretty good performance, and shows how SSD technology has really opened up the possibilities for mobile editing for photographers and especially videographers. An SSD like this is more than just portable storage and becomes part of your laptop's editing capabilities.
Verdict
The LaCie Mobile SSD 2TB can be used on Windows and Mac computers, but the styling and bundled Mac mirroring and backup software is clearly designed to complement Macs and Macbooks. It's also a bit pricier than some other 2TB SSDs out there, but it comes with extras like a 3-year warranty and rescue plan and an aluminium enclosure that can allegedly withstand a 3m drop.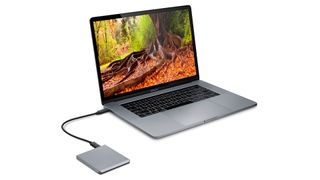 We're not sure about the styling, but this is a light, fast, high-capacity drive that works well and the bundled mirroring software is a useful tool you might be glad you've got. There are cheaper options out there, but data storage, performance and recovery options might be something you'd rather not scrimp and save on.
Read more:
• The best portable hard drives for photographers
• The best USB-C monitors for photo editing