New lenses for SLRs rather than mirrorless cameras have been thin on the ground lately, especially in the manual-focus camp. Available in Canon EF, Nikon F and Pentax K mount options, the Irix 45mm f/1.4 Dragonfly is a full-frame compatible standard prime that gives an entirely natural perspective, with a viewing angle of 51.4 degrees. That's a little less restrictive than the 47 degrees (or thereabouts) of a 50mm lens on a full-frame body. Naturally, the Irix has a narrower angle of view on an APS-C format camera due to the crop factor, with an 'effective' focal length of 67.5mm (72mm for Canon). It's the latest in a line of Irix manual-focus photo lenses that include 11mm and 15mm wide-angle primes, and a 150mm macro lens.
Specifications
Mount: Canon EF, Nikon F, Pentax K
Autofocus: No
Image stabilization: No
Lens construction: 11 elements in 9 groups
Angle of view: 51.4 degrees
Diaphragm blades: 9
Minimum aperture: f/22
Minimum focusing distance: 0.4m
Filter size: 77mm
Dimensions: 87x105/103/104mm (C/N/P)
Weight: 925/905/910g (C/N/P)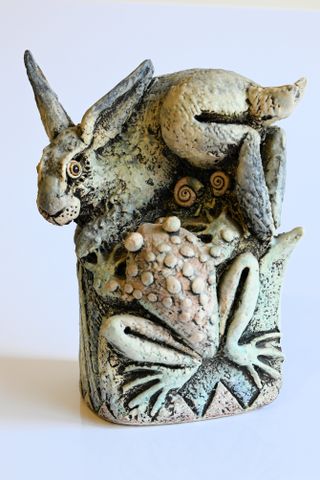 Key features
Unlike some manual-focus lenses, the Irix has built-in electronics that enable communication with the host camera body. That's a useful addition because the viewfinders of digital SLRs aren't really geared up for precise manual focusing, but the electronics enable illumination of focus assist and confirmation lamps in the viewfinder. They also allow for the aperture to be set from the camera body, so you can shoot in the full range of PASM modes without any restrictions. Lens-related EXIF data can also be recorded with images.
Typical of manual-focus lenses, the focus ring has a relatively long rotational travel. Again, this is helpful for accurate focusing, especially considering the tight depth of field available with an f/1.4 lens. A focus distance scale is engraved in the focus ring, filled with UV-reactive paint to help it remain visible in very low lighting conditions. The scale is useful for setting the hyperfocal distance for any given aperture but there are no depth of field markings, which would have been useful for zone focusing. On the plus side, there's a focus locking ring at the front of the lens, which you can engage at any focus distance. Focusing itself is fully internal, so the front element neither extends nor rotates.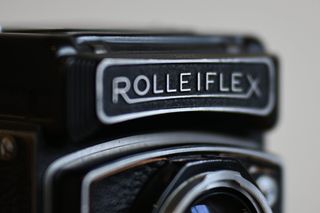 Build and handling
It's a heavyweight for a standard prime, at 925g, 905g or 910g for the Canon, Nikon and Pentax versions respectively, and build quality feels rock solid. The construction is based on a mix of magnesium alloy and high-quality composite parts, complete with extensive weather-seals.
Although the focus ring has a long rotational travel, it lacks the silky-smoothness of some manual-focus lenses. Even so, the mechanical friction is preferable to the minimal resistance that you often find with electronically coupled focus rings, usually featured in stepping motor-based autofocus lenses. The rubberised grip on the focus ring is particularly tactile, and features a raised ridge for added purchase.
The optical path includes some wide-diameter elements, typical of an f/1.4 lens. Premium glass includes one aspherical element, one ED (Extra-low Dispersion) element and four HR (High Refractive index) elements.
Performance
Levels of sharpness are pretty spectacular, right across the entire image frame and into the corners. Centre-sharpness only really drops off at the very widest aperture of f/1.4, although corner-sharpness remains very good even here. It's not quite a zero-distortion lens but comes pretty close, with just a hint of barrel. Resistance to ghosting and flare is excellent, helped by the inclusion of Irix's multi-layer 'neutrino' coating.
Lateral chromatic aberration is also very negligible, even in the extreme corners of the frame. Axial/longitudinal chromatic aberration is often more problematic for fast prime lenses, which shows up as 'bokeh fringing' around high-contrast edges in front of and behind the point of focus. Again, the Irix does well to minimise this aberration.
Bokeh is simply beautiful, with a buttery smoothness to defocused areas when shooting at f/1.4. The quality of bokeh remains very good when stopping down a little, thanks to the well-rounded nine-blade diaphragm. However, we did experience occasional exposure variations on a shot to shot basis, with lighter and darker results under the same lighting conditions and camera settings.
Lab data
We run a range of lab tests under controlled conditions, using the Imatest Master testing suite. Photos of test charts are taken across the range of apertures and zooms (where available), then analyzed for sharpness, distortion and chromatic aberrations.
We use Imatest SFR (spatial frequency response) charts and analysis software to plot lens resolution at the centre of the image frame, corners and mid-point distances, across the range of aperture settings and, with zoom lenses, at four different focal lengths. The tests also measure distortion and color fringing (chromatic aberration).
Sharpness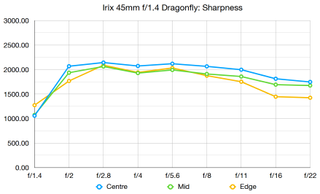 There's a drop-off in the otherwise outstanding levels of centre-sharpness at f/1.4, although edge-sharpness remains very impressive even when shooting wide-open.
Fringing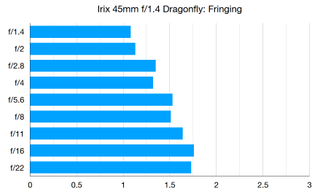 Lateral chromatic aberration remains very minimal at all aperture settings, even at the extreme corners of the frame.
Distortion: -0.63
There's just a touch of barrel distortion but it'll generally go unnoticed in real-world shooting.
Verdict
Manual-focus lenses certainly aren't to everybody's taste and the lack of an autofocus system certainly doesn't make the Irix 45mm compact or lightweight. Compared with the autofocus Sigma 50mm f/1.4 DG HSM Art lens, which we rate very highly, the Irix is substantially less expensive in the USA, although there's very little price difference in the UK. Either way, the Irix's construction, handling and image quality are very good indeed, making it well work the money.
Read more: