Honor's latest 20-series phones come in three variants: the Honor 20 Pro, Honor 20, and Honor 20 Lite. Unsurprisingly, the Honor 20 Pro boasts the most impressive camera specs of the trio and will be the model of choice for keen photographers.
Boasting four rear-facing cameras and camera tech straight from camera phone masters Huawei (Honor is a youth-orientated sub brand of Huawei), the Honor 20 Pro is out to offer premium phone camera performance at a mid-range price point. The Honor 20 Pro will retail for €599 (UK pricing has not yet been announced), but even in Euros this compares very favourably to the £899 Huawei P30 Pro - the current top dog in our best camera phone list.
Of course this all comes in the midst of uncertainty over Huawei's (and by extension, Honor's) ongoing relationship with Google - specifically its variant of the Android mobile OS, and key Google apps. This tricky situation is, at the time of writing, still up in the air, but as it stands we're reviewing the Honor 20 Pro on its technological merit and putting aside the current political problems.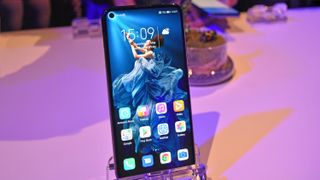 Honor 20 Pro: design and features
As you'd expect for a phone targeted at style-conscious young people, the Honor 20 Pro looks the part, especially in either of it's two 'Dynamic Holographic glass' colour-changing finishes. These are Phantom blue, which transitions between blue and turquoise depending how you angle the phone in your hand, and Phantom Black, which has a shimmering pink-purple undertone to its predominantly gloss-black finish.
Up front is a large 6.26-inch screen with a resolution of 1080x2340, equating to a 19.5:9 aspect ratio and 412ppi. The screen's bezels are so slim that Honor is claiming a 91.7-per-cent screen-to-body ratio. The 32MP front-facing selfie camera is housed within the screen in the upper left corner, similar to how Samsung incorporated the Galaxy S10's selfie camera, but the Honor 20 Pro's single 4.5mm-diameter selfie camera eats up less screen space.
The Honor 20 Pro packs a 4000mAh battery - up from 3400mAh in the Honor 10 - for a claimed full day of mixed phone use.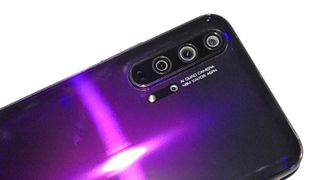 Honor 20 Pro: cameras
The Honor 20 Pro sports a total of four rear-facing cameras - double that of the Honor 10 - bringing it in line with the Huawei P30 Pro. They consist of:
Main: 48MP, 28mm-equivalent, f/1.4, OIS
Telephoto: 8MP, 80mm-equivalent, f/2.4, OIS
Ultrawide: 16MP, 13mm-equivalent, f/2.2
Macro: 2MP, 27mm-equivalent, f/2.4
The main camera in the Honor 20 Pro is based around Sony's IMX 586 chip, which at 1/2-inch in size is slightly larger than a typical 1/2.3-inch compact camera sensor, and a full 25% bigger than the 1/2.55-inch primary image sensors in the iPhone Xs Max and Galaxy S10+
Surface area matters in the world of image sensors, as it allows more space for light-sensitive photocells (which translate to pixels in your images), enabling higher resolution photos. An alternative option to utilise the extra sensor space is to have fewer pixels, but make each one physically bigger and therefore more light-sensitive. This should improve a camera's low light performance, giving you clearer images with less grain.
Like the Huawei P30 Pro, Honor appears to have gone down the first route with the 20 Pro. 48 megapixels is a insane for what's still a very small sensor (and it even beats the 40MP Huawei P30 Pro), but there's more to it. Through what Honor calls 'Light Fusion' technology, each group of four pixels acts as one, single large pixel. It's a trick usually called pixel binning, and it gives you the best of both worlds - high resolution in good light, and lower resolution 12 megapixel images in trickier lighting conditions. In fact, the Honor 20 Pro defaults to 12MP as standard, as fine detail can often be better resolved at this resolution than at 48MP thanks to the amount of software trickery that's employed through combining pixels in this way.
The Honor 20 Pro doesn't get the radical new RYYB (red, yellow, yellow, blue) Super Spectrum sensor tech from the Huawei P30 Pro. This would further increase light sensitivity, to a point where the P30 Pro boasts an incredible maximum sensitivity rating of ISO 409,600. However, the Honor 20 Pro isn't exactly left in the dust, as it sports an almost as impressive ISO 204,800 rating - far higher than a Galaxy S10+ or iPhone Xs Max can reach. The Honor 20 Pro even beats the Huawei P30 Pro when it comes to its main camera's lens aperture, which at f/1.4 is the largest to date for a phone camera. This means more light can pass through the lens to the sensor, negating the need to a higher ISO sensitivity.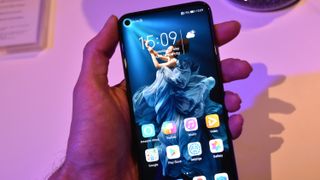 The second camera in the Honor 20 Pro is an 8MP telephoto camera giving the equivalent of 3x optical zoom an an 80mm-equivalent lens focal length with no loss of image quality. Though a separate camera to the main 48MP unit, you can zoom between 0 and 3x zoom almost seamlessly thanks to clever software processing that blends the output of both cameras at intermediate zoom settings. You can also zoom to 10x with the aid of Hybrid Zoom, that further utilises the huge resolution of the primary camera sensor to give greater magnification with a minimal drop in image quality. There's also up to 30x digital zoom, and though you do have to accept some image softness, the Honor 20 Pro performs better than most rival phones at this setting.
Both the main and telephoto cameras have 4-axis optical image stabilisation, which allied to the incredibly high sensor sensitivity should help eliminate any blur from camera shake, even in very dark lighting.
Honor also employs a third way of getting super-sharp night shots: AIS Super Night Mode. This mode can capture up to 16 individual shots of a scene without you even knowing, and it then blends them into a single, sharp shot with enhanced dynamic range.
Panoramic vistas or large group shots can be captured by the 16MP wide-angle camera that gives a very wide 13mm-equivalent focal length and a huge 117-degree field of view.
The fourth camera in the quad-camera set-up gets its own space to the side of the other three cameras, as Honor says this makes more room for the larger 4000mAh battery. It's a 2MP dedicated macro camera and can focus as close as 4cm from your subject.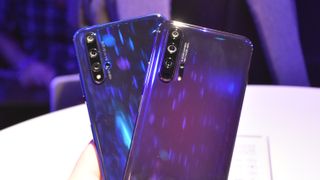 Honor 20 Pro vs. Honor 20 - key differences
Optical image stabilisation: only on Honor 20 Pro
Laser Autofocus: only on Honor 20 Pro
8MP telephoto camera vs. 2MP Depth Assist camera
RAM: 8GB vs. 6GB
Storage: 256Gb vs. 128GB
Honor 20 Pro: performance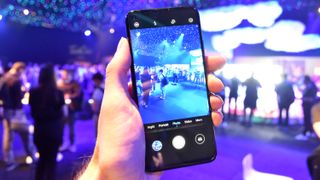 Anyone familiar with Huawei's camera app will feel right at home shooting with the Honor 20 Pro. It's a near-identical design and allows for extensive camera settings control, should you need them. However the camera does a great job of autofocusing and exposure metering with no user adjustment, even in the very tricky setting of the phone's launch event, which was dark and spot-lit with coloured lighting.
Sadly only a handful of Honor 20 Pro sample phones were provided at the launch attended by hundreds of guests, so our time with the phone was brief. However close examination of low light images taken in the venue showed an impressive amount of captured detail and minimal image noise. Shots were also bright, yet well exposed and with little sign of any blown highlights - Honor's high dynamic range processing is clearly up to scratch - and we'd expect it to be given the incredible HDR performance of the P30 Pro.
We'll reserve full judgement for our full review, but first impressions of the Honor 20 Pro's image quality are encouraging.
Honor 20 Pro: Early Verdict
The cost of flagship camera phones has risen steadily in the last few years, to a point where it's now almost the norm for a top-end model to carry a four-figure price tag. Of course mid-range phones with significantly more palatable prices have always been an option, but you usually have to settle for a second-rate camera experience - a single camera, no optical zoom, no optical stabilisation, and average image quality. The beauty of the Honor 20 Pro is you get a camera set-up almost as impressive as in as the best phones of the moment, yet it'll cost you less than half the price of an equivalent iPhone Xs Max.
We'll need to put the Honor 20 Pro through our full testing procedure to really be sure it's worthy of an entry in our best camera phone list, but if DxOMark's impressive score of 111 is anything to go by, this could be the bargain camera phone of 2019. Of course that's all assuming a certain orange individual in a big white house doesn't continue to escalate U.S.-Chinese tensions. But every mushroom cloud has a silver lining - at least the Honor 20 Pro should get you a great photo of the blast.