The $130/£100 Garmin Dash Cam Mini 2 might just be the smallest dash cam on the market today. Roughly the size of a car key fob, the camera records in 1080p Full HD resolution with HDR, is easy to set up, has an equally compact windscreen mount, and even features a voice control system.
There are very few additional features to write home about, but we think the majority of dash cam buyers want the device to be as simple as possible. In that sense, the Garmin Mini 2 really is a case of set-it-and-forget-it.
Specifications
Resolution: 1080p Full HD
HDR: Yes
Field of view: 149 degrees
Built-in display: No
Battery: No
Voice control: Yes
Dimensions: 3.13 x 5.33 x 2.91cm
Weight: 32.1g
Key features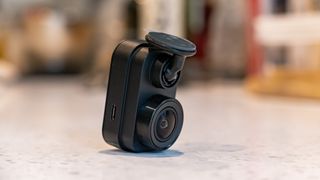 The primary feature of this dash cam is undeniably its size. Garmin boasts about it being the size of a car key fob, and it really is. This means it can be hidden discreetly behind the rear view mirror of your car, neatly out of the way so as not to obscure the driver's view.
Otherwise, highlights include HDR (high dynamic range) video recording at 720 and 1080p HD, with both options recording at 30 frames per second. We'd like to have seen the option for 60fps, but this is only a small criticism.
Voice control is another big feature of this Garmin, and we're pleased to say it works very well. Just say "OK Garmin," and the dash cam instantly beeps to say it is listening. Then say commands like "save video," "take a picture," and "stop audio". The camera responded to our commands quickly and reliably.
Build and handling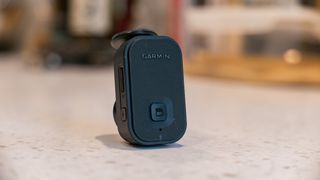 Beyond the compact size and sturdy build quality, there isn't much more to say here. Garmin has done a great job to make the camera so small, and the ball-and-socket windscreen mount with adhesive strip is also tiny but plenty robust enough to hold the camera steady.
There's a button on the side for switching audio recording on or off, and a button on the back for manually saving video, however the camera will do this automatically when it detects a collision. Power is via an included microUSB cable and a 12V lighter socket adapter with a pair of USB sockets, so you can charge your phone while powering the dash cam.
Performance
We have no complaints at all with how the Dash Cam Mini 2 performs. Setting up via the Garmin Drive smartphone app was quick and easy, with the app acting as a live viewfinder to help position the camera (which doesn't have a display of its own) correctly. Videos and photos can be transferred via the app too, or copied across from a microSD card (not included) to a computer in the usual way.
Video quality is very good, with exposure handled well (plus manual adjustment in the app if needed) and a sharpness that makes important details like vehicle number plates easy to spot.
Lastly, videos can be uploaded to Garmin's Vault service, which stores them for free for 24 hours. Monthly paid subscriptions to increase this are available.
Verdict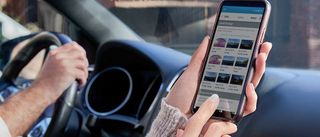 The Garmin Mini 2 is the perfect compact dash cam. For those who want high-quality Full HD video with HDR from an incredibly compact design, you really should look no further. The voice controls are also very good, the mount is small and simple to use, and you can even pair up to four of these cameras together for synchronised recording right around your vehicle.
Read more guides:
Best dash cams
Best front and rear dash cams
Best Uber dash cams
The Best camera phones today
Best indoor security cameras in 2021
Best outdoor security cameras
The 10 best action cameras
The best helmet cameras
Best backup camera
The best baby camera monitors