BenQ has a history of making some of the best monitors for photo editing, and the SW272U is its latest flagship offering for discerning photo and video editors. The new display boasts factory color calibration to an accuracy of Delta E ≤1.5 and is capable of displaying 100% sRGB and 99% AdobeRGB coverage - impressive stuff.
The SW272U replaces the SW271C in the BenQ range. It inherits similar core specifications from the outgoing display, the main being its screen size, high color accuracy and 4K native resolution. But the SW272U does offer some improvements over its predecessor, including a better anti-reflective coating, a redesigned remote controller that's also now wireless, and an upgraded USB-C connection with more potent Power Delivery.
Let's see if the upgrades are enough to keep the SW272U ahead of some stiff competition...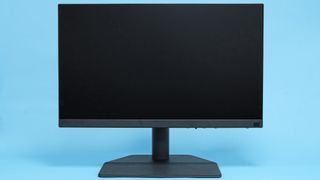 Specifications
Display area: 27 inches
Aspect: 16:9
Panel type: IPS
Panel bit depth: 10-bit
Display colors: 1.07 billion
Resolution: 3840 x 2160
Pixel density: 163 ppi
Refresh rate: 60Hz
Response time: 5ms
Brightness: 400 cd/m2
Contrast ratio: 1000:1
Color space coverage: 100% sRGB, 99% Adobe RGB, 99% DCI-P3
Video inputs: HDMI x2, USB-C (DP Alt Mode) x1, DisplayPort v1.4 x1
Key features
The main selling point of the BenQ PhotoVue SW272U is its color accuracy. Plenty of low- to mid-range monitors cover 99-100% of the relatively undemanding sRGB color space, but its the percentage coverage of the far broader Adobe RGB and DCI-P3 gamuts that separate the best monitors from the rest. Here the SW272U really makes a case for itself, boasting 99% Adobe RGB and 99% P3 coverage - both highly respectable figures that few rival screens can match. The SW272U is also certified by Pantone Validated, Pantone SkinTone, and is Calman Verified for color performance and calibration. And it's not just the impressive DCI-P3 coverage that makes this monitor so appealing to videographers: the SW272U also supports HDR10 and HLG for playback of HDR video content.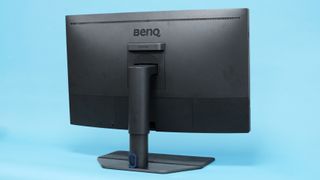 To keep colors at maximum accuracy, the SW272U incorporates hardware color calibration. Unlike conventional monitor calibration where a LUT (look-up table) is saved to your computer to modify the graphics card's color output, the SW272U stores calibrated color data in the monitor itself, independently of the connected computer. A separate colorimeter from a brand like Calibrite, Datacolor or X-Rite is required, which is then used in conjunction with BenQ's new Palette Master Ultimate calibration software. BenQ says this has been in development for 6 years and is both easier to use compared to previous software versions, as well as being 50% faster. Palette Master Ultimate is also said to be twice as accurate as older versions, while offering a real-time comparison of pre- and post-calibration color.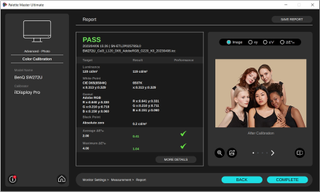 Like the old SW271C, the SW272U is a USB-C monitor, able to be linked to a compatible laptop via a single USB-C cable that transfers both power and the video signal. But where the old monitor could only supply 60 watts of power, the new model is able to feed a more substantial 90 watts.
Another improvement to the SW272U is its new, fine-coated anti-reflection panel coating that's said to dramatically cut down reflections and glare, and should simulate the texture and experience of viewing paper - ideal when color matching with print output. And if the improved anti-reflection coating still isn't enough to banish reflections, the monitor is also supplied with a detachable shading hood which can be used in both landscape and portrait orientation.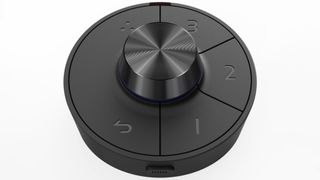 Like most high-end BenQ monitors targeted at creative pros, the SW272U includes BenQ's Hotkey Puck remote control dial, now in its G3 revision. Core functionality remains largely the same as the previous G2 hotkey puck - it lets you take control of monitor settings, switch color spaces, etc - but now the controller operates wirelessly. The buttons have also been tilted slightly at an angle to better face the user, and as before, and they can be customised to suit your workflow.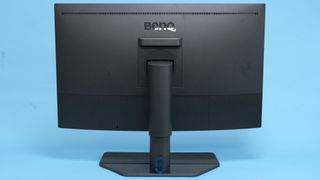 Build & handling
The SW272U is subtly styled, with form definitely following function. This is a monitor with a firm focus on image quality and ergonomics, not superficial showy styling gimmicks. The overall build quality is solid, as you'd expect from a premium monitor, and the same goes for the included stand. This attaches easily to the monitor panel, with no screws required. It enables decent range of ergonomic adjustability, with 140mm of height adjustment, -5˚ - 20˚ of tilt, and 30˚/30˚ of swivel movement. The stand's base is generously large, giving the monitor an extra-stable footing. New for the SW272U is a leatherette insert in the base, adding an extra touch of luxury.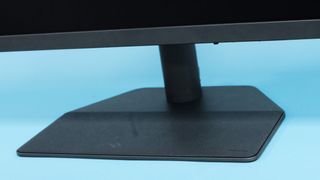 One area where the old SW271C frustrated was its control interface. Thankfully BenQ has replaced that monitor's row of buttons with a much more intuitive five-way joystick controller for the SW272U, which makes menu navigation much easier. The menu interface itself is typically well laid out and simple to operate.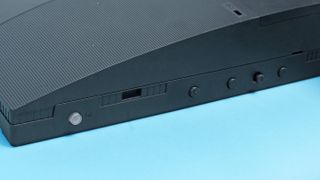 If you don't fancy using the onboard controls to navigate the monitor's settings, you can always used the supplied - and now wireless - Hotkey Puck instead. This consists of a central rotating dial, surrounded by a Rotation Key, three function keys and a back button. It's certainly a nice extra to have as it does make it easier to navigate through the on-screen display, especially if you want to frequently switch between color gamut presents at the touch of a hotkey button, rather than scrolling through menus every time. However if, like me, you tend to work in one color mode, and leave brightness and other image settings alone once you've got the monitor set up how you want it, then the Puck will likely just gather dust.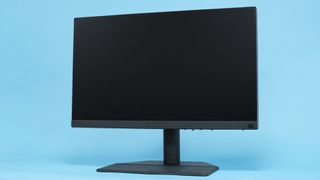 At the bottom of the monitor you'll find an SD card reader, two USB 3.2 Type-A ports and a 3.5mm audio jack. All these ports are actually rather useful, considering many new ultra-thin laptops now lack any USB-A ports, not to mention a card reader. Next to the video input ports there's also that USB Type-C port with its 90 watts of power passthrough.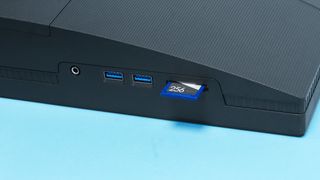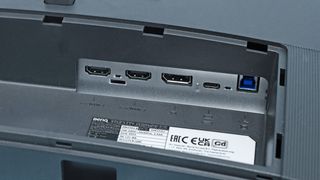 Performance
As we've come to expect from BenQ's SW-series PhotoVue monitors, the latest SW272U performs admirably. Its IPS LCD panel provides excellent color vibrancy and consistency, regardless of your viewing angle. Contrast is also good, though deep blacks inevitably take on a little 'shimmer', which is inevitable for a backlit LCD display. BenQ's latest 'Fine-Coated' anti-reflection panel coating also did a good job of muting any reflections from the overhead lights in our testing lab.
The only aspect of image quality which doesn't instantly impress is overall brightness. Compared to the latest retina-searing OLED displays on many new laptops, the 400-nit maximum brightness of the SW272U seems relatively subdued. However it's worth remembering that around 120-150 nits is an optimal brightness for comfortable and accurate image editing, as a higher brightness setting can result in blowing out subtle highlight details.
As with any 27-inch 4K monitor, you'll be highly reliant on interface scaling from your computer's operating system. With scaling set as low as 100%, icons and toolbars will be tiny and almost illegible. Windows does a great job of upscaling its interface to whatever size you find comfortable to view, but some third-party apps which haven't been properly coded for optimal scaling may well look aliased and blurred when viewed on the SW272U. This is no fault of the monitor - it's just something to bear in mind when choosing a relatively small monitor with a 4K native resolution. BenQ does have an answer to this in the shape of its SW272Q, with its lower 2560x1440 resolution.
But to really assess a monitor's image quality, you need more than a subjective human viewpoint. So we broke out our DataColor Spyder X Elite monitor calibrator to really put the SW272U through its paces.
Lab results
Color gamut: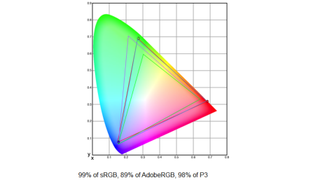 BenQ claims 100% sRGB and 99% DCI-P3 color space coverage, and our testing found that to be pretty much accurate. Our 89% Adobe RGB figure was measured with the monitor in the P3 color preset, so it's likely the monitor would have scored better in the appropriate preset mode.
Color accuracy: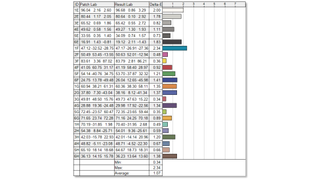 BenQ claims the SW272U comes pre-calibrated to a Delta-E color accuracy of <1.5. We found this to be quite conservative, as we measured an impressive score of 1.07 (values closest to zero are better). We could not improve on this with further calibration.
Luminance uniformity: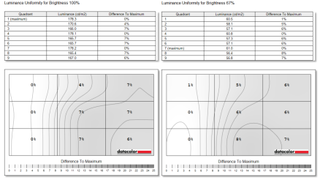 Luminance uniformity simply measures the consistency of brightness across 9 screen regions. In this test the SW272U scores quite well, recording a maximum brightness difference of 7-8%, measured between the brightest and dimmest screen regions. You'd be hard pressed to spot this with the naked eye.
Color uniformity: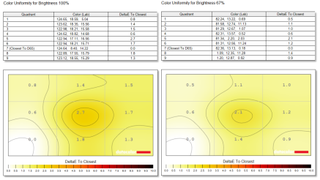 Color accuracy can fluctuate when you move away from the center of the screen, so this test measures how consistent color is in 9 regions spread across the display. Once again, the SW272U performs well. With brightness set to 100%, we recorded a Delta-E of just 2.7 (values closer to zero are better) between the most and least color-accurate regions. This drops still further, to 2.1, with brightness set to 67%.
Verdict
Taken in isolation, the BenQ PhotoVue SW272U is a terrific monitor that's a pleasure to use, both for image and video editing. Its high color accuracy and wide color space coverage are outstanding, it's also built to a very high standard, and it's packed with features orientated squarely at enthusiast and professional creatives. With no significant drawbacks, we could therefore end right here and award a full five stars.
But, this isn't the only 27-inch, 4K monitor in town that can boast impeccable color accuracy. There's now a wide choice of sub $1000/£1000 screens that can match or almost match the SW272U's core specifications, with some costing even less. Take, for example, the Dell UltraSharp U2723QE. Apart from Adobe RGB coverage, its display specs are almost identical to the the SW272U, yet it can now be had for under $600. Sure, you don't get extras like a Hotkey Puck, a fancy anti-reflective coating or an included shading hood, but do these really justify spending well over twice as much for the BenQ? We doubt it.
If you're a professional or semi-pro creative who needs maximum Adobe RGB coverage and can really make the most out of the SW272U's features, then this monitor may just be worth the money. However, for the vast majority of buyers, it's far harder to justify the SW272U when you can get comparable performance from rival monitors that cost a fraction of the price.
Read more:
The best photo editing tools and accessories
The best NAS drives
The best cameras you can buy right now
The best monitor calibrators
The best photo editing software
The best desktop computers for photo editing
The best ultrawide monitors for photo editing
Best video editing monitors