The industry is constantly reaching new frontiers in screen design, with the likes of Samsung ready to unleash a retooled successor to the problematic Galaxy Fold. Now Chinese manufacturer Xiaomi is pushing the envelope again with a new patent for a new Surround Display wraparound smartphone screen.
The first time we saw such a design was with the Xiaomi Mi Mix Alpha – a concept phone that ultimately never saw the light of day, but whose 180.6% screen-to-body ratio and 108MP image sensor certainly had the potential to rank among the best camera phones.
Xiaomi's new patent, spotted by Chinese outlet CNMO (by way of Gadgets 360), is apparently one of a number of different Surround Display designs filed by the company. While this one describes a slightly different design to the Mix Alpha, it is certainly iterating on the original theme – so it's therefore possible that the Mix Alpha could eventually materialize after all, albeit with a revamped display.
The main difference, visually at least, in this new design is that the screen wraps around the phone like the jacket of a book, covering the front, the left-hand side and then the back of the unit. This leaves the right-hand side (where the exposed pages would be, on a book) as the sole part of the phone not covered by the display.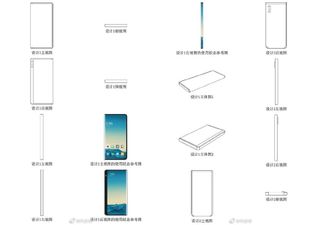 Obviously this would accommodate the camera array on the rear of the phone, but there is no apparent notch or hole-punch on the front for the selfie camera – suggesting that the design will accommodate Xiaomi's Under Display camera with photosensitive screen.
In addition to visual differences, CNMO suggests that the construction and materials are likely to be different on this new phone as well. "At the beginning of Xiaomi Mix Alpha, the material of the screen was still plastic," notes the site. "Xiaomi said that in the future, glass materials will be used on flexible screens. However, the design of the surround screen needs further improvement in practicality, strength and yield."
What do you think – are folding displays, wraparound displays and cameras hidden beneath the screen worth getting excited over, or is this just a fad that will soon pass in the camera phone industry? Have your say in the DCW forums!
Read more:
The next iPhone could be smaller than you think…
Samsung Galaxy S20+ leaked images and specs: 4 cameras and 8K 30fps video!
Smartphone news, camera phone leaks and mobile rumors