Lens maker Meike has announced a new 85mm f/1.4 autofocus lens that will come in Sony E, Nikon Z, and Leica L mounts, and do our eyes deceive us – Canon RF mount!
The Canon has a well-documented history of blocking any third-party lens manufacturer from making autofocus lenses for the RF mount, after getting its lawyers to step in when Samyang/Rokinon and Viltrox both tried their luck. In those cases, both companies were forced to cease production of their respective RF mount lenses before they got into the hands of consumers.
• Read More: best Canon portrait lenses
Meike thinks it might have a better chance, and is claiming that its 85mm f/1.4 lens is "approved" by Canon. Canon has no official approvals labels or markings, so at the moment, we are not sure what Meike is using to back up its claim. Canon has also chosen to so far not publically comment on the Meike lens, for better or for worse.
The only other third-party lens that Canon has publically "approved" so far is the Cosina Voigtlander Nokton 50mm f/1 Aspherical, however, this is a manual focus lens. There are other manual focus lenses from third-party brands such as Venus Optics, it's Laowa lenses have managed to skirt past Canon's legal team, although neither have they been officially endorsed by Canon.
Meike is not the most well-known lens brand, but the Hong Kong based company has been steadily releasing cine and stills lenses for cameras for the past several years, where it rose in the public consciousness with its affordable Mirco Four Thirds glass. It is not the first company you would think would get official "approval" from Canon, but maybe they believe they have less to lose by Canon scuppering their plans.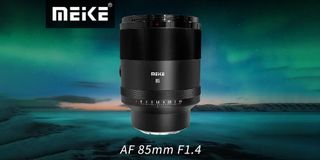 With the recent news that Sigma and Tamron are outselling first-party lens makers, there is definitely a booming market for a broader range of options for camera glass. Canon is the only major manufacturer to hold out on not allowing third-party manufacturers to make lenses for its mirrorless mount. Nikon was the latest to give in the last few months, and now a surge of new lenses has started to appear for the Z mount, it will be interesting to see how long Canon can hold out.
Canon previously let third-party manufacturers make glass for its EF DSLR mount and for its first attempt at mirrorless, the EF-M mount. It is unclear why Canon is so resistant to other companies making lenses for its RF-mount cameras. Some have suggested it is a financial strategy to protect its own lens revenues, while others have suggested that Canon is seeking to protect consumers from shoddy third-party lenses.
However, when some third-party lenses are as good or even better than first-party efforts, and camera companies like Fujifilm praising third-party lenses for improving their camera systems and pleasing customers, it is getting harder for Canon to justify its position.
Find out more about the latest from Canon with our guides to the best Canon lenses, the best Canon RF lenses, and the best Canon cameras.