UPDATE: In addition to the lens being released on Canon RF, Nikon Z and L- Mount, the TTArtisan 500mm f6.3 lens will also be released for both X-mount and G-mount!
According to TTArtisan's Facebook account, when asked in the comment section of the lens announcement about the X-mount and G-mount, TTArtisan responded "Yes, just confirmed that there will be X-mount later" and "There will be GFX mount later". No dates have been issued for this release.
This news comes not long after Fujifilm announce a new GF 500mm f/5.6 to their road map, scheduled for next year.
…
ORIGINAL STORY (24 Sep 2023): There is yet another new product announcement from TTArtisan, as they release details on a new TTArtisan 500mm F6.3 super-telephoto prime lens.
Set to become one of the best budget telephoto lenses of the year, the lens will be available for Sony E-mount, Nikon Z-mount, Canon RF-mount, and L-mount. The 500mm focal length is the first telephoto lens of this range that TTArtisan has released for full-frame mirrorless bodies and provides a budget-friendly alternative to the existing mirrorless telephoto market.
With a retail price of $369 / £409, this is a powerful lens that lowers the entry point and accessibility of super-telephoto photography. With a maximum aperture of f/6.3, it provides a relatively bright image compared with some budget rivals.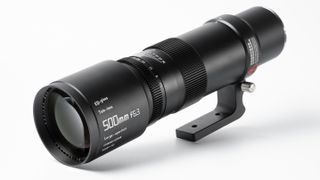 It is worth noting, however, that this lens is manual focus, therefore, not a lens designed for the tracking of fast-paced subjects. Instead where this lens may shine is with landscape, astrophotography, and slower-paced wildlife photography. The manual focus element may seem like the sacrifice for focal length and aperture, but this is not an issue for photographers pre-focusing on a subject such as a branch or a moon.
Stability is vital for a lens of this focal length and to aid in this department, a tripod mount ring is included. TTArtisan has seemed to miss an opportunity here however as the tripod mount ring is not Arca-Swiss compatible.
The 500mm f/6.3 Telephoto lens is optically structured from 8 elements in 5 groups - and uses a conventional, rather than mirror, design. Included in this configuration are 2 extra-low dispersion (ED) glass lenses and 2 high-index glass lenses, stated to reduce chromatic aberration and contribute to decent image quality.
Sony E-Mount users may experience some slight vignetting when used wide open, the official press release warns - but this said not to be an issue with Z-, RF-, and L- mount versions of the lens.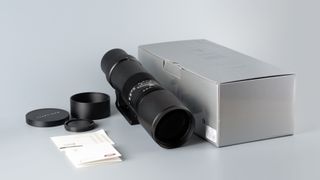 There is a real focus on astrophotography with the promotion of this lens and it is easy to see why. The 500mm focal length pierces the night sky, enabling you to 'capture distant worlds' - and will be particularly useful for photographing the moon. The ED lenses will also control and diminish comatic aberration, a common concern in this field of photography.
Other key features include a 3.3m minimum focus distance (10.8 feet), an 82mm front filter ring, and a 12-blade aperture diaphragm. It weighs around 1600g (57oz).
The TTArtisan 500mm f/6.3 lens is available now at the price of $369 / £409 (approximately AU$775), and is supplied with a metal lens hood and the tripod foot as standard.