This award-winning photographer and conservationist needs little introduction, but for anyone who isn't familiar, David Yarrow was born in Glasgow and started out as a press photographer covering sports events.
While his photo of Diego Maradona holding the World Cup trophy aloft after leading Argentina to victory in the 1996 World Cup Final in Mexico City was seen around the world, Yarrow is now best known for his valuable work in wildlife conservation.
Sales of the Nikon shooter's prints have raised over £2.2 million for conservation NGOs, children's education in Africa and medical charities around the world.
Find out more about David's relentless pursuit of perfection and how he creates his dramatic images during his free talk at The Photography Show & The Video Show Virtual Festival taking place on 20-21 September. The two day event will have over 100 free talks online. David will be talking at 2.05pm BST (9.05am EDT) on what he has been up to during isolation.
• Register for the free festival now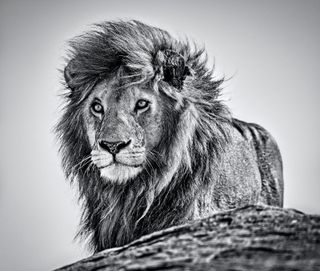 Following his return from East Africa last month, we asked David to share a memorable moment from his travels, and he told us about a lioness making off with one of his cameras. Here's what happened…
"I work with remote controls quite a bit, when you're in charge of the shutter but from 150 feet away. You have to hope that the right thing is going to walk in front of the camera – with lions it's not easy because their path of direction can move around a lot, and you have a 1 in 50 chance to get a good shot.
"Just after sunrise, I placed a camera about 80 yards from a lion. The lion walked up to the camera with the lioness, and the lioness deviated off just before I shot the picture.
"But then she came back and took the camera, and it took a long time to find. Hyenas destroy cameras, lions don't; if a hyena takes a camera, then the camera is gone.
"You've got to go and find the camera when they've stopped playing with it – it's like a kitten with a ball of string – but I hate snakes, and if you're searching around grass for a camera then you're just terrified you're going to step on a snake. So I kind of pretended to look and left the rangers to try to find it.
"But then we found the camera, and luckily the last picture we took was a strong one. It was shot on a 58mm lens, so there was so much more detail in the face than you would get from a long lens shooting from 60-70 feet away. And because the camera was on the ground, it magnified the beast above, which is exactly the effect that you want to get."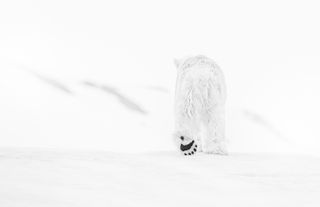 Five quick questions with David Yarrow
Find out more about David and his work as he answers five quick questions we asked him back at the start of the year, before the pandemic and the postponement of the original Photography Show back in March…
1. Your talk will be titled 'Living on Earth'. What can we expect to hear about on the journey you're going to take us on from the extreme cold of Antarctica to the oppressive heat of Borneo?
I think I want to show that success normally comes after a lot of failure and in a lot of places you get it wrong. Then you learn from getting it wrong and try to get it right. It's not about just going to these places, because anyone can visit these places with Google these days and a bit of cash.
It's what you are going to do when you get there and I think simply going to these places isn't enough; you can't win a medal. You have got to be an artist when you get there and that is a lot of my internal processing.
2. Do you get more excited by the work you do now, or is photographing the world's biggest sporting events the best buzz there is?
Photographing the world's biggest sports events was a long time ago. I prefer to go to those events now as a spectator – it's more fun.
There was always a buzz there but the problem was that there were also another 200 photographers on the pitch, whereas with what I do now, it tends to only be me.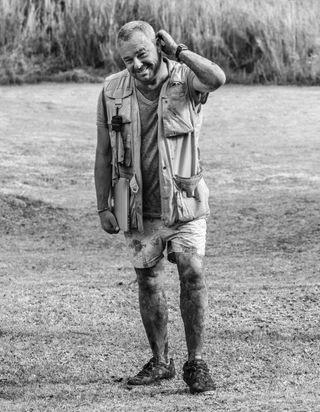 3. Do you have a favorite photograph from your career? Or do you look at each of your best-selling images and think there's something you could have done better?
I think Mankind, taken way back in 2014 in South Sudan, was a big picture. That was taken on a camera with lower-quality resolution to the cameras you have now.
If I could go back now with better equipment there would be even less noise in the picture. You have always got to believe that the biggest pictures are ahead of you rather than behind you.
I think there are probably four or five big pictures in my career, and I wouldn't want to change anything about them. That is why they are the big pictures they are.
4. You have said "… storytelling is started by the camera and finished by the viewer." How would you describe your role in this process?
My role is to engage the viewer so that he or she thinks there is a story there. You have always got to think about a picture that people can look at for a long time; if they can't look at it for a long time then you have failed.
A key point of that is to make sure that the photographs aren't loose, the framing isn't loose, that there is enough action in the foreground and that it immediately grabs the viewer's eye and holds on to it.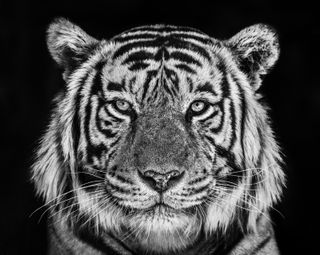 5. What's coming up for you for the rest of this year? Will it be more assignments photographing iconic animals, or do you have some other interesting projects in the pipeline?
We have a lot of interesting projects in the pipeline but things move fairly quickly. We are hoping to go to Antarctica later on this year, but doing it in a very different way.
The world is a little disrupted due to the coronavirus at the moment, so we are taking each week as it comes. Going to China was on the plan at some stage this year, so we are having to adapt to the circumstances.
It has been very wet in East Africa which has altered our plans there, so we are spending a lot of time in America – currently we are in West Texas.
Find out more about what David got up to during lockdown in his talk at The Photography Show & The Video Show Virtual Festival, on 20 September at 2pm BST (9am EDT).