The Fujifilm X-T3 is still one of the best Fujifilm cameras you can buy. Yes, the newer X-T4 has in-body stabilisation and a flip-out vari-angle screen, but the X-T3 has the same sensor and the same class-leading 4K 60p video capabilities. And now it has the same autofocus system, thanks to a Ver. 4.0 firmware upgrade due to be released on October 28.
Most camera firmware updates are designed to fix things that don't work properly, or tweak a menu screen or a button option you probably didn't even know about. Fujifilm firmware updates are different. The company often brings substantial upgrades to cameras that have been out for a while, bringing them right back up to date.
Fujifilm X-T3 Ver. 4.0 firmware update
First, the Ver. 4.0 firmware update brings faster AF performance, bringing the X-T3's previous fastest AF speed down from 0.06sec to just 0.02sec. The subject movement algorithm has been updated to improve the 'hit rate' to 90% or more (Fujifilm's figures).
Fujifilm says the update also doubles the AF tracking performance, where you half-press the shutter release when the subject is in the focus area to maintain focus. Also upgraded is the Face Tracking/Eye AF. The tracking algorithm has been rewritten to double the Eye AF tracking performance in continuous shooting, for faster face or eye focus acquisition and greater accuracy, even where there is some subject movement.
This firmware update also improves the AF low light performance, allowing it to work in light levels as low as -7EV – in other words, in near darkness. There will also be a Focus Limiter function to define a specific focus range.
Other AF improvements include the ability adjust the size of the Single AF point option while recording video.
Outside of the AF improvements, the Ver. 4.0 firmware update means photo ratings applied in-camera can now be read by third-party software, and if you're recording RAW+JPEG images the ratings will be applied to both.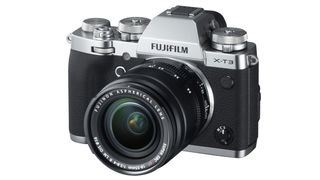 Fujifilm X-T3 vs X-T4
With the firmware 4.0 improvements to the Fujifilm X-T3 it reignites the X-T3 vs X-T4 debate. The Fujifilm X-T4 does have in-body stabilisation, a vari-angle screen, a bigger battery and 240fps full HD video, but it's also a lot more expensive, and there are some great deals on the Fujifilm X-T3 right now (see below).
Read more:
• Best Fujifilm cameras
• Best mirrorless cameras
• Best vlogging cameras
• Best Fujifilm lenses