Fujifilm has announced a new mid-range mirrorless camera that sits just one step below the flagship X-T4 in the Fujifilm range and is designed to appeal to a broader range of users.
The new Fujifilm X-S10 has premium build quality and features, but it's a little smaller than the Fujifilm X-T4, significantly more affordable and drops Fujifilm's trademark shutter speed and ISO dials in favour of a more mass-market mode dial.
Previously, Fujifilm's higher-end cameras have offered shutter speed dials and lens aperture rings (on some, but not all lenses) to recreate the manual controls of traditional cameras, but with the X-S10 the company has acknowledged that some users might find this intimidating and has responded with a more conventional mode dial which does offer the same direct shutter speed and aperture adjustments, but via control dials and the camera display, rather than with externally marked dials.
• Fujifilm X-S10 review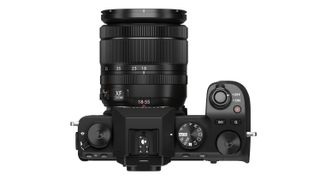 Fujifilm does offer these regular mode dials on its entry-level X-A7 and X-T200 cameras, but the X-S10 is the first higher-end camera to revert to this more conventional control layout. It should broaden the appeal of this camera to photographers familiar with other brands, thought it may disappoint diehard Fujifilm fans.
Fujifilm X-S10 design and features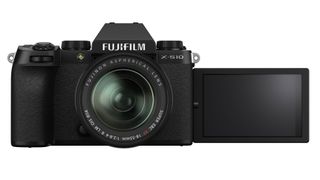 The Fujifilm X-S10 has the company's latest 26-megapixel APS-C sensor and phase-detect AF system with Tracking AF for moving subjects and Face/Eye AF. It also incorporates a 6-stop in-body stabilisation system, only the third Fujifilm X-mount camera to do so after the Fujifilm X-T4 and the now hard to find Fujifilm X-H1.
The X-S10 naturally shoots 4K video, but tops out at a frame rate of 30p rather than the 60p offered by the flagship Fujifilm X-T4. It uses Long GOP compression exclusively and does not offer the X-T4's All-I option, and there is only one card slot here rather than two.
But while there are still significant differences between the X-S10 and the X-T4, the X-S10 is nevertheless in a very good position in the APS-C mirrorless camera market. Only the Canon EOS M6 Mark II has a higher resolution, and that does not have in-body stabilisation or even an in-built viewfinder. The Fujifilm X-S10 also goes up against the Sony A6600, which has slightly lower resolution and costs more, and has a rectangular rangefinder style body which is compact but is perhaps not as wieldy as the X-S10's mini-DSLR design.
The X-S10 also has a flip-out vari-angle screen, where the Sony simply has a tilting screen.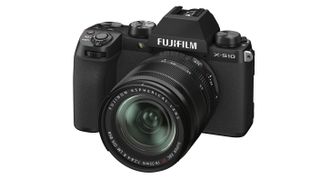 Fujifilm X-S10 vx X-T30
The Fujifilm X-S10 could mark an interesting turning point for Fujifilm's mid-range cameras. Its closest equivalent in the Fujifilm range is the X-T30, which was first announced back in February 2019. The X-T30 does have Fujifilm's latest 26-megapixel sensor but no in-body stabilisation and is, we believe, too small to accommodate it.
The new X-S10 may not challenge the specs of the flagship Fujifilm X-T4 model, but it already looks like a more tempting buy for photographers who want to spend a little less without sacrificing in-body stabilisation.
We have seen an early sample of the Fujifilm X-S10, and while this camera's body is not officially weather-sealed (neither is the X-T30), its build quality, finish and materials have left us very impressed indeed. See our Fujifilm X-S10 hands on review for more.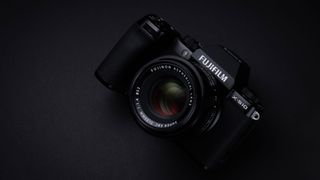 Fujifilm X-S10 price and availability
The Fujifilm X-S10 will be available from mid-November in a number of kits. The body only price will be $999/£949/AU$1,749, but it will also be sold with the Fujinon XC 15-45mm f/3.5-5.6 OIS PZ lens for £999.00, with the Fujinon XF 18-55mm f/2.8-4 R for $1,399 /£1,299.00 and with the Fujinon XF 16-80mm f/4 R OIS WR for $1,499/£1,399.00.
Australian pricing for the kits are yet to be confirmed.
• Pre-order the Fujifilm X-S10 at B&H Photo
• Pre-order the Fujifilm X-S10 at Wex Photo
Read more:
• Best Fujifilm cameras
• Best mirrorless cameras
• Best vlogging cameras
• Best Fujifilm lenses