ON1 NoNoise AI uses artificial intelligence and machine learning to remove digital noise from your images while revealing and restoring maximum image detail. First announced in May, the new software is now available to download as a free trial - or to buy. Its aim is to produce the best noise reduction tool on the market.
ON1 NoNoise AI works as both a plug-in and a standalone app. You will be able to use it as a plug-in with Lightroom Classic, Photoshop CC, Affinity Photo, Corel PaintShop Pro, Apple Photos and Capture One.
As ON1 points out, a lot of noise in digital images is the result of the demosaicing process applied to raw files, so while the plug-in version may fit in best with your workflow, the standalone mode may prove better for optimising raw files directly.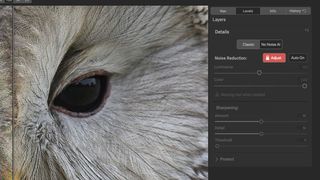 ON1 NoNoise AI key features
ON1 says NoNoise AI will offer "ultra-fast" live previews. We've been impressed with DxO PureRAW's noise removal but it does not offer live previews and takes time to process each image – we look forward to being able to compare the results from these two programs side by side.
The company says it's designed to give the best results in the shortest time, with far fewer controls to adjust without sacrificing sharpness to reduce image noise.
ON1 NoNoise AI will be able to save raw DNG files, preserving the full color and tonal range of raw images.
The AI-based demosaicing process for raw files tackles noise at its very root – the demosaicing process itself. (When you try to reduce noise in a raw file that's already been processed, it's already too late to get the best outcome.)
ON1 NoNoise AI will be able to open raw photos from over 700 cameras, including Fujifilm cameras, and common photography file types including DNG, JPG, TIFF and PNG.
The software uses ON1's own Progressive Sharpening algorithm to enhance sharpness and details according to their size, without (the company claims) the edge halos and artifacts of other sharpening methods.
You'll also be able to batch process entire folders full of photos with automatic noise reduction or manual settings – and you will be able to paste settings from one image to another.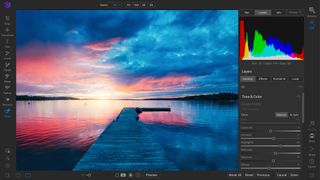 ON1 NoNoise AI price and availability
ON1 NoNoise AI is now on sale for $69.99 / £62.54. It is also available as part of the On1 Professional Plugin Bundle with ON1 Effects 2021, ON1 Resize 2021, ON1 Portrait AI 2021 and ON1 HDR 2021 for $149.99 / £134.74. Both options are available from the On1 store.
Read more:
• Best Lightroom plug-ins for serious photographers
• Best free Lightroom presets
• Best photo editing software
• Best Photoshop alternatives
• DxO PureRAW review
• Noise reduction in Photoshop
• Lightroom noise reduction
• Noise reduction in Affinity Photo