UPDATE: Sony has since confirmed that it will, in fact, be attending the Photo Plus trade show in October – and it is therefore likely that the Sony A9 II will be shown at the event.
"Sony tells PetaPixel that they actually WILL BE GOING to the Expo," reports Petapixel. "A spokesperson responded to our request for comment by writing that the Photo Plus team 'has just been delayed in adding Sony to the site.' and they expect Sony 'will be officially listed on there either later today or tomorrow.'"
ORIGINAL STORY: The first (purported) image of the Sony A9 II has been leaked, along with a rumored price tag of $5,000. Some scant additional details also reveal that the biggest changes, aside from the newly designed 36MP sensor, are improved performance such as autofocus.
It has also been reported that Sony will announce the camera at its own event in mid-October, days before the Photo Plus trade show (taking place from 24-26 October) in New York – where it was speculated that the camera might have been revealed to the public. However, Sony has since decided to forego the event.
The information comes courtesy of Sony Alpha Rumors, which leaked the first image of the camera – but it only depicts the rear of the body. "I got three images of the new Sony A9II and I am now allowed to post this one only," wrote the outlet. "The new Sony A9II looks exactly like the new Sony A7R IV but with the additional dial on the left."
In addition, the focus mode dial lock button from the original Sony A9 has been omitted from the design – one of the few differentiating characteristics of the camera, at least externally.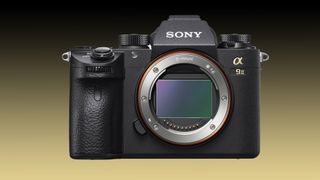 "I have been assured that all the WOW elements are INSIDE the camera. The sensor should be the most advanced one on the market yet!" However, the site stopped short of confirming the rumored 36MP figure – though it noted that the company's biggest request from professionals was to increase the resolution on the Sony A9 II.
Sony apparently plans to offer loan bodies to professional photographers at the Tokyo 2020 Olympic Games – a space that has traditionally been reserved by Canon and Nikon, and is doubly bold given that the Nikon D6 is alleged to be in the hands of pros at the Olympics.
Finally, the website reported an unsubstantiated claim that the Sony A9 II could cost $5,000 – which is certainly bullish, if it proves to be true. Seeing who's shooting with what at the sidelines in Tokyo next year is going to be very interesting…
Read more:
The best cameras for professionals in 2019
Camera rumors 2019: what new cameras are coming out this year?
The Nikon D6 is coming! Nikon announces its new flagship DSLR is being developed