Vodafone's low-cost phone brand VOXI has announced that it is offering customers the option of buying a refurbished, like new, smartphone – saving them cash, sometimes over £500, while helping to extend the life of devices and reduce electronic waste.
Refurbished smartphone VOXI deals
Customers choosing to purchase a refurbished device will receive a 12-month warranty. Introductory offers available until 29 November 2021 include:
Samsung Galaxy S21 5G 128GB: Brand New Price (£930) – Like New Price (£660), saving £270,
Apple iPhone 12 Mini 64GB: Brand New Price (£600) – Like New Price (£495), saving £105 and
Samsung Galaxy S20 Plus 5G 128GB: Brand New Price (£1,140) – Like New Price (£600), saving £540.
For a full list of options look at Voxi's Like New webpage.
Eco-SIM
Vodafone has committed to achieve net zero by 2040 globally and will eliminate carbon emissions from its UK operations by 2027. Indeed, Vodafone's business across Europe, including its network, data centres, retail stores and offices, is now powered by 100% renewable electricity. Vodafone also recently announced it is switching to Eco-SIM, made from 100% recycled plastic, from next year, while also offering digital eSIM, supported by a growing number of compatible devices. This is being rolled out to VOXI, who will be offering Eco-SIMs to its customers from next year.
Cool Earth partnership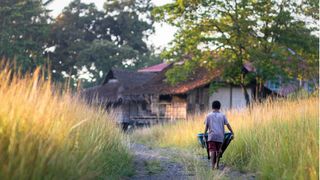 VOXI by Vodafone has also announced it is partnering with rainforest charity Cool Earth as part of its commitment to tackle climate change and electronic waste, helping to create a net zero future. VOXI's reward scheme, VOXI Drop, will donate over £60,000 to Cool Earth, which will be spent on a variety of projects supporting biodiversity, people and trees. VOXI customers will be asked to choose which of these projects they would like the donation – made on their behalf – to support.
Cool Earth works alongside rainforest communities to halt deforestation. It works in countries including Peru, Papua New Guinea, Mozambique, Cambodia and Cameroon and is committed to helping rainforest communities protect 100,000 hectares of rainforest across three continents.
VOXI customers wishing to get involved simply need to log in to their account, tap the VOXI Drop button, select the project they'd like to support and VOXI will donate £4 to it.
"I'm delighted that this month, through our partnership with Cool Earth, we're giving our customers the opportunity to fund important environmental projects that will help prevent deforestation and make a real difference to the future of our planet. We're also introducing refurbished phones – this not only offers great value, but extends the life of devices, reducing e-waste and helping us in our journey to create a zero-carbon future," said Scott Currie, Head of VOXI.


• The best camera phones you can buy today
• Best Google phonein 2021
• The best budget camera phone
• The best burner phones
• The best phablet
• Which is the best iPhone for photography?
• Best phone cases
• Best wireless chargers