The Rotolight NEO 2 LED light is currently on sale at B&H for just $179, down from its original price of $229 for a fantastic 40% discount. Designed to function as either a continuous light or a flash, both photographers and videographers alike can benefit from the variable color temperature of 3150-6300K and the multiple power options, including running on six AA batteries, the bundled AC adapter or D-Tap power. Discover more about this deal below – but be quick, as this discount will disappear in a matter of hours!
Rotolight NEO 2 LED light deal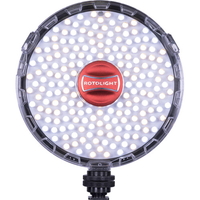 The Rotolight NEO 2 LED light has a laundry list of features that are designed to make it the perfect light for plenty of different shooting situations. One of the most significant features is the inclusion of a built-in 2.4 GHz Elinchrom Skyport Receiver, which enables support for high-speed sync and remote triggering of the unit from up to 656 feet away when using an optional Skyport Transmitter.
Meanwhile, the Rotolight NEO 2 LED light also features Accu-Colour Technology, which is designed to ensure optimal color rendering. This means that the NEO 2 has a rated CRI of 96 and a TLCI of 91.
Both photographers and videographers can rest assured that the output has been significantly improved, with an increase of 85% over the NEO 2's predecessor. Plus, the NEO 2 has a flash mode that can boost output by 500% for stills in order to help freeze the action.
No matter what sort of content you shoot, the Rotolight NEO 2 is a super helpful piece of kit to have in your camera bag. However, with this $120 discount running out in a matter of hours, we wouldn't delay to take advantage of this spectacular LED light deal.
Read more