From a pandemic point of view, things in Australia are looking better than in most parts of the world. Social distancing is still the law of the land, however, so in the latest issue of ProPhoto we've explained you how you can take advantage of your time spent indoors to better promote your photography and your camera skills.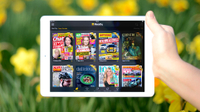 INSIDE THE NEW ISSUE
Ready for mirrorless? Looking to the future with lenses
The mirrorless revolution is as much about lenses as it is about the camera bodies, so we've taken a deep dive into the latest developments.
Canon EOS R5 on test
There's so much more to the EOS R5's story than just 8K video. Find out everything there is to know about this mirrorless marvel in our in-depth review.
Podcasting as a promotional tool: a complete beginner's guide
Podcasts have become so popular that professional photographers can harness their promotional and educational potential to their benefit. We explain how you can get started.
Positive images: 2020 AIPP Silver Lining Award winners
Get inspired by the winning images from the first ever Silver Lining Awards – a photo competition devised as a means to keep the members of the Australian Institute of Professional Photographers engaged during the Covide-19 pandemic.
Plus lots more
The latest photography product news, events and promotions – all within the unmissable October/November 2020 issue on sale now!
Subscribe to the print edition
Published continuously since 1937, ProPhoto is Australia's top magazine for professional photographers, emerging artists and students of photography. The magazine is published bi-monthly, with print subscriptions available from Future Australia's dedicated Techmags website.

Get the digital edition today!
ProPhoto's print edition is available to buy from all good newsagents across Australia, but you don't need to leave your house to get a copy. You can download the magazine in digital format from Zinio right now for the ultimate in convenience.
To maximise your savings, you can opt for an annual subcription, which gets you six issues over 12 months that you'll automatically receive on your PC, phone or tablet as soon as each new issue is released. Or you can opt to purchase a single issue of ProPhoto if you prefer.
For more details, simply click on the image below.