While the rest of the world goes mirrorless, Pentax plugs on with its DSLRs, and the new HD PENTAX-DA★16-50mmF2.8ED PLM AW shows that it really does mean business.
It's an APS-C standard zoom that would pair up very well with the new Pentax K-3 Mark III DSLR, the company's new flagship APS-C camera.
The focal length of this new lens corresponds to 24-75mm in full frame terms, so it's the APS-C equivalent of the 24-70mm f/2.8 lenses loved by pros on full frame cameras.
Pentax says its new lens boasts "Exceptional resolving power assured by uncompromising optical design". It uses one ED element, one anomalous dispersion element and two ED aspherical glass elements to deliver resolving power and contrast right to the edges of the frame and to control chromatic aberration.
Pentax's HD coating is designed to offer a high level of hardness and durability, with 50% less reflectance than conventional multi-coatings, also suppressing ghost images and flare.
HD PENTAX-DA★16-50mmF2.8ED PLM AW specifications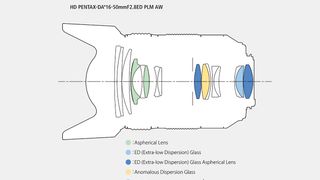 Focal Length: 16-50mm (24.5-76.5mm in 35mm format)
Maximum Aperture: F2.8
Minimum Aperture: F22
Lens Construction: 16 elements in 10 groups
Angle of View (Diagonal): 83-31.5°
Minimum Focusing Distance: 0.3m (0.98ft.)
Maximum Magnification: 0.24x
Filter Diameter: 77mm
Diaphragm Control: Electromagnetic diaphragm
Diaphragm Blades: 9 (Rounded)
Maximum Diameter x Length: 84mm x 117mm
Weight: 712g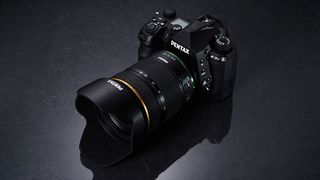 Where it fits into the Pentax lens range
Pentax does make cheaper variable-aperture standard zoom lenses for its APS-C DSLRs, but this is a premium, professional quality lens aimed at more advanced and discerning users.
There is already an smc PENTAX-DA★16-50mmF2.8ED AL[IF] SDM in the Pentax lens range, but this new lens offers a considerable improvement in image quality, especially edge sharpness and chromatic aberration control.
The 'PLM' in the name stands for 'Pulse Motor', a new AF actuator that is 1.5x to 2.2x. faster than the previous 16-50mm, with more precise manual focus control too.
This lens is designed specifically for Pentax's APS-C cameras, not the full frame Pentax K-1 Mark II – that has its own range of lenses.
The new HD PENTAX-DA★16-50mmF2.8ED PLM AW will go on sale in August for $1,399.95 / £1,499.99.
Read more:
• Best Pentax lenses
• Best Pentax cameras
• Best DSLRs
• Best cameras for enthusiasts