Pentax has filled an obvious gap in its range of lenses for its full-frame and APS-C DSLR cameras with the launch of a 70-200mm f/4 telephoto zoom. Pentax already had a 70-200mm f/2.8 lens in its catalogue, but the new f/4 version provides a more affordable, and lighter version for portraiture, sports and wildlife. Weighing just over 800g, the 70-200mm f/4 is a full kilogram lighter than its older, f/2.8 brother.
The HD Pentax-D FA 70-210mm F4 ED SDM WR is weather-proofed with seven separate sealing rings making it ideal for outdoor shooting, and uses Pentax' Supersonic Direct-drive Motor (SDM).
The lens uses a nine-bladed aperture, that promises great bokeh characteristics, and it has an impressive minimum focusing distance of 0.95m (3.1 feet), which gives a maximum magnification of 0.32x.
In its 20-element, 14-group optical constructions, it incorporates three ED (Extra-low Dispersion) glass elements and two anomalous dispersion glass elements to deliver, what manufacturers Ricoh claims, are high-contrast, high-resolution images with edge-to-edge sharpness, while effectively compensating for distortion and chromatic and coma aberrations. It features an SP (Super Protect) coating on its front surface to repel water, grease and dirt, making it easy to wipe off fingerprints.
Specifications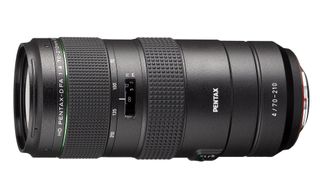 Model number: HD Pentax-D FA 70-210mmF4 ED SDM WR
Focal length: 70-200mm
Effective focal length on APS-C DSLRs: 107-322mm
Autofocus: yes
AF drive: Supersonic Direct-drive Motor (SDM).
Mount: Pentax KAF4
Filter size: 67mm
Optical construction: 20 elements in 14 groups
Diaphragm: nine blades
Maximum magnification: 0.32x
Minimum focus: 0.95m / 3.1 feet
Maximum diameter: 78.5mm / 3.1in
Length: 175mm / 2.5in
Weight: 819g / 28.9oz

Pricing and availability
The HD Pentax-D FA 70-210mm F4 ED SDM WR will cost $1100 / £1199 and is due to go on sale from 14 February.
Read more:
Best Pentax lenses in 2020