It's always interesting when Peak Design enters a new market – the company has a history of producing creative and disruptive photo accessories, stretching back to its novel Capture Clip camera-carrying system. Today it arrives with another innovation – its new Travel Tripod, now seeking $500,000 of funding on Kickstarter.
The end result of years of development, Peak Design's Travel Tripod is designed to be quick to deploy and intuitive to use, folding away with a minimum of wasted space to achieve a truly compact and portable form factor.
What this means is a tripod that folds down to a length of 39.4cm and a diameter of 8.3cm, making it easy to stow away in almost any travel bag. No longer does a bulky folded tripod need to hang on the side of your backpack. Peak Design CEO Peter Dering said he was inspired by his own experiences of travelling in 2008, during which he found his tripod to be inconveniently bulky even when folded.
So, the company set out to create a tripod that "eliminates dead space" to "minimise packed-down size."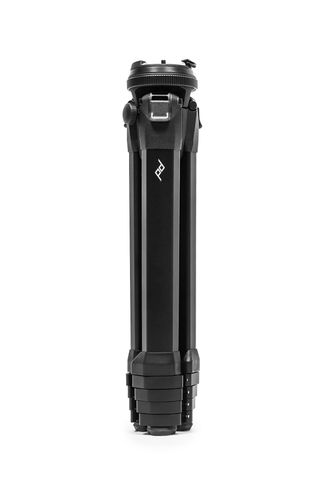 The tripod's non-inverted legs deploy swiftly along an aligned system of locking cam levers, allowing them to be deployed with three simple, swift movements. The tripod's ball head is slimmed-down and simplified with the intent of eliminating protruding knobs and dials, the result being just a single adjustment ring for 360-degree movement, and it also has Peak Design's proprietary quick-release plate technology for fast camera adjustment. This plate is also Arca Swiss-compatible.
As is its custom, Peak Design has also included lots of useful extra features in the tripod's design. It sports a universal phone mount, bubble level and hook for counterweight, and it comes with a soft case for easy transportations.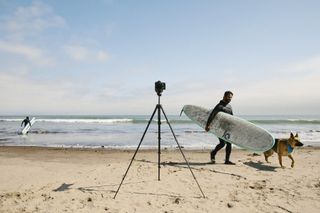 Peak Design Travel Tripod: Key specifications
Material: Aluminium or carbon fibre
Payload capacity: 9.1kg
Collapsed length: 39.4cm
Max height (central column raised): 152.4 cm
Max height (central column down): 130.2 cm
Min height (low mode): 14 cm
Leg sections: 5
Weight: 1.56kg (aluminium); 1.27kg (carbon fibre)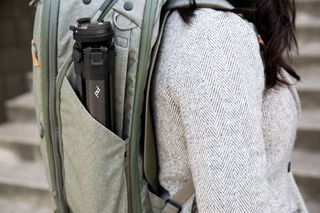 While there's no shortage of travel tripods out there clamouring for your attention (and your cash), we're definitely intrigued by this one. Peak Design looks to have taken the "travel" aspect of a travel tripod seriously, and the result looks like it'll be something you really can take everywhere. We'll have to reserve full judgement until we can get one in for testing, but in the meantime, early signs are promising.
The Travel Tripod launches in two versions: carbon fibre and aluminium. These are priced at $599.95 and $349.95 respectively, though there are pre-sale discounts available for the speedy. You can head to peakdesign.com/ks to find out more and secure your tripod – Peak Design says they'll be shipping in late 2019.
Read more:
The best travel tripods in 2019
The best panoramic tripod heads