HMD Global has revealed the new Nokia 8.3 5G smartphone, which features a triple-lens rear camera system, a 64MP main sensor and 4K Ultra HD video recording.
Aimed at the higher mid-range, HMD says that the Nokia 8.3 5G will have an average retail price across Europe of €599 ($639 / £554 / AU$1,105) when it arrives in stores in the summer.
The company is focusing on the phone's design and of course its rear camera system, which features Zeiss optics. That system includes three lenses and image sensors; the main camera has a 64MP main image sensor, supplemented by an ultra-wide camera, a macro camera and a depth-sensor.
The whole system has Zeiss certification, and Nokia is particularly proud of the wide-angle lens – which has large 2.8-micron pixels, video HDR and Ultra HD video recording capabilities.
The camera system also has a new Action Cam mode, which employs digital image stabilization to smooth out video, and reduces wind noise hitting the microphone. We're not sure if anyone will grab the Nokia 8.3 5G instead of a GoPro Hero8 Black next time they hit the slopes, but it's certainly interesting to see a phone manufacturer refer to its handset as an action camera.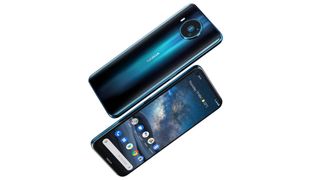 Other photography and videography features of the Nokia 8.3 5G include being able to shoot in the cinematic image ratio of 21:9 with what HMD calls "cinematic colors", and an always-on HDR system for enhanced contrast.
Set to feature in the upcoming (albeit delayed) James Bond film No Time To Die, the Nokia 8.3 5G has a large 6.8-inch display with a hole-punch selfie camera and protected by Gorilla Glass.
Power comes from the Qualcomm Snapdragon 765G modular processor with either 6GB of RAM and 64GB of storage, or 8GB of RAM and 128GB of storage. The phone's body is made from aluminum and it features a blue/green look that HMD Global says is inspired by the Northern Lights visible in Nokia's native Finland.
With its aggressive pricing, the Nokia 8.3 5G should help bring 5G to the midrange of the smartphone market – quite the achievement, since right now the technology has only been present on flagship handsets with four-figure price tags.
Read more:
The best 5G phone for photographers in 2020: get ahead of the curve!
The best camera phone in 2020: which is the best smartphone for photography?
The best burner phones in 2020: cheap-as-chips phones you won't mind breaking