Nikon's new Z6 and Z7 establish Nikon as a serious player in the growing mirrorless camera market. At the launch of this new Z-mount system in this week, Digital Camera World Group Editor-in-Chief Chris George grabbed a few minutes with Tim Carter, Nikon's Senior Product Manager for Northern Europe, for an exclusive Q&A session about the new full-frame mirrorless Z models.
We asked him about the development of the Z-system cameras, the challenges Nikon faced, why there is only one memory card slot, how many Z-mount lenses there will be for the Z system, and who the target audience is for the Z6 and Z7.
Nikon Z6 & Z7: who is the target audience?
Digital Camera World:
Shall we start off with an easy question? If you're a Nikon user, why would you want a new Z-system camera?
Tim Carter:
There are huge number of reasons. Firstly if you're already a Nikon user, with the FTZ mount adapter you've got compatibility with all of your existing lenses.
I think the ergonomics and handling, the way you interface with the camera, is number two for me. It feels like a Nikon. The menu and touchscreen, the top plate, and everything. The viewfinder – it's as close to a DSLR as you can get in a mirrorless camera.
And then number three, amazing image quality with Z-mount lenses. What these can deliver is above anything that you can get from a DSLR.
Digital Camera World:
If I've got a D850 then, why should I switch to mirrorless?
Tim Carter:
Although we're targeting DSLR users, I'm not expecting many D850 users to switch because they have just invested in a very serious bit of kit. But there's a huge amount of people with D800s and D810s who haven't upgraded to the D850.
There's the peer pressure in the photographic world, that says that mirrorless is the future. And I think everyone agrees it is – but it's basically how quickly people get there.
What our system does is is enable what I call a soft switch. So you could buy into the system, you could buy a body, you can use all of your old lenses.
There's a great advantage to getting a 24-70mm in a kit, it's only £600 more, which is very reasonable. And then you can then start to explore the benefits of that new mount, in an easy way.
What's really important for us as well is, we're not banking everything on the new system. What we're doing is we're adding to our range. We've got the best DSLRs already. And what we're striving to do is have the best mirrorless system. So the consumer, depending on their needs, and depending on what they're comfortable with, can choose whether they want a DSLR or a mirrorless.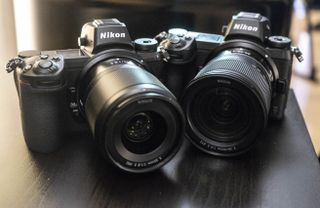 Digital Camera World:
So what what are the new users you are hoping to attract?
Tim Carter:
Anyone who really wants the best image quality that's out there – and movie users as well.
Our DSLRs have behind the curve from the movie point of view. The new phase detect autofocus system is really impressive in terms of delivering accurate autofocus with videos.
Digital Camera World:
If I had been using the D600 for the past five years, and was looking to upgrade, would you be encouraging me to upgrade to the Z7, the Z6, or the D850?
Tim Carter:
I think it's very much about what resolution do you need. If you don't need the higher resolution, I'd recommend a Z6.
The D750 was the perfect all round DSLR, the Z6 I think fits beautifully into that mould of being almost the perfect all-rounder. Because it's great for video, it's great for stills – so unless you really need the higher resolution of the Z7, it's the one to go for.
Nikon Z6 & Z7: the development of the EVF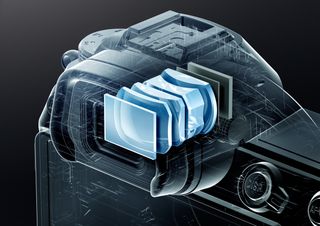 Digital Camera World:
One of the big differences between SLR and mirrorless is the viewfinder… particularly in terms of image lag and latency. How do Nikon aspire to make the Z-system EVF as close to an SLR-like experience?

Tim Carter:
That was always the intention, when they specced the new system. The viewfinder had to be as best as we can make it, to encourage users across from DSLRs.
The optical viewfinders that we provide on our DSLRs are the best in the industry, and people are nervous about switching, if they don't get the same experience.
We've got the best quality monitor that we can fit – with 3.6 million dots. It's got a refresh rate of 60 frames per second. But, as I said in the presentation, it's not just about the monitor, it's about the optics that we've put in front of it, in terms of making it clear, bright, large, and easy on the eye.
In terms of moving around you'll get, I think it's safe to say, probably the best electronic viewfinder experience that's out there at the moment.
How many Z-mount lenses will there be?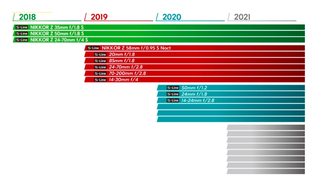 Digital Camera World:
You're launching three Z lenses this year. You've got a roadmap for future lens launches in 2019 and 2020. But where you see that roadmap going beyond that? What are the obstacles in terms of getting the fullest range of lenses?
Tim Carter:
We've published the lens roadmap that shows our intention to support the Z-mount going forward. The larger mount and the short flange distance means we can make high-quality lenses in a smaller package. It's as simple as that.
We don't have to bend the light so much, and we can get much sharper images at the edges of the frame. And what we can do is just really concentrate on building high quality lenses that, to be honest, are not as complicated as for the F-mount.
With the F-mount where you've got the restrictions of the smaller mount size, what we have to do is we have to kind of bend the image in there. By expanding the physical dimensions of the mount, we can allow more light to enter the whole of the full frame sensor, and we can then deliver sharpness right to the edge.
As Ross Harvey said today, it's kind of insane the amount of the sharpness right to the edge of the frame.
I still think it's amazing that we've made the lens much bigger, and made the body much smaller, and then still delivered better image quality.
Digital Camera World:
One of the disadvantages that Sony have had, with their full-frame mirrorless cameras, is they hadn't got existing lenses. And you have the advantage that you've got hundreds of lenses that will work with the new cameras from day one. But how many Z lenses do you see there being in the system beyond the existing roadmap you've given? Do you think at some point in the future you will have 60 current Z-mount lenses?
Tim Carter:
We've been making F-mount lenses since 1959, and there are around 100 lenses in the current F-mount range.
So, I don't think in five years time we'll have 100 Z-mount lenses. What we will continue to support the new cameras. So we've published a roadmap, and hopefully we might even be able to advance on that roadmap, but we'll have to see how it goes.
But I think after five years, I don't you'll ever see as many Z-mount lenses as F-mount lenses. But I think what you'll see is the right set of lenses. Because, the direction here is all about the image quality. So the lenses, and the development are picked get that best image quality.
So we have development announcement on the NOCT lens, our 58mm f0.95 NOCT lens. We've got three more f1.8s in the roadmap, we've got a 50mm f1.2 in there as well. So what I think, within three or four years we're gonna have a great set, that most people are going to find exactly what they need.
And if there's something that's obscure, like a 600mm or an 800mm, you can use the F-mount adapter, with no drop off.
Nikon Z6 & Z7: the autofocus system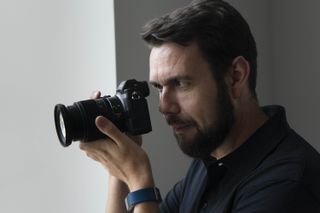 Digital Camera World:
Shall we move onto the autofocus? Can you tell us anything about the development of the on-sensor phase detection system? That must have been one of Nikon's challenges?
Tim Carter:
So there were three main challenges. The EVF, we've already talked about, the video, and the on-sensor autofocus.
So in terms of the focus, again this was something we knew we had to develop a class-leading system, because LiveView autofocus has never been that impressive with DSLRs. It's always been a bit behind maybe the competition.
So we knew that in order to get people to adopt the new camera, we had to improve that. So the designers put a huge amount of effort in, and they've made a fantastic system. It covers 90% of the frame, both horizontally and vertically. So we've got great coverage. And with all of the heritage of our excellent phase detection from our DSLRs, they've built a lot into the algorithms to make it really, really accurate.
But also really customisable. So being able to slow the autofocus down or speed it up, is really important, especially for video creators.
All the feedback I've had from people using it, is that it's really fast, and very accurate.
Nikon Z6 & Z7: video features and Atomos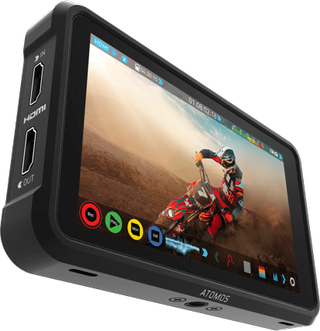 Digital Camera World:
Mirrorless definitely has advantages for video users. Can you tell us more on how are you working with Atomos?
Tim Carter:
Atomos have been involved in the development of the cameras. The new compact Atoms Ninja V external video recorder is already set up to work with the Z series.
There's also a protocol which allows you to start and stop recording from the screen, rather than the camera.
We know we needed to up our game in video, so that's around the autofocus, and then the quality. But I think what they've done is a really smart move in partnering up with Atomos a little bit, in terms of making sure that if you do you want to get the best image quality you can out of one of these cameras, use an external recorder, record in Log, and in 10-bit.
And there's a huge difference between 8-bit and 10-bit, in terms of quality and the number of colors, and the dynamic range.
It's also our first camera with N-Log built in. We always had a flat picture profile. But I don't think it was quite what people were after.
Tim Carter's presentation at Nikon Z7 launch
Tim Carter's full presentation at London launch of the Nikon Z6 & Z7
In-body image stabilisation
Digital Camera World:
Shall we just talk about in-built image stabilisation?
Tim Carter:
The cameras add up to five stops of stabilisation. Crucially it works with F-mount VR lenses. So when you couple a VR lens with the adapter, it will take some of the stabilization from the lens, and then some from the body. So it'll work together.
Digital Camera World:
So that'll give you 10 stops of stabilisation?!
Tim Carter:
No. It only ever do a maximum of five. But basically it will take the best readings from both. And then what you can have is if you have an old F-mount that doesn't have VR, you've now got five stops of stabilisation with it.
We were testing the Z7 and new Z lenses at the Nikon school, and the guys were taking hand held one second exposures. They were spinning a globe, and it was just coming out pin sharp. And they were literally jumping around saying, "This is amazing."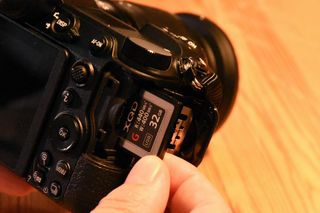 Digital Camera World: The choice of memory, is really interesting. But first thing, let's get it out the way, why only one memory card slot?
Time Carter: It's about speed and space. So we had to have an XQD slot in our opinion, because of the amount of data and the write speed. So it had to be XQD because everything else isn't fast enough.
And there's just not enough room to fit two in, in terms of our compact design that we've made. So we had to make the decision just to go with one card slot. So rather than compromise on the speed of the card and throttle the camera, we went with the higher speed card, but only one slot.
The performance of XQD far outweighs anything else. And we're going to bundle an XQD card in the camera for the first few months of sales as well. Just to help people switch.
Digital Camera World:
And not CFxpress because it's not available?
Tim Carter:
Correct. CFxpress isn't available yet, but will be out soon. And we expect it to be quite widely adopted. It's the same physical dimensions as XQD, and then so the camera is basically future proof for the next generation.
Digital Camera World:
So what do you think a timescale is for that? ProGrade Digital have set up saying they weren't going to support XQD, and they were going to go straight to CFxpress. So our assumption was CFexpress would would happen this year?
Tim Carter:
I don't know. But I think it's likely to be next year. From everything I've heard, is that probably next year. But I think I did hear some retailers are being contacted already about ranging CFxpress. So I think it's starting, definitely. But as and when they'll be available, I'm not sure.
Digital Camera World:
When they're available, it would just be a normal firmware upgrade?
Tim Carter: Yeah. So there'll be a firmware upgrade which will enable the camera to take the cards, but they'll still be able to use XQDs.
Nikon Z6 & Z7: is there a batter grip?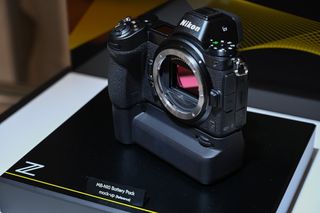 Digital Camera World:
There's a battery grip, is that right?
Tim Carter:
It's not a grip, it's a battery pack.
Digital Camera World:
So it doesn't feature a portrait format shutter button?
Tim Carter:
No. I don't have a huge amount of details. Basically we're just announcing that we will be developing a battery pack. It will take two batteries, and boost therefore the battery life of the product.
But I don't think it will have a portrait orientation shutter button or or a control wheel
Will the D5 replacement be mirrorless or a DSLR?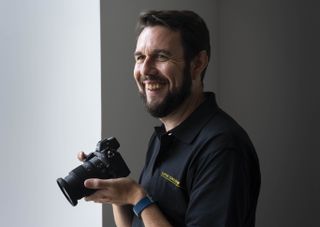 Digital Camera World:
One question to end this off possibly, is to look further into the future. The Nikon D5 is getting old. Will the D5's replacement be an SLR or a mirrorless camera?
Tim Carter:
Yeah, it's a really good question. One that I don't know the answer to at the moment. I think the safe thing to say is, we will watch how this first generation of the Z-system goes down very closely.
We will take feedback from what's good, what's not. You know, if it's a major problem, and people don't like the fact there's one card slot, we will listen. If the battery life is a problem for certain users, then we will listen to that. And that will influence our future roadmap I think as well.
I think you're gonna have die hard DSLR users who are more than happy with what they've got. D850 is the best DSLR ever made. There's huge amounts of people are very happy with that, very happy with using DSLRs. They're probably not even interested in switching to a mirrorless system.
We're not abandoning DSLRs. Both systems will work alongside each other. What we can uniquely offer is the best DSLR system, and the best mirrorless system, side by side. The best of both worlds.
Read more:
Nikon Z 7 full review
Nikon Z 6 full review
99 things you need to know about the Z6 and Z7