If you've asked a Nikon wildlife or sports photographer which lenses they love, there's a good chance that they've either raved about the Nikon 500mm f/5.6E PF ED VR lens – or they've grumbled that they haven't been able to get their hands on it yet. This Nikon lens features a Phase Fresnel element that enables this 500mm lens to be a fraction of the size and weight of other lenses with comparable focal lengths.
Nikon 500mm f/5.6E PF ED VR lens back in stock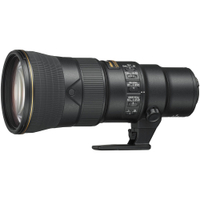 Nikon 500mm f/5.6E PF ED VR | $3,596 | now $3,296
Save $300 This lightweight and hand-holdable Nikon telephoto lens features a Phase Fresnal element – which is what makes this lens so light and compact. Not only is this sought-after lens back in stock, it also has a $300 discount too!
The Phase Fresnel element isn't the only element-type used in the 500mm f/5.6 lens from Nikon. The Nikon 500mm f/5.6E PF ED VR lens also has three extra-low dispersion elements, which are designed to virtually eliminate color fringing and chromatic aberrations. This means that this Nikon telephoto lens should have a high degree of clarity, sharpness and color fidelity – perfect for capturing sharp and color-accurate shots. Meanwhile, the individual elements also have both Nano Crystal and Super Integrated Coatings, which are designed to suppress flare and ghosting. There's also a protective fluorine coating to guard the optical system from dust and moisture.
In addition to these elements, the Nikon 500mm f/5.6E PF ED VR lens has a Silent Wave Motor AF system, which is designed to bring quick and quiet autofocus for both photos and videos. The lens also features Vibration Reduction image stabilization, which is essential when working at such a long focal length.
Find the best deals on the Nikon 500mm f/5.6E PF ED VR lens in your region.
Read more