N-Photo: The Nikon Magazine has revealed its pick of the best gear for Nikon photographers in 2019. Unsurprisingly, a lot of Nikon kit has won the honors... but there are prizes for some other manufacturers too that make lenses and accessories for the Nikon DSLR and mirrorless camera systems.
It's been a year since Nikon's new Z system has taken the world by storm, so you'll find plenty of treats from the mirrorless camp. On the DSLR side of the tracks, there's still plenty to get excited about. Sigma and Tamron, in particular, have continued to delight with some truly great glass, and Samyang has stepped up its game as well. So, without further ado, or any overly pregnant pauses, let's get right to it and reveal the winners of this year's N-Photo Gear of the Year!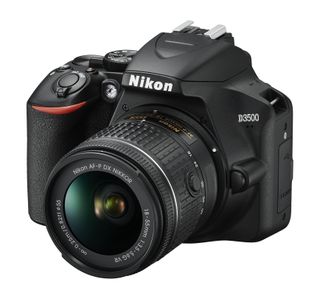 Winner: Entry-level SLR
Nikon D3500 + AF-P 18-55mm VR
Nikon SLRs are wonderfully versatile but, for anyone trading up from a compact camera or smartphone, they can be somewhat intimidating. The D3500 firmly flattens the learning curve with its interactive 'Guide' shooting mode. This brilliant guided tour of photographic techniques literally shows you what to do and how best to do it. Moreover, it's impressively compact and even lightweight for an SLR, yet is entirely capable of delivering fabulous image quality, even in tricky conditions. The AF-P 18-55mm VR kitlens also works brilliantly well with this camera. The cheapest kit option is best avoided, as it comes with a non-VR (Vibration Reduction) lens, making it more difficult to avoid camera-shake.
• Read Nikon D3500 review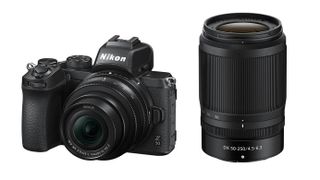 Winner: Enthusiast camera
Nikon Z 50 twin lens kit
There's a lot to be said for APS-C format image sensors, especially if you want to extend your telephoto reach while still keeping down the size, weight and cost of your kit. This brand-new mirrorless camera takes all the advantages of Nikon's full-frame Z-series cameras, including their new lens mount, and shoehorns them into a much smaller, svelte, DX format camera body. The Z 50 comes with a brand new 16-50mm kit lens but, for a little extra, we'd suggest going for the attractively-priced dual lens kit that actually includes both of the new 16-50mm and 50-250mm Z-mount lenses.
• Read Nikon Z50 review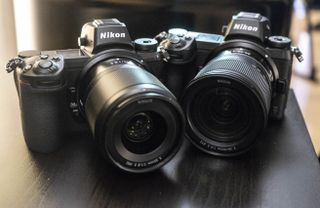 Winner: Pro-grade camera
Nikon Z 6 & Nikon Z 7
The Z 7 was a worthy winner of our pro-spec camera award last year and it seems only fair to repeat the honor, while also adding the Z 6. The ultra-high-resolution Z 7 is a force to be reckoned with, but there's a lot to be said for the Z 6's slightly more modest megapixel count. High-ISO image quality is even more squeaky-clean and you get a faster burst rate of 12 rather than nine frames per second. The Z 6 is also better for shooting video, as it can record oversampled 4K ultra-high def without resorting to a DX crop factor that limits wide-angle coverage. Indeed, serious videographers are sure to find the new Z 6 Essential Movie Kit to be a very alluring package.
• Read Nikon Z6 and Nikon Z7 reviews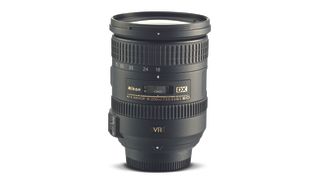 Winner: Superzoom
Nikon AF-S DX 18-200mm f/3.5-5.6G ED VR II
Reasonably small and light, yet with a powerful 18-200mm zoom range, this makes a fabulous travel lens. Unlike some third-party alternatives, this own-brand superzoom has a sophisticated ring-type ultrasonic AF system that is whisper-quiet and rapid in operation, and comes with full-time manual override. Image quality is excellent for a superzoom and, despite being old, it's recently dropped in price making it a great buy. We prefer it to both of Nikon's 18-300mm superzooms.
• Read Best superzoom lenses for Nikon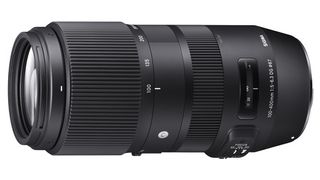 Winner: Budget telephoto zoom
Sigma 100-400mm f/5-6.3 DG OS HSM | C
Compatible with full-frame, DX and FX format DSLRs, this Sigma lens gives greater telephoto reach than 70-300mm lenses, but is still manageable, with a reasonably compact, lightweight build. The feature set is excellent, including dual-mode autofocus, dual-mode stabilization, an autofocus range limiter and even dual custom modes, which you can set up with Sigma's optional USB Dock. Image quality and all-round performance are superb, and you even get dual zoom options, using the regular zoom ring or applying a push-pull action.This lens isn't really that much more expensive than the Nikon AF-P 70-300mm f/4.5-5.6E ED VR, but it manages to have greater telephoto reach and a whole host of other handling enhancements to satisfy any up-and-coming photographers.
• The best 100-400mm lenses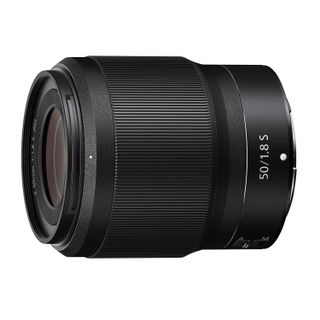 Winner: Standard prime
Nikon Z 50mm f/1.8 S
Making the most of the Z-mount's large diameter and short distance from the image sensor, the Z 50mm f/1.8 S is anything but a 'standard' prime. It doesn't have a super-fast aperture rating, but image quality is better than from Nikon's current 50mm f/1.8 and f/1.4 lenses for its SLRs. Sharpness and contrast are incredible, even when shooting wide-open, while bokeh is smooth and lush, and there's almost zero color fringing or distortion. It's a cracker of a lens and great value to boot.
Read Nikon Z 50mm f/1.8 S review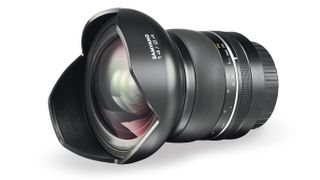 Winner: Astrophotography lens
Samyang XP 14mm f/2.4 (Rokinon SP 14mm f/2.4)
Winner of our best lenses for astrophotography, this fast wide-angle prime from Samyang's premium range of manual-focus lenses came out on top. Not just for starry nights, however, it makes a fabulous ultra-wide lens for everything from sweeping landscapes and cityscapes to architectural interiors. Unlike some Samyang manual-focus lenses, this one has built-in electronics to enable aperture-control from the host camera, as well as illumination of the focus confirmation lamp in the viewfinder. Image quality is simply spectacular. The Samyang XP 14mm f/2.4 is sold under the Rokinon brand in some countries (including the USA).
• Read Samyang XP 14mm f/2.4 review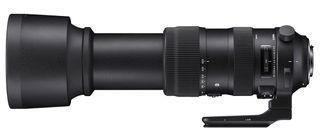 Winner: Super-telephoto zoom
Sigma 60-600mm f/4.5-6.3 DG OS HSM Sports
Like a superzoom lens on steroids, the Sigma 60-600mm Sports gives a mighty 10x zoom range but, instead of starting at a wide-angle focal length, it kicks off in standard territory and stretches all the way to super-telephoto lengths. It's feature-packed with wide-ranging onboard controls and customization options. What we love most is the ability to shoot with anything from standard to super-telephoto focal lengths without the need to swap lenses. It can make all the difference between getting the shot and missing it, especially in wildlife and sports scenarios. If you need immediate access to this range of focal lengths, without losing time and opportunities while swapping the lens on your DSLR, this Sigma works brilliantly.
Read Sigma 60-600mm f/4.5-6.3 DG OS HSM Sports review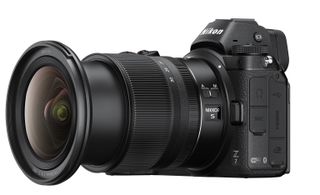 Winner: Wide-angle zoom
Nikon Z 14-30mm f/4 S
This wide zoom has a typically modest aperture rating that enables a relatively compact and lightweight build, in keeping with slinky Z-series camera bodies, but is a heavyweight in terms of performance. Sharpness and contrast are spectacular, while colour fringing, distortions and even vignetting are minimal for such a wide-angle zoom lens. We love that you can shoehorn so much of a scene into the frame with absolutely no compromise in image quality. With such a mighty range of wide-angle focal lengths, the Nikon Z 14-30mm f/4 S is simply an essential add-on to a Z 6 or Z 7 kit, plus its flat front element enables the use of filters.
• Read Nikon Z 14-30mm f/4 S review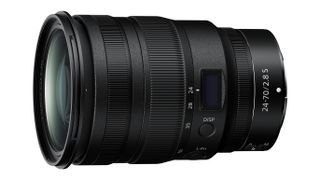 Winner: standard zoom
Nikon Z 24-70mm f/2.8 S
The Nikon Z 24-70mm f/4 S that's commonly sold as a kit lens with Z 6 and Z 7 cameras has a lot going for it. It's compact and lightweight, yet delivers spectacular image quality. However, it's less than perfect when you want a really tight depth of field, which is where this newer 24-70mm f/2.8 zoom comes in. With its customizable function button and onboard display, it's a consummately pro-grade lens, while its spectacular image quality and all-round performance are nothing short of stunning.
• Read Nikon Z 24-70mm f/4 S review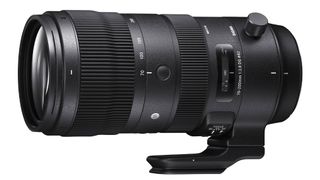 Winner: Fast telephoto zoom
Sigma 70-200mm f/2.8 DG OS HSM Sports
Nikon's latest 70-200mm f/2.8 lens is undeniably fabulous but this new Sigma Sports lens is every bit as good and only about two-thirds of the price to buy. The autofocus system is lightning-quick yet deadly-accurate, image stabilization is highly effective for both static and panning shots, and switchable dual autofocus modes give priority to autofocus or manual override. AF-hold buttons are featured and you also get the option to set up dual switchable custom operating modes, via Sigma's optional USB Dock. Best of all, image quality is stellar.
• Read Sigma 70-200mm f/2.8 DG OS HSM Sports review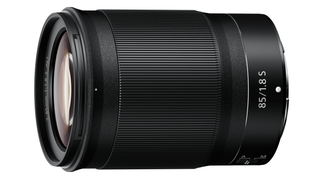 Winner: Portrait prime
Nikon Z 85mm f/1.8 S
85mm lenses are the tool of choice for portraiture. Given the choice, most would go for an f/1.4 lens, enabling a really tight depth of field. The f/1.8 rating of this lens might look disappointing but, in our tests, it proved to be magnificent. It combines razor-sharpness with supremely smooth and creamy bokeh, delivering exactly what we desire from a portrait lens. Sharpness across the whole frame is also exceptional, making the lens equally useful as a general-purpose fast telephoto.
• Read Nikon Z 85mm f/1.8 S review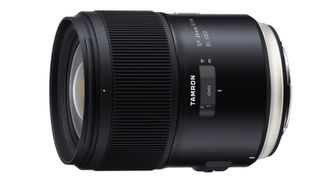 Winner: wide-angle prime
Tamron SP 35mm f/1.4 Di USD
Tamron created this new lens to celebrate 40 years of its SP (Super Performance) line-up. As such, it's designed with every enhancement that Tamron could throw at it, from top-quality glass to high-tech nano-structure coatings and super-fast autofocus, all wrapped up in a durable weather-sealed shell. We love the way that the f/1.4 aperture rating and short minimum focus distance combine to enable a really tight depth of field and beautiful bokeh. It's the best Tamron lens that we've ever seen, it matches the Nikon AF-S 35mm f/1.4G for quality and performance at little more than half the price.
• Read Tamron SP 35mm f/1.4 Di USD review
Winner: Flashgun modifier kit
Rogue Flash Bender 2 Portable Lighting Kit
Although it packs away small and is lightweight for carrying, this flash modifier kit is so versatile. It's based on a fabric panel that can bend into a flat or curved bounce card, or even roll up into a snoot. The kit also contains a secondary smaller panel and diffuser, plus a three-way honeycomb grid. It's not cheap, but is still keenly priced compared to some competitors, and can improve the quality of light from a flashgun.
• Read Best flash diffusers, modifiers and softboxes
Winner: Budget backpack
Manfrotto Manhattan Mover-30

Supremely versatile and security-conscious, this Manfrotto backpack is endlessly adjustable. The rear panel has an opening to the camera compartment, which is an ideal size for a DX format SLR and accessories, taking up the lower two-thirds of the bag. Up on top, there's separate access to a compartment for daily essentials. However, this section is padded and comes with more dividers, so you can add extra photo gear if you wish, while the bottom compartment is removable, just in case you want to use the bag as a regular backpack.
• Read Best camera backpacks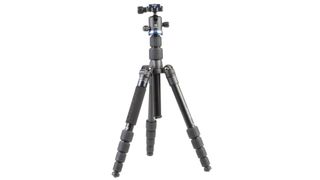 Winner: Budget travel tripod
Benro iFoto 19AIBO
What we hate about tripods is that they're big and clunky and weigh you down when you're on the move. What we love about this one is that it folds down to just 35cm and is relatively lightweight, yet extends to a decent maximum height of 152cm. That's thanks to having five-section legs and a two-section centre-column, and legs that swing up for reduced stowage size. Better still, this Benro has top-quality construction and comes complete with an excellent ball head. It's a great performer and a steal at the price.
• Read Best travel tripods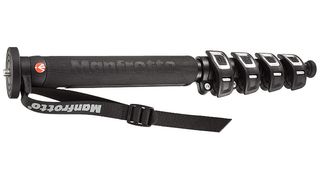 Winner: Monopod
Manfrotto XPRO Photo Aluminum 5-section Monopod
With no less than five sections, this top-quality monopod folds down to just 41cm for easy stowage, yet extends to a 'highly' useful 141cm. The only drawback is that there are four separate section clamps to operate here. Normally this would be a time-consuming chore but, thanks to Manfrotto's innovative Quick Power Lock clamps, operation is quick and simple. The surface of each clamp extends on both sides of the hinge, giving it a speedy push-pull action. The monopod itself is utterly rigid and is completely reliable.
• Read Best monopods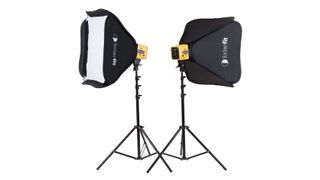 Winner: Location flash kit
Interfit Honey Badger Unleashed
Increasingly, we find we want the power and versatility of a studio flash kit while we're shooting on location, where there's often no access to mains electricity. So-called 'location flash' kits, powered from rechargeable battery packs, are notoriously expensive, but this new Interfit breaks the mould. We love the versatility enabled by the nine-stop power range and that the ultra-bright LED modeling lamps are of good enough quality to use as constant lighting for video capture.
• Read Best studio flash kits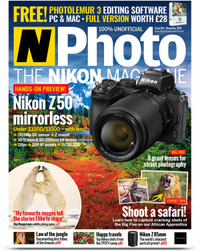 N-Photo is 100% Nikon-devoted, and 100% editorially independent. If you're a Nikon owner and want to improve your images, get the best buying advice and reviews, see some of the world's best Nikon photography, N-Photo is the title for you. You can get up to 57% off the regular price right now.