Forget about Veganuary and the national shortage of vegan sausage rolls, we have just heard of a range of German camera bags that are certified as 100% vegan.
The bags, which are just starting to be distributed by PhotoTEQ in the UK, are guaranteed not to use any materials of animal origin – and that includes the dyes, glues or waterproof coatings, as well as the materials. That's really reassuring to know if you take your veganism seriously.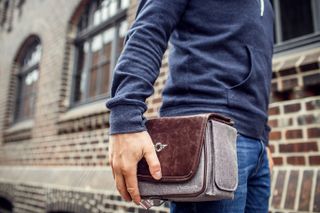 The largest model in the range is the Camslinger Streetomatic+, which can house large full-frame DSLRs such as the Canon EOS 5D series. It is designed to be worn around the waist, or over your shoulder. It is made of 600D nylon, with a flap that is made from high-tech veggie leather – which is also used in the car industry. Its magnetic fastener is designed to allow fast, one-handed access to your camera.
This Camslinger Streetomatic+ bag is available for an recommended price of £135 in brown/grey or all black. Smaller Streetomatic bags are available from £55.
A brighter range of colors is available in the Camslinger Outdoor range for £125 – choose from green or blue (or grey, if you must).
A vegan Phoneslinger range for carrying around your iphoneographers is in the offing – and is the latest product from the CosySpeed that's in the process of getting crowdfunding via Indiegogo.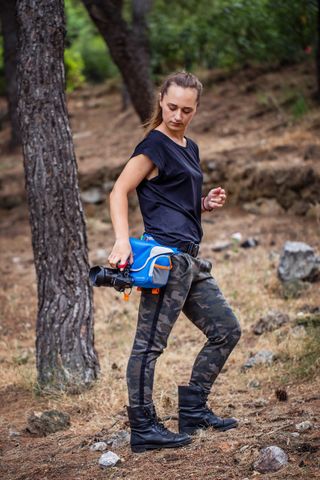 The CosySpeed range will be on show at The Photography Show at the NEC in March.