CORRECTION: The new camera referred to is designed by Mediaedge and has no connection with Atomos (Australia). The article has been updated to reflect these changes. We apologise for any confusion caused.
The updated article follows below:
Mediaedge Japan will be distributing a new professional-grade 4K cinema camera that will debut in the land of the rising sun next month – the Mediaedge '4x high speed camera', which boasts a global shutter and a frame-rate of up to 240fps when shooting 1080p video.
The new product will be presented at a showcase event by Mediaedge on 10 September in Tokyo, Japan. The showcase is intended as a preview ahead of the IBC trade show, taking place from 13-17 September in Amsterdam, The Netherlands.
According Mirrorless Rumors, who received this news first, "It is a product that is ideal for next-generation sports broadcasting in terms of functionality and cost performance."
Though its full video capabilities have yet to be revealed, and its frame-rate for 4K shooting is unknown, the fact that it can shoot at 240fps in 1080p should make this a formidable option for shooting sports and fast-moving action – particularly since the device also features a global shutter.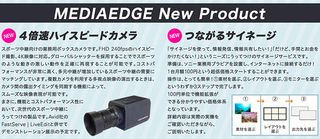 Global shutters capture each frame by scanning the entire image area simultaneously, which eradicates rolling shutter (a byproduct of non-global shutters, which scan the image area line-by-line from top to bottom, resulting in images that warp and 'roll' as the subject and/or camera moves).
Mediaedge is also emphasizing the strength of the new system as part of a multi-camera setup, typical of sports production.
"It matches the demand for sports broadcasts where multi-way broadcasts are increasing. When producing multi-viewpoint images using multiple cameras, the function that synchronizes the exposure timing between cameras enables smooth video expression."
From the little we know of this new camera, it could very well make its way further afield with integration into other video products, thus widening Mediaedge's videography catalog in the future.
Read more:
Mediaedge, Yongnuo and Laowa join Micro Four Thirds System standard
The best 4K camera for filmmaking in 2019, for photographers, vloggers, pros
The best cameras for professionals in 2019