Apple is notoriously secretive about new releases. But a recent series of leaks contain some intriguing details about a new MacBook Air, set for launch at the end of this year. So if you're thinking of updating your laptop for Christmas, this looks like being a strong contender.
We're big fans of the MacBook Air: in our MacBook Air 13-inch M1 review last December, we wrote: "If you look at the design quality, the performance, the screen and its everyday ergonomic finesse, the MacBook Air M1 is just phenomenal. And for what you get, it's not even very expensive." But could the next iteration be even better?
The biggest excitement around the new leaks, shared by YouTuber Jon Prosser in this video, centers on the new colors. Let's face it, the classic silver-and-grey color scheme of Apple's laptops is wearing a little thin these days. So claims that the new models will come in a variety of pastel hues are welcome indeed.
Prosser is generally a man to trust; for instance, his earlier claims about the new iMacs coming in several colors turned out to be accurate. And to give us an idea of what the new device will look like, he's generated these artist renderings (below and main article image), based on what he was shown by his source.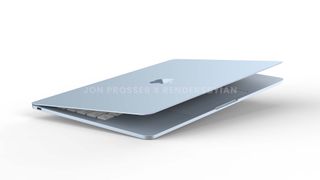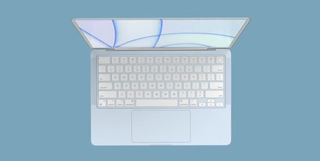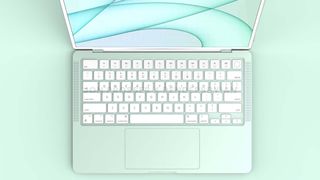 The new colors – which include blue, yellow, orange, pink, purple, and green, as well as the trademark silver – will be a handy shortcut to let others know you're using the latest tech. And for any photographer out to impress clients, that's certainly a factor worth considering.
Also note that the keyboard will be white, the previous wedge shape will be swapped out for a flat style; and the chassis will be even thinner than before.... which is thin indeed. There'll still be enough space to fit a USB port, but only just, making this one sleek-looking machine.
Under the hood, too, we're expecting big things from the next MacBook Air. While details are as slim as the promised device itself, Prosser does report that it will contain Apple's M2 chip.
This next-generation processor hasn't actually been launched yet, but leaks suggest it's going to offer ground-breaking performance enhancements, which will be great news for any photographer struggling to deal with huge RAW image files and the like.
Of course, none of this has been confirmed by Apple, so we'll have to wait until the new MacBook Air arrives before we know for sure. If you need a new laptop before then, though, check out our guide to the best photo-editing laptops.
Read more
Best MacBooks for photo editing
The best iMac for photo editing
The best photo-editing laptops
The best laptops for video editing
The best photo-editing software
The best video-editing software