Along with the MacBook, the iMac has long been a firm favorite of photographers and creatives, and for good reason. An iMac is an irresistible blend of slim & stylish design, top build quality, potent performance, and all fronted by a gorgeous Retina display.
The macOS operating system is an intuitive, streamlined interface that syncs flawlessly with other Apple devices, as well as being totally compatible with popular photo editing applications like Adobe Photoshop.
What to look for with the best iMacs for photo editing
So, what should you look for when buying the best iMac for photo editing? The most important thing is the specifications. Most modern iMacs are powerful enough to edit photos with ease, but some models are better suited to a heavy workload than others.
For starters, you'll need to chose between two screen sizes of iMac: 21.5-inch, and 27-inch. For serious image editing, the 27-incher is the way to go - you'll soon get used to the extra display real estate when displaying an image preview and plenty of editing pallets around it. If desk space is tight and you'd rather a 21.5-inch iMac, then just steer clear of the entry-level model. Its dual-core Intel Core i5 processor lacks the raw horsepower of the quad-core chips in the other 21.5-inch iMacs, and it's now the only current iMac without a Retina display - and an iMac without a Retina screen just won't do.
The amount of RAM is also important. 8GB is now the baseline spec, and it's just about adequate for light image editing, but get a bunch of tabs open in your web browser, and add several layers to a high-res PSD file and you'll soon burn through 8GB. Given that RAM is not user-upgradable in a regular (non-Pro) iMac, we'd strongly recommend speccing 16GB or more at the point of purchase, to maximize the useful lifespan of your new machine.
If you'll be using your iMac for editing video, the speed of graphics card is also important, as this can significantly speed up exporting times. Again, the entry-level 21.5-inch iMac is best avoided, as it doesn't have a dedicated graphics card. All other iMacs get proper Radeon Pro graphics, though the 27-inch iMacs use newer, faster models (that extra space gained from a having bigger screen makes room for more powerful internals).
Storage space is also an important consideration, as unlike Windows laptops, you cannot open up and replace the hard drive of a regular iMac. All iMacs, 21.5-inch and 27-inch alike, now get a fast SSD drive as standard, so there's no waiting around fora clunky conventional hard drive to spool up. However, 256GB is default capacity for the 21.5-inch models, and the entry-level 27-incher. This really isn't enough to give you sufficient storage space for the lifetime of your usage - upgrading to at least 512GB is a must. If that's not financially feasible at the point of purchase, then you can always invest in an external hard drive, which is a more affordable way to give you more space to keep your photos. Look for external hard drives that include SSDs (Solid State Drives) and use the Thunderbolt 3 port, as this gives you the fastest possible transfer speeds.
The best iMacs for photo editing
It may be a predictable choice, but the latest 2020 version of the 27-inch iMac is our top pick of the iMac range. It comes with the latest tech, including 10th-generation Intel processors, powerful discrete graphics and plenty of RAM. You also get a decent number of storage options – though the higher capacity SSD choices are very pricey. Best of all, the built-in screen is simply stunning with a Retina 5K (5,120 x 2,880) resolution and Apple's True Tone technology for accurate color. There's even an option to upgrade to Nano-textured glass with a matt finish etched into the glass to help eliminate reflections and glare, though it does add a huge $500/£500 to the price.
Apple iMac 27-inch (2020) review
Although it's no longer the latest model, the 2019 iMac 27-inch still offers great performance with cutting edge components, all packaged up in a brilliant design that will look great on anyone's desk.
You can choose from 8th- and 9th-generation Intel processors, with up to 8-cores for fantastic multitasking performance. It's not the most powerful iMac now, but it's arguably the best value, and the best iMac for photo editing if you can't quite stretch to the 2020 iMac.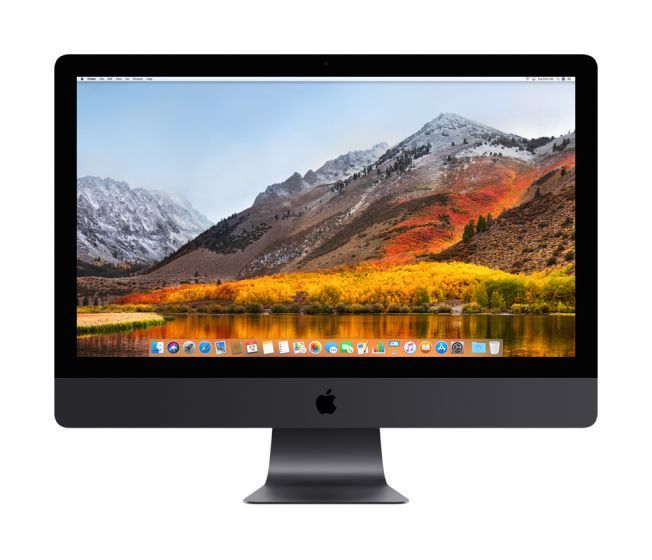 While the 2020 iMac is the best for most photographers, if you're after the most powerful iMac money can buy right now, then the iMac Pro is the one to get. This packs some seriously powerful hardware, which means it can handle pretty much any workload you throw at it. So, you get Intel's most powerful CPU, along with professional graphics curtsy of AMD.
You can also pack it with up to 256GB of RAM and 4TB of storage. Best of all, it comes with a stunning 27-inch 5K display with a P3 wide color gamut, making this the ultimate iMac for photo editing – though many people may find it overkill, and too expensive for their needs.
With an entry-level 27-inch iMac costing around 60% more than a base 21.5-inch model, the latest baby iMac is tempting proposition. It's compactness is also a bonus if you're tight on desk space, but if you can make room for the 27-incher, we'd wager that once you've spent a few days editing on the larger display, you won't want to use anything smaller.
Likewise, while the entry-level 21-inch iMac does have a mightily attractive price tag, it's actually best avoided. It's the only iMac that doesn't feature a Retina display, and therefore it won't show off your photos or videos at their best. You also have to make do with a weak dual core processor and integrated graphics.
However, step just one rung up the 21.5-inch range and you get a quad core processor that's also a generation newer, along with dedicated Radeon Pro graphics, plus that all-important Retina 4K display - and all for just £200/£200 more, which is terrific value.
As with the 27-inch iMac, if you don't mind getting slightly older hardware, you can save a decent amount of cash when buying a 21.5-inch iMac for photo editing. The 2017 model may now be showing its age, but it still offers acceptable performance when it comes to photo editing.
It also features that iconic all-in-one design we've come to love about the iMac, and the 21.5-inch model is less dominating when placed on a desk. Perfect for smaller offices and studios. Even with the smaller screen, it still looks fantastic if you spec it with a Retina display for ultimate giving excellent image quality, and there's powerful performance to be had if you choose one of the faster quad-core processors and 16GB of RAM or more.
Read more
The best MacBooks for photo editing
The best photo-editing laptops
The best laptops for video editing
The best photo-editing software