The best iMacs are popular among photographers, videographers, and other creatives, because they have lovely screens, and do an amazing job of running resource-hungry editing software like Photoshop, Lightroom, and Premiere Pro. But which is the best iMac for you?
Well, the official answer is pretty simple. The 24-inch iMac M3 (2023) is the only iMac sold on Apple's site today.
Lucky, it's a very nice iMac indeed. Running Apple's latest M3 processor, it's hugely fast, and unlike the preceding M1 iMac which couldn't be specced with more than 16GB of RAM, the new M3 variant is available with a healthier 24GB - ideal for intensive image or video editing.
The latest iMac can also be had with a handy 2TB of storage, housed within an unbelievably svelte case design that's available in seven eye-catching color options. Also eye-catching is the stunning 24-inch, 4480 x 2520 (4.5K resolution) display with its high 500-nit brightness and True Tone color accuracy. A screen this good really goes a long way to justifying the current iMac's price.
The M3 iMac is the only iMac sold new by Apple, but you can still track down its predecessor, the M1 iMac, quite easily. Alternatively, don't rule out the Apple Mac Studio M2. Sure, you'll need to add a monitor, but that set-up also makes for a powerful desktop computer.
Read on to discover the best iMac for photo and video editing today. Or, if you need a bit more background first, jump to our section on what to look for.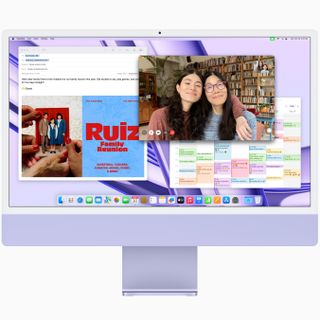 Best overall
Best overall
Packing Apple M3 power, the 2023 iMac is blessed with potent performance and serious style. It's a superb all-rounder.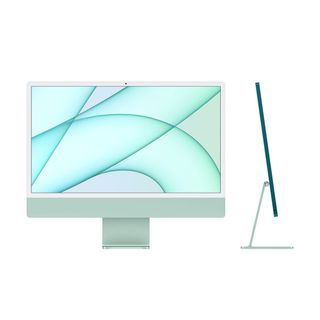 Best budget
Best budget iMac
It may not be the latest model, but the 2021 M1 iMac packs enough power to satisfy the majority of image editing requirements.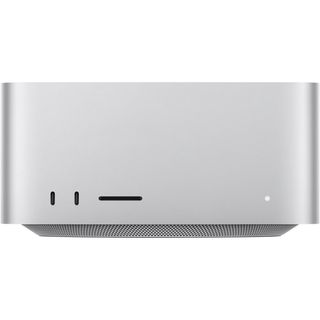 Best overall
3. Apple Mac Studio M2 (2023)
Best iMac alternative
Happy to supply your own standalone monitor? The latest Mac Studio isn't cheap, but this probably the most computer you can buy in the smallest footprint.
The best iMacs for photo editing in 2023
Why you can trust Digital Camera World Our expert reviewers spend hours testing and comparing products and services so you can choose the best for you. Find out how we test.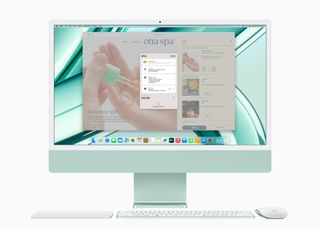 The latest 2023 iMac is almost identical on the outside to the old 2021 M1 iMac, but under the skin hides Apple's new, more powerful M3 system-on-chip processing hardware. This unified 8-core processor and 8/10-core graphics chip is a healthy step in in performance over the old M1 design, while also offering up to 24GB of RAM (a key concern with the preceding M1 iMac was it was limited to only 16GB RAM).
AS before, you get a stunning 4.5K retina display, Thunderbolt 3 and USB4 connectivity, a built-in 1080p FaceTime HD camera, and can choose from storage capacities between 256GB and 2TB.
The only two potential drawbacks here are that 24-inch screen size, which can feel a little restrictive during long editing stints in Photoshop or Premiere with lots of toolbars and pallets open. Secondly, and this may be old news, but it's still important to remember: the iMac cannot be upgraded in any way. The amount of RAM and storage you spec at the time of purchase is what you're stuck with for the lifetime of the machine, so plan ahead when you're configuring.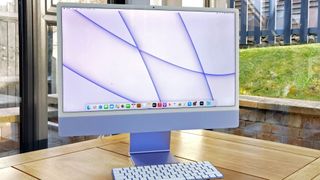 The 24-inch iMac is the best iMac around for the casual user. Not least, it's the only one Apple officially sells right now! That said, it's pretty darned impressive nonetheless.
It comes with Apple's M1 chip, which is supremely fast and efficient. It has the same eight-core processor as its MacBook cousins, but pairs it with a 23.5-inch Retina screen boasting a huge 4.5K (4480 x 2520) resolution and an eye-popping 500-nit brightness. Factor the DCI-P3 color space coverage, plus Apple's excellent True Tone technology, and this display is a great choice for creatives wanting a top-notch viewing experience.
The main drawback here is that the M1 chip can only be specced with a max of 16GB of RAM. This can soon be devoured when you're editing high-resolution, multi-layer image files or 4K video, especially if you've got several web browser tabs open at the same time.
You won't be able to add more RAM in the future. So if you want a truly future-proofed iMac, the old 2020 27-inch model (below) is still an option. Assuming you can get hold of one, and providing you spec it with 32GB RAM or more.
Read our full Apple iMac M1 (24-inch, 2021)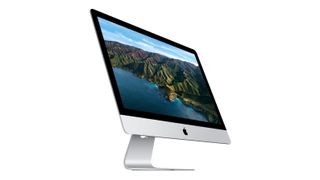 Yes, Apple doesn't officially sell it anymore. But plenty of retailers still have them in stock. And so if you want an iMac primarily for photo editing or other creative work, then the 27-inch, 2020 model remains your best bet.
For a start, it has a big, beautiful Retina screen, with 5K resolution which will allow you to see every tiny detail in your images. Not to mention one billion colors and 500 nits of brightness.
Its 10th-generation Intel Comet Lake processors aren't as fast as the latest M1 chip, but they're pretty speedy nonetheless. And along with the fast solid-state drives, up to 128GB RAM, and powerful AMD Radeon Pro graphics cards under the hood, you'll get quick and responsive performance, no matter how many RAW images you have open on your screen.
The 27-inch 2020 iMac offers good connectivity too, including two Thunderbolt 3 (USB-C) ports, four USB-A slots, an SDXC memory card slot, and a headphone jack. The built-in screen is simply stunning with a Retina 5K (5,120 x 2,880) resolution.
Finally, you can buy it with up to 128GB RAM, unlike the first iMac on our list. Note that processor performance is important for video, but for photo and video editing it's good to get as much RAM as you can, as pro-level tools will eat it up pretty quickly.
Read our full Apple iMac (27-inch, 2020)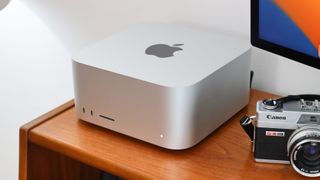 The Apple Mac Studio with M2 chips is probably the most computer you can buy in the smallest footprint. The small and compact size is completely deceptive of the power that is hidden inside. The M2 Max chip we tested in this Mac Studio was a beast, it absolutely flew through photo editing in Adobe Lightroom and Photoshop and easily handled video editing with multiple tracks, and effects on Apple Final Cut Pro. Even the quality of life improvements like opening files and programs faster made the Studio just more enjoyable to use.
The Mac Studio starts off at quite affordable for a freelancer or small studio, with the base model being powerful enough for most users' needs, however when upping the specs on the Mac Studio, things can get very expensive very quickly. Although with no options to upgrade parts down the line, you should buy a build you will be happy using for the foreseeable future.
You can read our full Apple Mac Studio M2 (2023) review.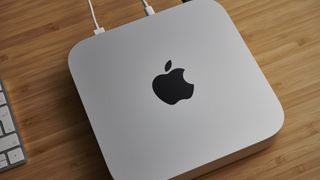 The Mac Mini may not be an iMac, but it's still a great desktop computer in its own right, not to mention significantly cheaper, and you can plug it into any monitor, and tada, you have yourself an iMac.
The computer itself is tiny at 197 x 197 x 36mm, so should fit on any desk. This latest Mac Mini M2 uses Apple's own processor designed for its computers. It's a similar construction to an iPhone/iPad processor but beefed up for desktop computing. And boy, has Apple done a good job. The ultra-efficient M2 processor can outperform many current high-end Intel Core-series processors, while up to 32GB RAM is enough for serious image editing - just avoid the base 8GB model, as it's not really enough memory to ensure you're future-proofed.
Read our full Apple Mac Mini M2 review.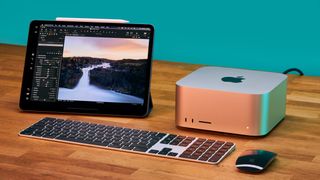 After that powerful Mac desktop computer, but don't want to spend a lot of money for ridiculous power, then the slightly older Mac Studio with last year's M1 Max and M1 Ultra chips might be what you are looking for.
For many desktop / remote-based users, what the Mac Studio delivers is a complete, ample, and in a single box that just works. A box that's flexible, portable between locations, and able to deliver a high-end creative workflow with ease, in a package that's cost-effective to both purchase and run. However, the Mac Studio lacks the user-upgradability and expansion options of rival Windows machines.
Read our full Apple Mac Studio M1 (2022) review for more details.
---
The best iMac for photo editing: what to look for
What should you look for when searching for the best iMac for photo and video editing? The key is to look at the specifications and suss out what you're going to need. While any modern iMac is going to be capable of editing photos with ease, some are more suited to heavy workloads or ultra-high resolution than others.
Screen size: For most photographers and video editors the 27 -inch is the way to go. The extra room gives you luxurious space for both your image and the various editing palettes around it.
RAM: For iMacs, 8GB is now the baseline spec, and while this is just about adequate for light image editing, open a bunch of tabs open in your web browser while adding several layers to a high-res PSD file and watch what happens to the performance. Given that RAM is not user-upgradable in a regular (non-Pro) iMac, we'd strongly recommend speccing 16GB or more at the point of purchase, to maximize the useful lifespan of your new machine or, better still, 32GB.
Graphics card: This is important for video editing. The entry-level 21.5-inch iMac is best avoided, even if you can find it still on sale, as it doesn't have a dedicated graphics card. All other iMacs get proper Radeon Pro graphics, though the 27-inch iMacs use newer, faster models (that extra space gained from a having bigger screen makes room for more powerful internals). And the 2021 iMac gets the formidable shared graphics processing power of the M1 chip.
Storage space: Storage is also an important consideration because, unlike Windows laptops, you cannot open up and replace the hard drive of a regular iMac. 256GB is the default capacity for the 21.5-inch models and the entry-level 27-inch. This really isn't enough to give you sufficient storage space for the lifetime of your usage: upgrading to at least 512GB is a must. If that's not financially feasible at the point of purchase, you can always invest in an external hard drive, which is a more affordable way to give you more space to keep your photos. Look for external hard drives that include SSDs (Solid State Drives) and use the Thunderbolt 3 port, as this gives you the fastest possible transfer speeds.
Read more:
The best MacBooks for photo editing
Best photo-editing laptops
Best laptops for video editing
The best photo-editing software
The best video-editing software
Best laptop stands