Well, here's a new one.
Light Revolution is a new studio lighting system, designed by British photographer Patrick Llewelyn-Davies. It's a motorised two-light setup that literally rotates around a subject, creating circular patterns of light and shining on the subject from all angles.
This can be used to create dynamic effects, shoot rapidly from lots of different angles, or produce 360-degree product images for commercial purposes. It's honestly easier to understand once you see it in action – you can watch a video here.
The Light Revolution came about through Llewelyn-Davies' experiments with light-painting, during which he found it extremely difficult to reliably achieve particular effects more than once. Light Revolution can be configured to produce many different effects, and thanks to its stable motorised setup, it can be set up to produce them again and again.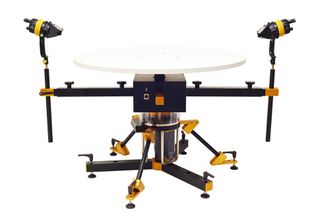 Effects that Light Revolution can be configured to produce include ring flash, a very hard and intense light for revealing fine textures, or many more. According to the makers, the Light Revolution system works particularly well with materials like metal, food, plastics, liquids, allowing for the creation of unique, dramatic imagery with these subjects.
Llewelyn-Davies plans to develop the system further and expand its use into other fields such as photogrammetry (using photographs to make measurements), so we could well see more Light Revolution products in the future, with even more specific functions. It'll be interesting to see if it gets adopted by in-house studio photographers to any great degree – it does seem to have the potential to seriously speed up workflows if used correctly.
Light Revolution is available to buy now, or if you'd like to try it out before you purchase, it's available to rent in the UK exclusively from Wex Photo Video.
Read more: