If you love the 28mm focal length, you'll be pleased to know that one of the best Leica-M lenses around is now getting a makeover thanks to the announcement of Leica's new Summicron-M 28mm f/2 Asph.
Leica maintains a high level of manufacture through its innovation, the passion to rethink the existing without compromise, and to keep redefining the limits of what is technically feasible. This expertise now culminates in the next generation of the Leica Summicron-M 28mm f/2 Asph – an update to the M-Lens portfolio offering a state-of-the-art, versatile wide-angle lens for the modern era.
This new lens presents improved technical features that equip the 28mm f/2 with the latest sensor technology, ensuring expert compatibility for current and future camera generations.
The closest focusing range still works via the rangefinder of all digital and analog Leica M-series cameras up to 70cm, but Leica has also extended its range and ensured that all photographic needs are met with the latest technology.
After a slightly perceptible resistance, the extended close-up range between 70cm and now 40cm can be precisely focused via live view on the screen of Leica M11 cameras and older, with either the Visoflex 2 viewfinder or the Leica Fotos app.
To ensure that this new lens keeps compact dimensions like many other Leica M-lenses, the new Summicron also boasts improved ergonomics. The hood, for example, has been manufactured in a modern, rounded design, directly integrated into the lens, making it especially easy to use. With this new addition, it can now be screwed in or unscrewed with a simple hand movement.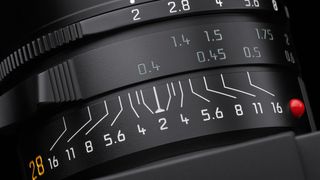 Internally the lens features nine elements in six groups, enabling images to be taken that are extremely rich in contrast and detail. The focus ring can also be adjusted in a remarkably quiet and smooth way, to ensure reactivity and precision when shooting subjects.
The new Leica Summicron-M 28 f/2 Asph will be available globally at all Leica Stores, the Leica Online Store, and authorized dealers starting November 30. The retail price will be $5,295 / £4,400 / AUS $8,290
Pre-order Leica Summicron-M 28 f/2 Asph at B&H (US)
Pre-order Leica Summicron-M 28 f/2 Asph at Adorama (US)
Take a look at the best Leica cameras, from the best mirrorless cameras to some of the best compact cameras on the market.