For content creators, YouTubers, vloggers, videographers, and run-and-gun shooters everywhere, Joby has released a dynamic duo to solve your mobile light and sound needs: the Joby Beamo and Joby Wavo.
We got hands-on with the new products in The Photography Show: Burst Mode studio. Not only were we very impressed with what the Joby Beamo and Joby Wavo have to offer individually, but also how they seamlessly combine with each other (as well as accessories like the Joby Gorillapod) to create an all-in system that pairs perfectly with the best vlogging cameras.
The cube-shaped light comes in two varities: the Beamo and Beamo Mini. The former is positively pocket-sized at 47 x 51 x 51mm, and weighs just 134g. It boasts 1,500 Lumen output (750 Lux at 1m, with a 95+/- color rendition index), is waterproof to 30ft / 100m, lasts up to 40 minutes at 100% power or 100 minutes at 50%, and can charge either wirelessly or via USB-C.
The Beamo Mini is a tad tinier, at 39 x 51 x 51, and is magnetic, making it absolutely perfect for travel, so you can always stick a light somewhere even if you haven't brought a stand. As noted, it delivers more light than the Lume Cube Air (they're both 1,000 Lumens, but the Mini achieves 470 Lux at 1m compared to the Air's 400) and features the same waterproofing as its big brother.
Both products feature dual cold shoes, so you can mount them to a Gorillapod, to your camera, add a Wavo, or even assemble a "Beamo Wall" of four lights to create an LED panel with quadruple the output.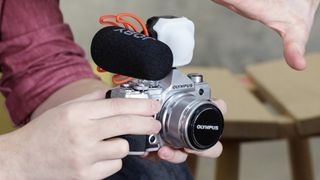 The Joby Wavo is an extremely lightweight, compact but capable on-camera microphone – and like the Beamo, it comes in two flavors. The regular Wavo measures 93 x 75 x 71 mm, steps on the scales at just 40g, features a super cardioid polar pattern, Rycote Duo-Lyre double shock mount, and boasts 35Hz-20KHz frequency response, -38dBV sensitivity and 78db SPL signal to noise ratio.
The Joby Wavo Mobile is an even lighter kit, ideal for smartphone shooters, at a tiny 81 x 22 x 22 mm and a scant 17.4g. It features a cardioid pattern, Rycote Lyre single shock mount, and 35Hz-18KHz response, 31dBV sensitivity and 76db SPL signal to noise ratio.
Both microphones can sit directly on your camera using the cold shoe, or can be mounted via the ¼ -20 thread. And, of course, they can mount onto one of the dual cold shoes on the Beamo, combining like Voltron to create a single connected audiovisual support system. Or you can attach them to a Gorillapod to provide targeting sound capture wherever you need it.
All the Beamo and Wavo varieties are available now. For more information, visit the Joby website.
Read more:
The best LED light panels in 2020: portable lighting for photography and video
The best microphone for vlogging and filmmaking in 2020
The 10 best pro video accessories in 2020