Another recent patent filing by Canon suggests that the Japanese mega-brand could be working on some compact zoom lenses for its full-frame mirrorless system. As reported by Canon News, the company has filed details of a "very small 24-70 (or something close to that) kit lens."
A variety of designs were submitted, including two "notable" ones: an RF 24-70mm F4-6.3 and an RF 20-70mm F4-6.3.
Canon News added that the spacing of the lens elements on the diagrams supplied with the patent filing suggest that the lens could be made "collapsing", or retractable.
No further details are offered about this particular aspect, but Nikon recently launched a retracting optic – the Nikkor Z DX 16-50mm f/3.5-6.3 VR – as the kit lens with its Z 50… but unlike Canon EOS R cameras, the Z 50 is an APS-C mirrorless.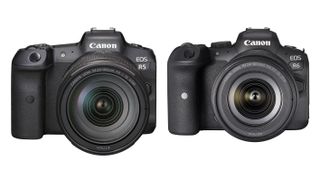 In Japan Patent Application 2020-190661, Canon states:
"In recent years, so-called mirrorless cameras, which do not have a quick return mirror, are increasing in cameras.
"Since this mirrorless camera has a thin body, is compact and lightweight, it is required to develop a compact and lightweight interchangeable lens that matches the mirrorless camera.
"Since this mirrorless camera does not require the space of the quick return mirror, it is not necessary to secure the back focus as much as the conventional interchangeable lens.
"Therefore, the configuration of the lens is also different from that of the conventional interchangeable lens, and the degree of freedom in design is increased so that it is possible to design a compact and lightweight lens.
"In particular, a wide-angle lens tends to have a short back focus, so that it can be miniaturized as an interchangeable lens for a mirrorless camera."
Information quoted in the patent filing
Canon RF 24-70 F4-6.3
Telefocal length: 24.52 43.05 69.13
F number: 4.10 5.10 6.44
Half angle of view: 38.46° 26.68° 17.38°
Total lens length: 109.15 104.79 112.88
Backfocus: 14.65 14.65 14.65
Canon RF 20-70 F4-6.3
Focal length: 21.66 41.66 69.12
F number: 4.10 5.10 6.44
Half angle of view: 41.95° 27.45° 17.38°
Total lens length: 115.09 108.18 118.44
Backfocus: 14.79 14.79 14.79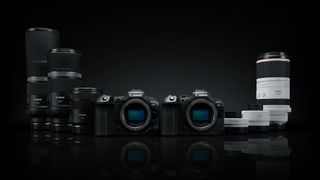 In other recent patent news, Canon filed details of an RF 15-35mm f/4L, which would be a more affordable alternative to the RF 15-35mm f/2.8L.
This isn't surprising, as Canon has been steadily building out its line-up of RF-mount lenses since launching the EOS R in 2018, and the current roadmap boasts almost all of the lenses that an enthusiast or professional photographer would need.
And if recent rumors are true, tilt-shift and super-telephotos could be joining the RF family in 2021.
Read more
Canon EOS R5 vs R6: What are the differences and which is best for you?
Hands on: Canon EOS R5 review
Hands on: Canon EOS R6 review