According to Canon News, reported via Canon Rumors, the world's biggest camera manufacturer recently filed patents for two wide-angle zooms for its EOS R full-frame mirrorless system. If it comes to market, the RF 15-35mm f/4L IS USM or RF 16-35mm f/4L IS USM will be a more affordable version of the RF 15-35mm f/2.8L IS USM, which costs $2,299/$2,399.
The 15-35mm is a versatile focal range that's popular with landscape, travel and architectural photographers, and having two versions in the RF lens line-up will appeal to enthusiasts who won't be prepared to blow pro-grade budgets on their lenses.
According to Canon News, Canon's patent included the following statement:
"The present invention is compact, and it is an object of various aberrations including chromatic aberration to provide a well corrected zoom lens."
Canon continues to fill the gaps in its RF lens offering, which has been very well received so far. We recently reported that RF shift-lenses and super-telephotos may be coming in 2021.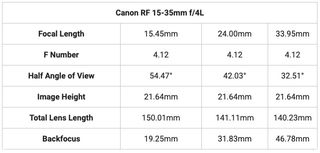 In addition to the RF 15-35mm f/4L IS USM, Canon is said to have also filed a patent for a RF 16-35mm f/4L IS USM – patents do not always translate into new products, of course, but whether the focal range of the prospective new lens is 15-35mm or 16-35mm, the reaction from Canon Rumors users seemed overwhelmingly positive.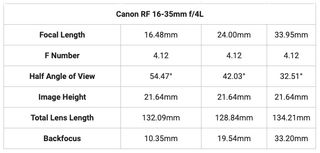 However, as Canon Rumors noted, "The 15-45mm lens design looks more realistic with a 19mm back focus distance than the 16-35mm F4 lens with the rather short back focus distance."
Whichever patent makes it to market, we'd be very happy to see an RF 15-35mm f/4L IS USM or an RF 16-35mm f/4L IS USM join the RF lens line-up.
With many new optics seemingly due to be added to the nine-strong range in the coming months, it feels like 2021 could be the year Canon's full-frame mirrorless system comes of age.
Read more:
Canon RF 35mm f/1.8L IS STM Macro review
Canon RF 50mm f/1.2L IS USM review
Canon RF 85mm f/1.2L IS USM review
Canon RF 85mm f/1.2L IS USM DS review