Invisible selfie cameras are now a reality - with the ZTE Axon 20 5G now having been officially launched. But what is all the fuss about? For the last few years, camera phone manufacturers have been trying to get the screen to cover as much of the front surface of the handset as they can. The dream of a true infinity screen without an edge to the display has been hampered up until now by the need to incorporate a front camera – the photo and video shooting device that you use when taking selfies.
The selfie camera breaks the screen... this used always to be in a strip along the top of the phone. But in recent years, the use of punch holes and notches in the display has allowed to minimize the intrusion of the camera in the display. The closest to creating an infinity screen has been by incorporating the selfie camera into a pop-up device - first seen on the Oppo Reno 10x Zoom.
ZTE teaser video showing how it has zapped previous attempts to minimize the impact of the selfie camera

The ZTE has not been launched and will feature four cameras on the rear in addition to the hidden-from-view selfie camera at the front. The main camera has a 64MP resolution, and is supported by a 2MP macro lens, an 8MP 120° ultrawide lens, and a depth camera
This phone may well not actually be released in North America and Europe - but we do know that other manufacturers are working on this tech. Chinese manufacturers Oppo and Xiaomi are likely to use the Visionox screen on phones later this year.
Visionox promotional video showing renders of its sub-screen camera LED panel
We also know that Samsung is also working on its own UDC - Under Display Camera - which is more likely to be sold widely in the West.
But what will the tech be like, when it does arrive? There are difficulties for the manufacturers to overcome, for sure. Will you be able to see where the camera is, when you are watching movies full-screen on your phone? And will the sub-screen construction of the camera and its lens affect the all-important quality of your selfies? For the moment, we have to wait to see the invisible camera for ourselves.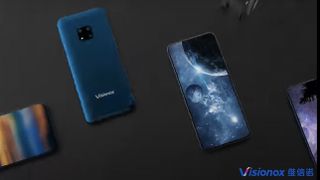 Read more:
Best camera phones
Best budget camera phone: these are the best cheap camera phones right now
Best phone cases: protect your camera phone in style
Best 5G phones in 2020