The DJI Mini 3 Pro might have got a cheaper cousin since it first launched, but it's still the DJI's ultimate ultralight – so if you can get it with a healthy discount and a spare battery it is hard to argue. Even better if, as here, it is also bundled with the DJI RC controller – the one with the built-in screen. The price for this kit is just £709 - which is a generous £209 discount on one of the hottest drones around.
What makes the drone stand out from the pack is that, despite being in the safe low-weight category you're allowed to fly quite near people (and so get amazing shots), while it is also equipped with high-end features like collision sensors and a great camera.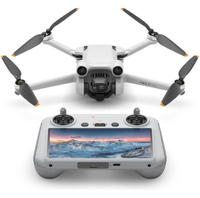 DJI Mini 3 Pro with remote | was £918| now £709
SAVE £209 - lowest-ever UK price This is the best camera drone that you get that falls under the crucial sub-250g category for safe aerial photography with the minimum of bureaucracy. This 4K 48-megapixel drone comes with the new DJI RC remote – that has a built-in screen for effortless flying – and the Prime Day bundle has an extra battery.
• Read our full DJI Mini 3 Pro review
In all fairness, we should warn you that there are physical limitations to ultralights when it comes to extremely high winds – that's where the extra weight of a meatier drone like the Mavic 3 Classic might have more appeal. You'd be surprised how powerful a drone this small can be, though.
That said, I've personally flown this on a Greek island on a far-from-still day (see the picture) and it coped well. It also captures great 4K video at up to 60fps and, if you like a bit of vertical-format for your reels, it'll turn the camera to portrait mode – no loss of image quality. The dual-native ISO 48MP sensor plays a big part there, too.
The DJI RC adds convenience to the fold-out-and-fly the drone already brings by saving you from needing to connect to your phone; this also leaves your phone free unless you want to transfer files.
The second battery in this kit is well worth having (a third, as in the Fly More deals is verging on excessive given the long flight time – you get nearly half an hour useable time in the air from a theoretical 34 mins).
It's also worth pointing out that, in the UK anyway, you still need to register with the CAA to fly drones under 250g if they have a camera. The process isn't tricky, and it can be done online for £10.33 at the CAA Registration Page.
But, a little bit of (virtual) paperwork aside, you still end up with a device which is allowed to be used much nearer people because the low weight makes it safer.
Best camera drones
Best DJI drones
Best cheap drones
DJI Mini 3 Pro vs Autel Evo Nano Plus
DJI Mini 3 Pro vs Mini 2