GoPro now has 1,160,000 users signed up to the GoPro Subscription service, according to its second quarter financial results. The action camera specialist has been pushing the membership scheme, that gets you unlimited cloud storage for your photos and videos, hard. Currently if you buy the latest GoPro Hero9 Black, or the 2019 flagship the GoPro Hero8 Black, direct from its own online stores you get the first year of the subscription scheme for free – and save on the price of the camera.
It is a marketing plan that has worked well - revenue is up 86% year-on-year to $250 million. Around 820,000 cameras were sold in the three-month period. The number of users on the GoPro Subscription service is now 211% up on this time last year.
• Read more: Best GoPro cameras
"GoPro's subscription-centric strategy delivered a stellar Q2 with improved margins and 86% year-over-year revenue growth," said Nicholas Woodman, GoPro's founder and CEO. "As a result of this better-than expected momentum, we are increasing our revenue, margin and earnings outlook for the second half and 2021, which is detailed in the management commentary posted on our investor relations website."
The current GoPro Subscription is $49.99 / £49.99 / AU$69.99 per year, and includes unlimited storage, full camera replacement, and up to 50% off gear at GoPro.com. That's a pretty good deal for anyone using their GoPro regularly (there are other decent GoPro deals to be found at the moment too).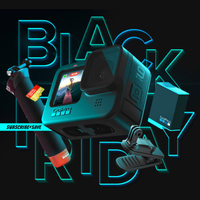 GoPro Hero9 Black + extras + GoPro VIP: $449.98 $349.98
Save $100 This gets you the camera for $100 less than other stores, by buying direct from GoPro, along with a free spare battery and microSD card! The "catch" is that you get a free trial to GoPro's VIP subscription service, which gets you unlimited cloud storage, discounts on accessories, and a camera replacement service. You can cancel this add-on in the second year (which otherwise costs $60).

Read more
Best cloud storage
Best GoPro alternatives
Best actions cameras
Best budget action cameras
Best 360 cameras
Best YouTube cameras