With Christmas over and the New Year rung in, you might think you've got a chance to breathe a sigh of relief and forget about gift-giving for the next 11 months. But not too fast - Valentine's Day is just around the corner! If this magical celebration of love catches you out every year, leaving you with an overpriced box of chocolates and the wilted dregs from the flower shop.
However, why not do Valentine's Day a little differently this year and get your partner a gift they'll really love. And what could be more sentimental and heart-warming than a photo book? Filled with images celebrating your lives together, a photo book is the perfect gift to melt even the most cynical anti-Valentines heart!
• Read more: Best photo books
Luckily for you, Mixbook is offering up to 50% off across a wide range of products ahead of Valentine's Day. If you work fast, you can still take advantage of Mixbook's winter sale by using the code SNOW20 to take 50% off anything and another 10% off as well. However, this particular saving only lasts until 15 January.
However, if you happen to miss that window, you can still take advantage of a 50% off all 12x12 photo books, metal prints and canvas prints, as well as 40% off photo cards with the code MXDLS until the end of the month.
Mixbook is in our best photo books guide, and is a firm favorite due to its easy design process and affordable prices.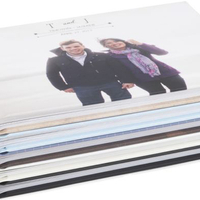 50% off 12x12 photo books with code MXDLS
A photo book is the perfect romantic gift for your partner - and now Mixbook are offering a generous 50% off their 12x12 photo books! If you order before the end of the month, you'll receive this photo book for half the price!
Read more
Best photo frames: hang your images in style
Best photo calendars: create a personalized photo calendar online
Best photo printing online: top services from around the web