DJI's newest aerial powerhouse is no slouch – it officially took to the skies in November 2021 and immediately made quite the impression on us. In our review of the DJI Mavic 3, we called it a "spectacular piece of equipment", but all the improvements it brings comes at an eye-watering premium price of AU$3,099 for the base model.
Here's your chance to land this excellent folding flyer for under the three-grand mark though – all you have to do is head to Amazon AU and use the checkout code TR200 to save AU$200 on the Mavic 3 or Mavic 3 Combo, or the code TR400 to get AU$400 off on the Mavic 3 Cine version.
These codes are exclusive to Digital Camera World readers in Australia and are available until 11:59pm AEDT on Thursday, March 7 or until stocks last.
This is the first discount on the latest DJI drone, so if you've been keen, take advantage of it now. It's quite likely that you're not going to see a better offer any time soon as the last couple of big sales (such as Prime Day and Black Friday 2021) have seen no more than AU$100 off some DJI devices.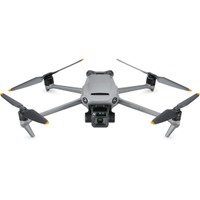 DJI Mavic 3 | AU$3,099 AU$2,899 with code on Amazon (save AU$200)
This is the most powerful folding drone we've seen yet, and a recent firmware update adds the features that were missing at launch. It comes with everything drone fans want – a top-notch Four Thirds sensor, adjustable aperture, impressive battery life and better obstacle avoidance. If this sounds like the aerial camera you need, then use the code TR200 at checkout to score a AU$200 discount on the Mavic 3 or Mavic 3 Combo.
If you truly want to fly high and can afford the cost of the additional 1TB of storage that the Mavic 3 Cine version brings, the code TR400 will see AU$400 slashed off the listed price at checkout, bringing it down to AU$6,799 from a stomach-churning AU$7,199.
If you aren't already across how good the Mavic 3 is, let us give you a quick fly-through. For your money, you're getting a newly designed dual-camera setup that features two individual sensors and lenses. The main camera is a 20MP Four Thirds CMOS sensor with adjustable aperture, and that helps improve DJI's low-light shooting capabilities. The second camera is a telephoto lens, limiting its use for capturing distant subjects.
Video recording goes up to 5.1K/50p while 4K footage max frame rate is up to 120fps. There's 8GB of internal storage available on the standard version of the Mavic 3, but if you can step it up to the Cine model, then you'll get a whopping 1TB SSD inside the quadcopter. To make it worth its stupendously high price, there's support for Apple ProRes 422 HQ recording on the Cine edition.
Flight time is unlike anything we've seen so far – up 46 minutes in the air, provided there's no wind.
Two firmware updates have been released for the Mavic 3 since launch, adding all the missing features we were expecting to see at launch – FocusTrack, MasterShots and Timelapse were added in December, while QuickShots, QuickTransfer, Panorama mode and D-Log colour assist were added in the January update. With ActiveTrack 5.0 to keep up with your subject also onboard, this is one complete package in a foldable design for easy transport.
So don't let this opportunity to save on the Mavic 3 pass you by.