Happy new year! As 2019 begins, we've themed the latest issue of Digital Camera around photographing wonderful winter landscapes. Our cover feature offers hints and tips aplenty for cracking winter captures, plus we go behind the scenes on a winter photography masterclass in the Canadian Rockies with leading adventure photographer Mike Mezeul II.
But if winter wonderlands don't appeal, then our Photo Active section showcases 10 other projects to try today. Highlights include how to shoot a stunning seascape at dawn, and how to use low-key lighting to create the look you'll see in a Renaissance painting. Our six-part series on astrophotography continues with a guide to creating a star trail, and we launch our latest shooting challenge: Around the World.
Need some technical insights into photography? You're in the right place. This month, the ins and outs of ISO are covered in full, with an accessible six-page guide to this cornerstone of image exposure. Discover the correct pronunciation of 'ISO', plus how it can help out when shooting conditions may be less than ideal.
Take a look inside the latest issue of Digital Camera magazine
This month, our regular Practical Photoshop section is packed full of advice to make your photos pop, including how to use the Whites & Highlights sliders for balancing out over-exposed areas, and how to apply dodge and burn black and white printing techniques in software. We also reveal how to use the 12 free Photoshop Actions included with the issue, and offer a tutorial on this month's free software download, Aurora HDR 2018.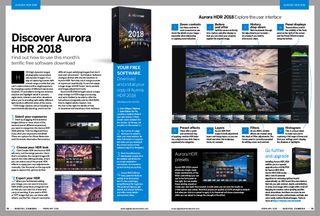 Also in the February issue, we share the best images from our latest reader Shootout, when two keen photographers searched out some fresh catches in North Cornwall fishing villages. We also discover the backstory to Homage to Humanity, a new book from professional photographer Jimmy Nelson that features stunning imagery of some of mankind's least-documented indigenous tribes.
Camera, lens and accessory reviews in Digital Camera's latest issue include the new Fujifilm GFX 50R, which offers incredible image quality for the price. Lens-wise, it's the turn of the Nikkor Z 50mm f/1.8 S and the Tokina Opera 50mm f/1.4 FF to grace our labs.
Our group test puts eight flashguns up against each other, and yields a standout winner, while our two mini tests cover memory card readers and action cams.
And if you fancy dabbling in video, then why not consider a dedicated movie camera, as opposed to a DSLR or CSC? The Blackmagic Pocket Cinema 4K costs just under £1000 and will give great results. Finally, our regular 'Help me buy a…' series turns its attentions to photo printers – check out our recommendations to suit all budgets.
More highlights in the latest issue of Digital Camera
The February 2019 issue of Digital Camera comes with 12 fabulous free gifts
Videodisc featuring 69 minutes of Photoshop and Lightroom video training
148-page Camera Shopper ebook packed full of buying advice
Nine tips cards with settings to help you capture great portrait shots
12 free Photoshop Actions for presenting your images like a pro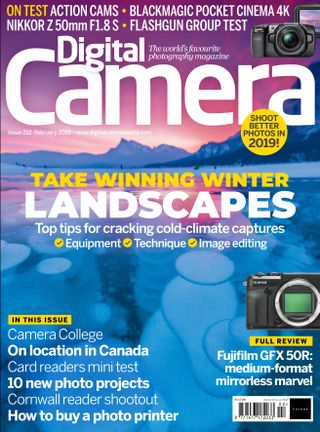 Subscribe now
Every issue of Digital Camera magazine is packed with tips, techniques, pro advice, reviews, news and inspiration. To make sure of your copy every month, subscribe at our online shop from just £12.50!
You can buy limited back issues of Digital Camera magazine in print at our MyFavouriteMagazines secure store.
Alternatively, there are a number of different digital options available, including:
• Apple app (for iPad or iPhone)
• Zinio app (multi-platform app for desktop or smartphone)
• Google Play (for Android devices)
• Readly (digital magazine subscription service)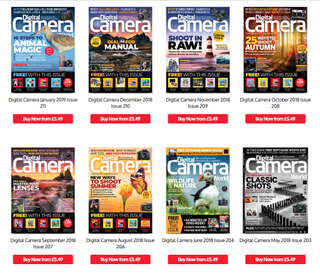 Read more:
Join Digital Camera on Facebook
Follow Digital Camera on Twitter
Follow Digital Camera on Pinterest
Sign up to our free daily email newsletter