Fujifilm's House of Photography opened in London this week… with the first 100 people through the door each winning a camera. The 7,520 sq ft concept store is located on Long Acre in Covent Garden and has been conceived as a sensory photography playground.
It will put cameras in the hands of visitors – to inspire and nurture the love of taking, sharing and printing out photographs – and aims to become the most photographed store in London. Over 400 customers queued from 6am on opening day, waiting for the doors to open at 11am.
• Read more: Best Fujifilm cameras (opens in new tab)
The Fujifilm House of Photography is arranged over three storeys. The basement level comprises a lounge space for Fujifilm enthusiasts and professional photographers, and is designed for socialising, collaborating and sharing ideas.
The ground floor is dedicated to Fujifilm cameras and instax instant cameras, which can all be picked up and played with, plus accessories for both systems. This area of the House of Photography most closely resembles a conventional photography store, but with some distinctive additions: a 'living wall' of exotic flowers, two super-size Lego sculptures and a wall covered in instax prints.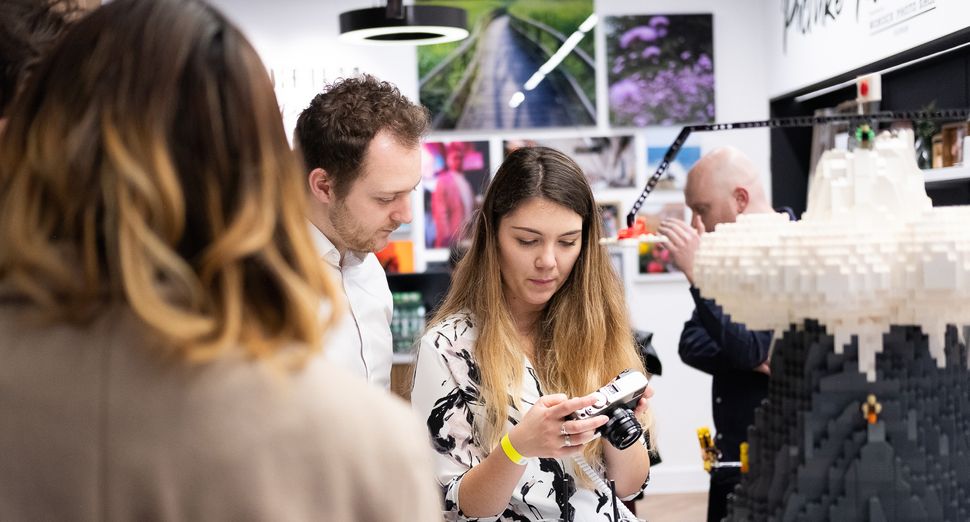 The first floor has a number of free-to-use social studios, plus open-plan and collaborative studio spaces available for visitors to use free of charge. Display cases housing Fujifilm's top-end camera offering, the medium-format GFX system, can be found on this floor.
The first floor also houses a gallery space, with an exclusive exhibition of David Bowie portraits shot by Markus Klinko on display until the end of December (from January, the gallery will celebrate Fujifilm's long-standing partnership with WaterAid).
Giving his view of opening day, Fujifilm House of Photography project leader Theo Georghiades said: "Our new flagship store aims to offer a space where every kind of photographer – from smartphone snappers to professionals – can experience the magic of photo-taking and photo-making.
"The House of Photography is a world-first for Fujifilm, and has long been part of our vision for how consumers experience the brand – so it was fantastic to see so many visitors share in this today.
"We look forward to welcoming the people of London and beyond to our sensory wonderland, and invite them to challenge their creative limits and create amazing images to share with the world."
Digital Camera's verdict
Fujifilm's House of Photography is an exciting addition to London's roster of photographic attractions.
The concept is well thought through – there's a real sense of progressing through Fujifilm's product offerings as you move throughout the building – and the design and build of the store are both first class.
The ground floor of the House of Photography owes more to an Apple Store than a traditional photographic retailer – getting touchy feely with the kit on display is positively encouraged, and seeing so many printed photographs displayed throughout the premises neatly communicates the power of the printed image in an age when so many are shared and consumed online.
And the location, a prime retail site that's equidistant from Leicester Square and Covent Garden underground stations, means that Fujifilm won't struggle for footfall.
"Make our house your home" is painted on the wall on the ground floor. Spend some time in the House of Photography and you'll feel like you belong here, too.
The Fujifilm House of Photography (opens in new tab) will be open for seven days a week, with late closing times on Friday and Saturdays (8pm). Find it at 8-9 Long Acre, London WC2E 9LH.
Read more
Best Fujifilm lenses (opens in new tab) in 2019: the perfect prime and zoom X-mount lenses
Best instant camera (opens in new tab) in 2019: instant photos perfect for the party season!
Cheapest mirrorless cameras (opens in new tab) in 2019: great bargains for careful shoppers!