We saw the price of the flagship Canon Speedlite 600EX II-RT flashgun drop $100 just before Black Friday... but now thanks to a discount the price has fallen yet again. So you can now get this amazing strobe at Adorama or B&H for just $399, thanks to the January instant rebate.
This power-punching wireless speedlight packs a guide number of 197 (ft/ISO 100), sitting at the top of the food chain when it comes to Canon's on-camera E-TTL / E-TTL II compatible flashguns.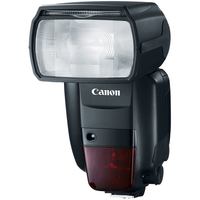 Boasting flash duration of 1.8 ms or less, with a recycle time of 0.1-0.55 seconds (or 2.3 ms or less with 0.1-3.3 seconds in Quick Flash mode), as well as stroboscopic shooting from 1-500 Hz (or 1-199 Hz during optical transmission wireless shooting), the Canon Speedlite 600EX II-RT is as powerful creatively as it is in terms of output.
This weather-sealed unit takes approximately 100-700 flashes with 4 AA alkaline batteries, and has a port for an optional external power pack so that you can keep on shooting.
Read more:
Best flashgun for your camera in 2020