Things have been fairly quiet on the drone front recently, but it appears as if that's due to change very soon. The internet has been aflame with rumors of the new DJI Mavic Mini all summer - and it looks like it's finally due to make an appearance. According to rumor website Photo Rumors, the DJI Mavic Mini will soon be announced under the name 'ARYA' in Australia.
Only a few days ago, the DJI Mavic Mini was registered with the FCC (Federal Communications Commission), which has seemingly sparked a flurry of rumors about the upcoming product. One of the most exciting aspects of this new drone is that it's reportedly only 245 grams. Other than this making it easy to transport it around, the light weight of the Mavic Mini has wider ramifications as well.
• Read more: Best camera drones
As we covered in an earlier article on the DJI Mavic Mini, once a drone goes over 250 grams in weight it starts to become a risk for incidents in policymakers' eyes. As Brendan Schulman (DJI Vice President for Policy and Legal Affairs) explained, "it's the threshold weight above which drones would become dangerous and possibly pose a risk to manned aircraft and people on the ground in case of drone incident or crash."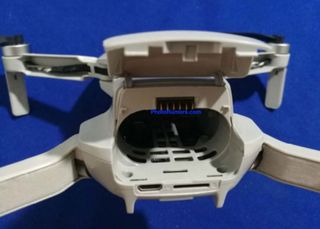 Bringing a drone to market that circumvents the need to procure an expensive license is a good move from DJI, who have had a difficult year trying to navigate the troubled legal waters surrounding drone legislation.
However, despite its light weight, there are a few disappointments to be found within the rumored specs. Photo Rumors has reported that the specs for the DJI ARYA will include 2.7K video and 12MP stills - not mind-blowingly good, but also not awful.
The DJI Mavic Mini will also have a 4km range, a 30 minute flight time and will reportedly retail for around $600 AUD (£325 / $407 USD). However, drone photographers will be disappointed to see that the DJI Mavic Mini ARYA doesn't support RAW and only shoots in JPEG.
Whether this was some kind of technological compromise in order to keep the weight down, or whether DJI simply didn't want the ARYA to compete with their heavier professional drones, this will likely put quite a few people off this new drone.
However, with an official announcement yet to come to fruition, we're eagerly awaiting to see how DJI launches this new drone - and whether there are any interesting new specs that come to light.
Read more
Best DJI drones in 2019
Best drones for beginners in 2019
Best drone accessories: essentials for your DJI drone and other quadcopters