If you're a fan of camera drones then I'm afraid we have good news and bad news. The good news is that it looks as if DJI will be releasing two new drones, the DJI Mavic 2 Pro+ and the DJI Mavic 2 Zoom+. However, the bad news is that they won't be soaring into our skies until at least 2020.
Drone rumor website Drone DJ recently reported that there's a "special section of the DJI website that lists the 'EU Declaration of Conformity' for each of their Mavic products. And, it is here where we find the names of two new DJI drones, the DJI Mavic 2 Pro+ and DJI Mavic 2 Zoom+."
• Read more: Best camera drones
This 'EU Declaration of Conformity' web page houses all of the DJI products that have been assessed and "fulfill all the relevant requirements of all applicable product safety directives for the product to bear the CE mark". It's hard to imagine why DJI would put two unannounced drones on this list, but considering the constantly changing landscape of drone safety laws, it's possible that they're legally required to house this information on their website.
So why would DJI, who seemingly have two drones ready to be released if they have already fulfilled the relevant safety requirements, be delaying these products?
Drone DJ theorizes that this could partially be because the new EU drone rules that will come into effect in June 2020 won't be finalized until October of this year. It makes sense that DJI would want to wait to see whether their new products will meet any new requirements from the finalized regulations.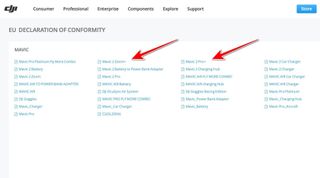 Another interesting development is that both of these new drones will likely include an ADS-B receiver to warn drone pilots of nearby air traffic, including planes and helicopters. In a drone safety event in May, DJI Vice President for Policy & Legal Affairs Brendan Schulman said "When the public, media and regulators focus on outrageous incidents that did not occur, it draws attention away from risks that are less sensational but more prevalent.
"There has never been a confirmed collision between a drone and an airplane, but drones have struck low-flying helicopters at least twice. This led us to focus on AirSense as the next opportunity to make drones safer, and to embrace the challenge of adding ADS-B receivers to consumer drone models that are already in development."
At this same event, DJI announced that all new drones with a weight greater than 250 grams would include an ADS-B receiver from January 2020. With the previous Mavic Pro 2 and Mavic Zoom 2 models both weighing over 900g, this certainly seems to put the kibosh on any chance of seeing a new DJI drone in 2019.
While all of this does mean we may have to wait a little bit longer to get our hands on some fresh DJI drone tech, it's far better for both drone safety and the longevity of the hobby that safety regulations are carefully considered and strictly adhered to - by both manufacturers and consumers.
Read more:
Best DJI drones in 2019
Best drones for beginners in 2019
Skydio 2 test flight footage: see the latest self-flying camera drone in action